But the Economy is Bogged Down.
Consumer debt in Canada's debt-fueled economy rose to a new record of C$1.67 trillion in the second quarter, according to Equifax. That's up 3.0% from the prior quarter and 6.3% from a year ago.
Excluding mortgages, consumer debt rose 3.4%, to C$21,878 per borrower on average. Folks 65 and over splurged the most with money they didn't have and ended up increasing their debt by 8.2%. But Millennials had trouble. Their debts barely rose, and their delinquency rates have begun to jump.
Equifax Canada, which based this report on its 25 million consumer credit files, doesn't appear to capture the full extent of Canadian household debt: Statistics Canada's most recent quarterly report pegged "total household credit market debt," which includes mortgages, at a record C$1.933 trillion, up 5% year-over-year.
This gives Canadian households one of the highest debt-to-income ratios in the world. The ratio started soaring relentlessly 15 years ago, supporting the housing boom that barely took a breather during the Financial Crisis – a boom that now has turned into one of the globe's most phenomenal and riskiest housing bubbles.
Piling on debt to move the economy and the housing bubble forward was encouraged by record low borrowing rates. So at the end of the first quarter, the level of consumer debt was 165.3% of disposable income. It's so high that it's regularly subject of ineffectual hand-wringing in Canada's central bank circles: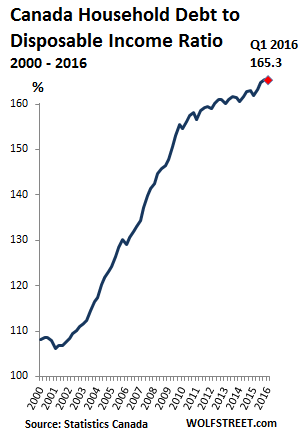 Equifax points out that in the second quarter, consumer installment loan balances, such as credit cards, soared 7.8% year-over-year, auto loan balances 7.6%, and mortgage balances 7.6%.




But for all this consumer borrowing to spend on cars and other consumer goods and to splurge on "experiences," such as dining out, or to buy homes, or deal with higher prices, what is the Canadian economy getting out of it? Turns out, not much.
GDP adjusted for inflation peaked in January 2016, according to StatCan which reports GDP monthly. By May, the last report available, GDP has fallen 0.84% from the peak in January. And on a year-over-year basis, GDP was up only 0.98%. This puts Canada into the same slow-growth bog that the US economy is mired in.
Central banks and governments keep enticing consumers to pile on debt to boost the economy. But it's not working anymore.
And now there's a price to pay. Overall delinquency rates are rising (up 4.1%). Millennials, which Equifax defines as 18-25 year olds, are struggling. Equifax lamented that Millennials only added 2.1%, or C$167, on average to their load of consumer debt, now amounting to C$8,203 (not including mortgage debt). It seems Millennials either don't want to or can't borrow enough to crank up the Canadian economy.
But delinquencies on their debts jumped by 11.7% from a year ago, to 1.8% of non-mortgage balances outstanding. That's twice the delinquency rate of those over 55 (0.9%).
And there were big differences by province. Delinquency rates on consumer debt excluding mortgages, eased off in some provinces but soared in the three oil-bust affected provinces from low levels to not so levels:
In Alberta, up by 40%, to 1.4%
In Saskatchewan, up by 23%, to 1.2%,
In Newfoundland, up by 19%, to 1.3%.
The oil bust first mauls companies. As layoffs cascade through this industry where wages are relatively high, unemployed workers and contractors without contracts are usually able to make ends meet for a while. But then, their resources reach their limits. This is when the oil bust is beginning to exact its pound of flesh from consumers and their lenders.
"It looks like it is a fairly persistent situation, so we'll probably see these increases for a while until the region will adjust to the new economic situation," as the report explained.
And the report had a special word of advice for Millennials: "Millennials should be reminded to practice good budget and money management habits."
Which begs a crucial question: In a debt-fueled consumer economy where even large increases in consumer debt produce only minuscule, if any, economic growth, and where record low interest rates are required for consumers to be able to service their debts, who or what is then going to prop up the economy as delinquencies rise and lenders get nervous? Not the Millennials that everyone had been counting on – not until they jump into another debt-fueled miracle.
Commercial real estate in Calgary, the epicenter of the Canadian oil bust, is collapsing at a breath-taking rate. Read…  How the Oil Bust is Crushing a Downtown of Office Towers




Enjoy reading WOLF STREET and want to support it? You can donate. I appreciate it immensely. Click on the beer and iced-tea mug to find out how:

Would you like to be notified via email when WOLF STREET publishes a new article? Sign up here.