The Great Equalizer has arrived.
The German government said today that it won't get in the way of the $5-billion acquisition by Chinese appliance maker Midea of Germany's high-tech-industrial darling, Kuka Robotics Corporation. Midea, which promised up and down that Kuka would remain independent, has secured 95% of Kuka's shares. Kuka executives have backed the deal. The German government's efforts to find a more palatable – that is, European – acquirer have flopped. So this deal, the largest Chinese acquisition in Germany, is going to fly.
With €3 billion in revenues in 2015, Kuka is a significant player in "articulated robots" that can perform different tasks, such as arc welding or assembling. They're used widely, from automakers to big bakeries. The deal gives the Chinese cutting-edge technologies and is another step forward in China's efforts to modernize its manufacturing industry.
Chinese companies have been on a buying spree of robot makers, including so far this year:
In June, Agic Capital, the Chinese-European private equity firm, announced it would acquire Gimatic, an Italian supplier of robotic end-of-arm tools such as pneumatic and electric grippers.
In January, China National Chemical Corp, the Chinese state fund Guoxin International Investment Corp, and Agic Capital purchased KraussMaffei, another German player in industrial robots (among other things), for $1 billion.
In the US this year, China robotics manufacturer Zhejiang Wanfeng Technology Development Co. acquired Michigan-based Paslin Co, an assembly-line robotics manufacturer.
China is also developing and manufacturing its own robots. Production and use of robots made it into the most recent five-year plan. Local governments have jumped in with support measures, such as real estate or tax incentives. And Chinese funds are investing in robotics firms around the world.
This is a huge and rapidly growing business – no matter how troubled the global economy may be.
China, coming out of nowhere a few years ago, accounted for 27% of the $32-billion global market for industrial robots, by 2014, the most recent data available, according to the International Federation of Robotics, cited by the Wall Street Journal. China's vast manufacturing base is the world's largest and fastest-growing market for industrial robots: In 2015, sales soared 16%, against 9% in Europe and 11% in the US.
Chinese companies are going through enormous efforts and invest large amounts of capital to automate their production and shed the dependence on "cheap labor," which is getting increasingly expensive and uncompetitive with other "cheap labor" economies.




For example, a year ago, a survey conducted by the commission of economy and information of the city of Kunshan, Jiangsu province, found that 600 major industrial enterprises would replace human labor with robots within five years. At the time, according to the SCMP, the government predicted that the city's automation and robotics market would reach 80 billion yuan ($12 billion) by 2020. The city is supporting these efforts with 2 billion yuan ($300 million) in annual subsidies. And that's just one city.
But unlike human labor, robots cost the same everywhere!
The shock waves of this fact are far reaching. By switching to robots, China no longer has a cost advantage over automated manufacturing in the US or Europe. When Chinese companies use robots to manufacture their products, the content of labor becomes minimal, and the difference in the cost of labor becomes insignificant.
Robots are the great equalizer.
Other differences remain, such as subsidies, taxes, environmental rules, the cost and availability of funding, the strength of the currency, etc. But by automating, China is losing the strategic strength that has helped it become the manufacturer of the world. And yet, if it didn't automate, the manufacturing sector, beset with soaring labor costs, would get hit even harder.
With cost of labor being minimized, the cost of transportation moves further to the foreground. This is an advantage when the Chinese product is sold in China, but a disadvantage when it is sold in other parts of the world, particularly in distant markets such as Europe or the US.
Robots – and automation in general – systematically replace humans, which is their purpose, a problem that has been dogging the US economy for decades. Even as manufacturing output has increased sharply before the Financial Crisis, manufacturing employment has plunged. Since the Financial Crisis, manufacturing output, while up sharply from the trough, has not returned to its 2008 peak. Manufacturing employment has edged up only slightly and, at 12.3 million, is where it had been in 1946.
The chart shows US manufacturing output (index, blue line, right scale) versus manufacturing employment (in millions, red line, left scale) from 1972 through July 2016: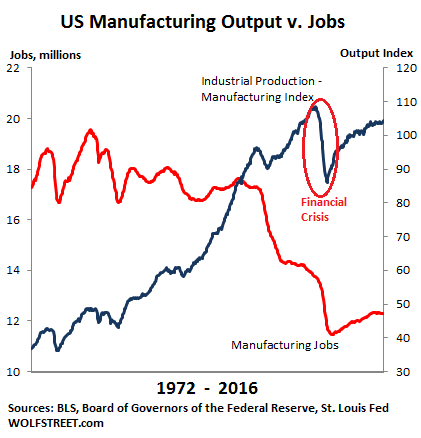 There has been another factor in the collapse of manufacturing employment in the US: outsourcing or "offshoring" to other countries with "cheap labor," such as China.
But automation is the great equalizer. As China automates its manufacturing plants, replacing humans with computers and robots, its cost structure will approach that of similar plants in the US or anywhere. This effectively kills a big incentive for companies to transfer manufacturing to China except for products sold in or near China.
It's already happening. Hence the lackluster manufacturing numbers coming out of China. Growth has stopped as China's manufacturing base is being "equalized." This isn't temporary. It's structural. Any hopes, for example, that the manufacturing PMI surveys will show lasting growth will be disappointed. And the bitter irony: it will get worse as automation progresses.
China will do in a few years with automation what the US has done in three decades. It will be very successful at it. It will automate faster than any country has ever done before. Governments at all levels will provide the fuel. Nothing will be allowed to get in the way.
But these newly automated plants in China have to compete with automated plants in the rest of the world – and the costs are nearly the same. Thus, manufacturing for exports will deteriorate further. Manufacturing for Chinese consumption will grow. Employment in manufacturing will collapse. And a devaluation of the yuan, though tempting as a solution, is going to change the manufacturing equation only at the margins. Hence the astonishingly sudden end of the Chinese multi-decade manufacturing miracle.
In the US, a peculiar economic phenomenon has set in. Read…  This is When the Jobs "Recovery" Goes KABOOM




Enjoy reading WOLF STREET and want to support it? You can donate. I appreciate it immensely. Click on the beer and iced-tea mug to find out how:

Would you like to be notified via email when WOLF STREET publishes a new article? Sign up here.