Without any real end in sight. That's what's different this time.
On the surface, it was the kind of report that has been dogging the US economy for a while.
Orders to US factories for durable goods dropped "unexpectedly" – as the media put it – by 2.2% in May from the prior month, on a seasonally adjusted basis, according to the Commerce Department. "Unexpectedly," it seems because orders had risen 3.3% in April and 2.0% in March, and the trend henceforth would be upward. But instead, it was a broad-based decline, with some real doozies.
The generally volatile orders for transportation equipment fell 5.6%, as military aircraft orders plunged 34.1%, and as orders for motor vehicles and parts fell 2.8%.
The drop in automobile orders is worrisome. After years of booming, the auto sector set an all-time record last year in terms of total unit sales in the US. It's a huge sector, making up a big part of manufacturing and about 20% of total retail sales. If it weakens, the economy will lose one of its last strong pillars [read… What Will Sink the US Auto Boom?].
Orders for machinery, primary metals, computers, electronic products, as well as electrical equipment, appliances, & components – they all fell.
And how is business spending doing? When businesses don't invest and spend, they don't grow, and the economy has trouble expanding. Business spending is a crucial driver of economic growth. Everyone has been hoping that businesses would open their wallets. Orders for "nondefense capital goods excluding aircraft" – the category that serves as a measure of business spending – were supposed to rise 0.3%.
Instead, they fell 0.7% to $62.4 billion. Down for the third month in a row. And the lowest level since April 2011!
The chart shows this long, slow slump of business spending. Note the V-shaped recovery in business spending after the Financial Crisis, the end of that recovery in March 2012, at $70.1 billion. Which is 12.3% higher than today's figure! It was followed by 2.5 years of stagnation that ended in September 2014. At which point, the decline set in: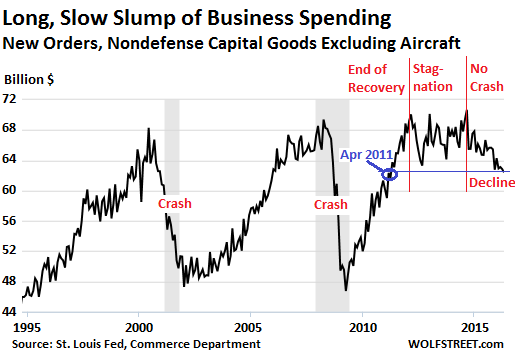 But here's where "it's different this time." This measure of business spending boomed before the prior recessions. Then either just before or during the prior recessions, these orders essentially crashed. Businesses turned off the money spigot. They didn't dilly-dally around. They went into survival mode and stopped spending. And these orders for core capital goods crashed, both times.
This time, core capital goods orders languished for 2.5 years by bouncing up and down but not going anywhere. Then they started to decline – a long, slow slump of business spending, not a crash!
That's what's different this time.
We have seen this pattern in numerous other factors: a slow grind lower, with plenty of upticks in between that give everyone hope that this is finally over and that growth will commence henceforth.
It shows up in measures like inventories, which have ballooned since late 2014 and are now disconcertingly high, as sales have consistently disappointed. And the inventory-to-sales ratio has reached post-Lehman crisis levels: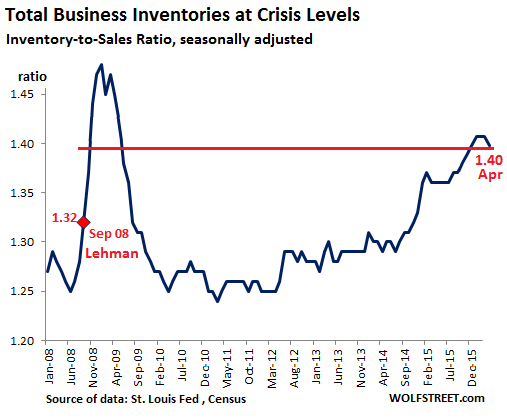 The out-of-whack inventory-to-sales ratio means that a lot of capital is tied up in inventories. Normally, companies crack down when their inventories get out of line. They do so by slashing their orders and by cutting prices on their goods. A sharp inventory correction, as it spreads up the supply chain and across the nation, can contribute to a recession.
But this time, companies are trying to whittle down their inventories here and there in tiny micro steps, and they're doing so even more slowly than their sales have been falling, hence the crisis-level inventory-to-sales ratio. There's no sense of urgency. But sales are still declining!
Industrial production falls into the same pattern. After moving sideways for a while, it is now in a decline, but not a plunge [read… OK, I Get it, the US is a Service Economy, but this Looks Terrible]
It's as if everything in the real economy were stuck in this pattern where a period of stagnation is followed by decline. Not a crash – but an uneven, long, slow grind lower that then begins to feed on itself without any real end in sight, and without that V-shaped recovery that would follow a plunge in economic activity.
This comes as the Fed and other central banks have been flooding the economy for nearly eight years with essentially free liquidity, while debt everywhere has blown off the charts and as QE and the negative-interest-rate absurdity rule in Europe and Japan. That's what's different this time!
Before the Fed decided to embark on its perhaps endless journey of financial repression, when businesses saw trouble, they reacted to stay alive. This time, the world is awash in cheap liquidity. There's no sense of urgency. Investors can no longer demand any real return on their money. The calculation of risk has been eliminated from the financial equation.
So the economy, doped to its ears with monetary cocaine and bogged down in debt, can barely stumble along zombie-like, perhaps for years to come, without catalyst for growth, and without catalyst for that plunge that is necessary to cleanse out the excesses and provide a fresh start. And this is what central banks have accomplished with their monetary policies.
Instead of spending money on productive activities, companies have been doing something else with this flood of cheap liquidity. It has become a huge force, but it's going to fizzle. Read…  Here's What Fueled the Rally in Stocks since February




Enjoy reading WOLF STREET and want to support it? You can donate. I appreciate it immensely. Click on the beer and iced-tea mug to find out how:

Would you like to be notified via email when WOLF STREET publishes a new article? Sign up here.