A huge force that's going to fizzle.
We have another post-Financial Crisis record on our hands!
Share buybacks by S&P 500 companies during the three-month period of February through April soared 15.1% from a year ago, to $166.3 billion, according to FactSet, the highest since Q3 2007, which had set an absolute record of $178.5 billion, just as the Financial Crisis was cracking the glossy veneer of the banks.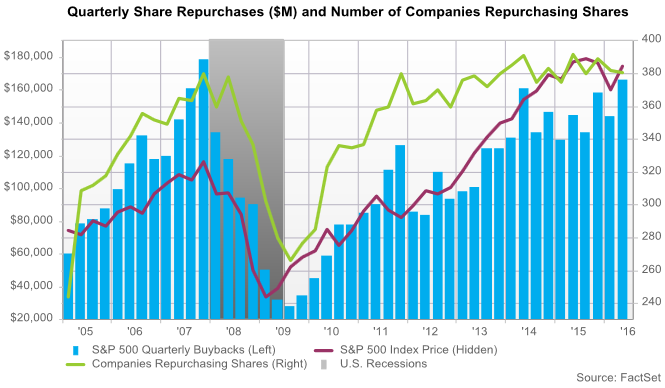 The tech sector, whose revenues have been getting hammered by reality, was the biggest spender at $34.4 billion.
The healthcare sector was second. When insurers and Big Pharma aren't busy buying each other in the ongoing mega-merger oligopoly or monopoly boom, they're buying their own shares. Buybacks over the 3-month period soared to $33.2 billion, an all-time record for the sector, blowing away its prior record of $24.5 billion.
The biggest buyback spender overall: Pfizer with $8.1 billion. It reduced its outstanding shares by 1.5% year-over-year. It was part of an existing $11-billion buyback program and a new $5-billion program that was announced to make up for debacles elsewhere, such as the collapse of its $160-billion merger with Allergan.
Gilead was the second biggest spender, more than doubling its buybacks from a year ago to $7.4 billion, which cut its shares outstanding by 8.7% year-over-year, according to FactSet. This was part of its $15 billion repurchase plan, on top of which its board approved another $12 billion.
Pfizer and Gilead combined repurchased $15.5 billion of their shares in just three months! They pushed Apple, which had dominated the list, down to third place with $7 billion in buybacks. A third healthcare company made the list of the top ten buyback-spenders: Express Scripts with $3.3 billion, up from zero a year ago.
This table shows the top 10 buyback-spenders in the February-through-April period, along with the year-over-year reduction in shares outstanding, and the 1-year total return (including dividends) of the shares. Note the losers (red):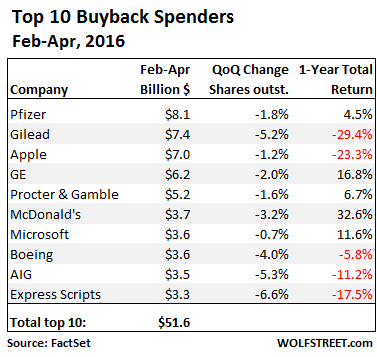 These 10 companies blew $51.6 billion in three months to prop up their own shares, much of it with borrowed money, rather than investing it in productive activities, preferably in the US, to move the economy forward. But no.
For the trailing 12 months, buybacks rose 8.7% to $602.8 billion!
Alas, earnings of S&P 500 companies have been falling on a trailing 12-months basis since Q4 2014, six quarters in a row! The result of soaring buybacks and slumping earnings? 72.9% of earnings were plowed into buybacks!
This chart by FactSet shows the declining earnings, which I circled in red, the trailing 12-month buybacks (blue columns, left scale), and the buybacks to net income ratio (red line, right scale). The spike in the ratio during the Financial Crisis was caused by collapsing earnings. After share prices had collapsed, buybacks stopped. Companies don't like to buy low. They like to buy high: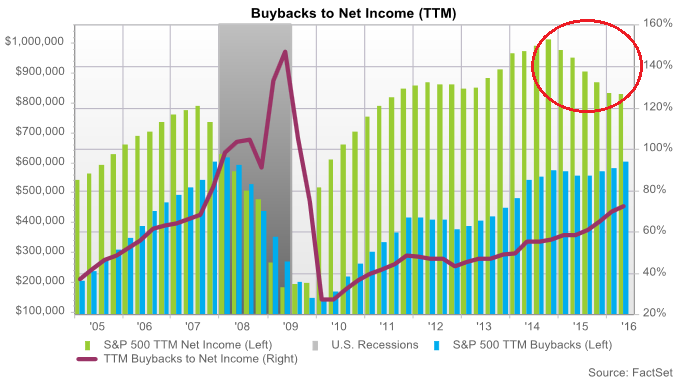 At this rate of slumping earnings and soaring buybacks, companies will soon spend more on buybacks than their income.
But wait… that's already happening: 146 companies spent more on buybacks during the trailing 12 months than they booked in earnings. Among these heroes: Target, Starbucks, McDonald's, Microsoft, Oracle, Salesforce….
Shareholder activists – or "corporate raiders," as they used to be called for good reason – are souring on the practice, perhaps due to recent flops, such as Icahn's foray into Apple: there were 19 campaigns in the quarter to push companies into this scheme, or push them deeper into this scheme, but only 3 succeeded. That's down from 31 campaigns and 20 successes a year ago.
Why do we pay attention to this?
Because these buybacks are a huge force in the markets. Investors, leery of plowing money into stocks at nose-bleed valuations while revenues and earnings have been declining since 2014, are sitting on their hands. But someone has to buy, or else stocks dive.
Companies can borrow at ludicrously low rates (and even Apple has issued bonds to fund buybacks) to spend this money on their own shares. Those billions spent don't show up as an expense. They just increase indebtedness and eat up equity. Buybacks hollow out balance sheets.
But they work on many levels. Programs are announced with the greatest possible fanfare, especially during earnings calls when earnings and revenues are crummy, or when a merger collapsed, and the CEO is desperate to prop up the stock.
The hype alone drives up share prices, or puts a floor under the plunge. When the company actually starts buying its own shares – the "relentless bid" that prefers to buy high to drive up share prices – it creates enormous buying pressure, even when no one else is buying.
And finally, the financial engineering effects take over: the reduction in outstanding shares increases adjusted earnings per share, the number Wall Street rubs in your face above anything else to get you to buy these shares.
This onslaught of buybacks has been the rocket fuel under the rally since February. It has been the one thing that performed miracles, overcoming even lousy revenues and earnings and a languid global economy in face of sky-high stock prices.
It performs miracles – until shareholders catch on to it and begin to rebel. That's already happening. Then companies cut back. The share buybacks now playing out were announced mostly last year. As for new announcements of buyback programs, well, read…. Share-Buyback Announcements Plunge, Stocks Risk Getting Clocked




Enjoy reading WOLF STREET and want to support it? You can donate. I appreciate it immensely. Click on the beer and iced-tea mug to find out how:

Would you like to be notified via email when WOLF STREET publishes a new article? Sign up here.