Recession Watch: huge brake shoe to drop on the economy.
The yield on the 10-year Treasury note fell to 1.57%, the lowest since November 2012, after the Fed got through flip-flopping today, to keep the notion of rate hikes alive without actually hiking rates. Fed officials worried about lousy job gains, terrible exports, puny investment, and Brexit, but they see inflation picking up, and they like that, though a serious bout of inflation is going to kneecap consumers, and so, the statement said, "growth in economic activity appears to have picked up."
Just how much has that "growth in economic activity" picked up?
Yesterday, it was total business sales, which have been dropping since July 2014 and are now back where they'd been in April 2013. Today it's industrial production.
The Fed's Board of Governors reported that industrial production contracted 0.4% in May, after having expanded 0.6% in April. This is like Chinese water torture: drip by drip, with periods of calm in between that are just long enough to think that it's over. Year-over-year, industrial production was down 1.4%.
Manufacturing, which accounts for about 80% of industrial production, output fell 0.4%, "led by a large step-down in the production of motor vehicles and parts," which plunged 4.2%.
The auto sector has been booming. Last year, it set an all-time record in unit sales. Manufacturers are inebriated with their own optimism. Auto lending is soaring, and auto loan balances are blowing through the headliner. If the auto sector is slowing, that would be a huge brake shoe to drop on the economy. Alas, it may already be in the works, and it goes far beyond subprime [read… What Will Sink the US Auto Boom?].
Even without autos and auto parts, factory output fell 0.1%.
And capacity utilization, a closely watched gauge, fell 0.4 percentage points to 74.9%, down 4.0 percentage points from its recent peak in November 2014. It's back where it had been at the end of 2010 as industrial production emerged from the collapse during the Financial Crisis.
As always, the strong dollar got blamed, along with weak global growth, and low commodity prices.
The chart below shows the problem: the Fed's Industrial Production Index has been falling since November 2014. In May, it dropped to 103.6, down 2.9% from its peak in November. It has been in decline for 18 months! Every time this kind of decline occurred in recent decades, it was associated with a recession (gray columns):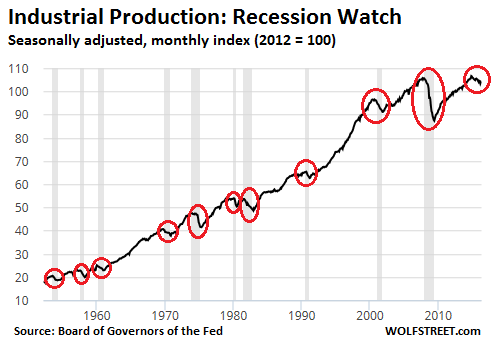 Official recessions are declared by the National Bureau of Economic Research (NBER), normally after the recession is already over. The Great Recession was the exception; it was so steep and so long that NBER declared its beginning while the recession was still going on. So if in the 2000 recession, you looked at industrial production, it showed a similar pattern as today, but the NBER still hadn't pronounced the magic words though it would do so later.




There were times when industrial production fell before the official recession began; other times, it fell only after the recession had already begun.
The year-over-year percentage change of Industrial Production shows a similar pattern. The current percentage decline is worse than the percentage declines at the beginning of 16 of the last 17 recessions (the exception was the 8-month recession that began in February 1945).
This chart shows this pattern going back to 1960. The red horizontal line indicates where the current year-over-year percentage decline intersects with the prior recessions: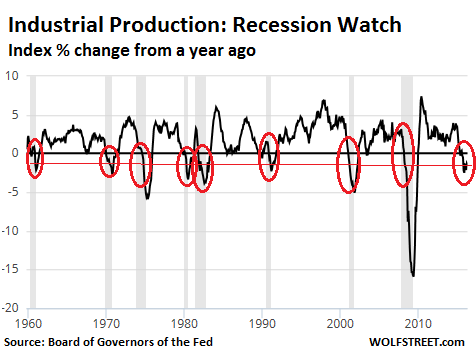 OK, I get it. The US is largely a service economy. Healthcare is closing in on 20% of GDP, and it's booming. That's always a boost to GDP, even if it's among the worst kinds of boosts to an economy. There are some other sectors that are still growing. But industrial production is one of the many data points that keep us on our recession watch. And if the auto sector begins to lose its grip, it's time for NBER to get busy.
Yellen & Co. have a problem, though: this is the economy that has been saved and healed, as we're constantly told, by trillions of dollars in QE, by the "wealth effect," by seven years of zero-interest-rate policy, and by the most massive bailouts of banks and Corporate America during the Financial Crisis when the Fed lent them many trillions of dollars to keep the whole system afloat. Savers have been sacrificed on this altar.
The economy however, never really regained speed – and now it's losing what little speed it had, and it's losing altitude. It's flying below stall speed despite, or perhaps because of, the Fed's harebrained monetary treatment and all the distortions and perversions they caused. And when the next recession hits, and the Fed decides to try to save and heal the economy once again, it will experiment with even more harebrained measures to obtain even greater success, or whatever. That's what worries us.
The problem goes beyond industrial production: Total business sales have been dropping since their July 2014 peak and are now back where they'd been in April 2013! And suddenly, $271 billion in sales officially disappear. Read…  Why this Economy Feels Even Crummier than the Data




Enjoy reading WOLF STREET and want to support it? You can donate. I appreciate it immensely. Click on the beer and iced-tea mug to find out how:

Would you like to be notified via email when WOLF STREET publishes a new article? Sign up here.