Mega-landlord prepares for downturn.
On Wednesday, mega-landlord Equity Residential – which "owns or has investments in 314 properties consisting of 78,351 apartment units" and whose chairman and founder is the ultimate real-estate market timer Sam Zell – warned for the second time since the end of April about apartment rental revenues.
This time, it blamed a flood of new supply in two cities – the craziest, most ludicrously priced housing markets in the US: New York and San Francisco.
Turns out newly signed leases aren't meeting expectations in those cities, and they're dragging down the company's overall national results.
On April 26, the company had already lowered its revenue projections for properties open at least one year ("same store" revenues) from a growth of 5.25% to 5%. On Wednesday, it knocked the projections down to a range between 4.0% and 4.2% for the second quarter (emphasis added):
The revision is being driven by continued weakness in its New York portfolio and recent underperformance in the company's San Francisco portfolio.

While occupancies and renewal rates in these markets continue to perform in line with the company's expectations, new lease rates are not meeting original projections due to new rental apartment supply.
Equity Residential shares (EQR) fell 4% on Wednesday and are down nearly 20% from their 52-week high.
While overall statistics might show that rents are still rising in San Francisco – depending on what data you look at – there is now a lot of new supply piling up, and there's no apartment shortage, even if few people can afford the apartments being offered, a phenomenon that we in San Francisco have come to call "The Housing Crisis."
On Zillow, there are 1,248 apartments listed as available for rent. Note some of the dots that say "9+" which are big buildings, some of them with dozens of vacant rental units: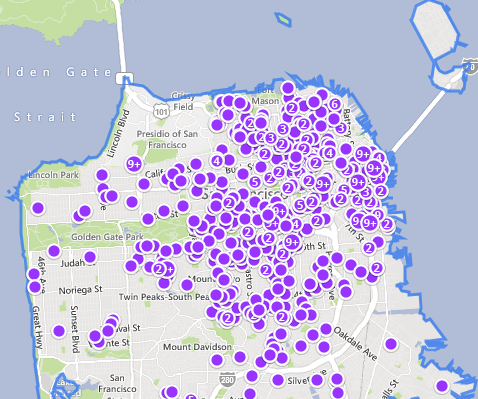 Trulia lists 1,722 apartments for rent. Craigslist, the apartment listings powerhouse in San Francisco, shows 2,500 apartments for rent.
That's a lot of units for a small-ish place, compared to New York City. San Francisco has a total population of only 837,000 and measures only 7 miles across. And yet, apartment and condo towers are sprouting up like mushrooms.
Apartments.com lists 2,302 apartments for rent on its site. Note where the units are clustered. These include areas where the construction boom is most obvious to anyone walking down the street. This is not exactly the image of an apartment shortage: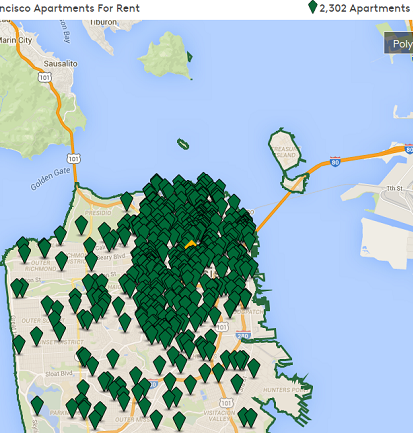 Of course, the rents are still ludicrous. But according to Equity Residential, downward pressures are materializing when it comes time to sign new leases with growing and increasingly nervous competition all around.
In New York City, a similar trend is playing out, according to Bloomberg:
Equity Residential is among landlords having to work harder to draw tenants in Manhattan as a glut of new apartments gives residents more bargaining power. In April, Manhattan renters were offered sweeteners, such as a month's free rent or payment of broker's fees, on 13% of all new leases, up from 2.7% a year earlier, according to a report by appraiser Miller Samuel Inc. and brokerage Douglas Elliman Real Estate. Property owners had to whittle an average of 2.9% from their asking rents to reach a deal, while the inventory of available listings jumped 23% to 6,718.
Sam Zell has seen this coming. This is just the beginning. Both San Francisco and New York are undergoing a phenomenal high-rise construction boom, and the new supply of condos and apartments is beginning to flood the market. Similar processes are underway in other major cities. It takes years to plan, build, and complete a high-rise. And now the flow cannot easily be turned off.
So Equity Residential has been unloading what it can. In its earnings release in April, it reported that during the first quarter it acquired three properties with a combined 479 units, but unloaded properties with a total of 26,126 apartments:
"Collectively, these dispositions produced an Economic Gain of approximately $2.4 billion and an Unlevered IRR of 11.8%," it said at the time. And there would be more "anticipated 2016 asset sales."
What is the company doing with this moolah? Deleveraging!
It retired about $2 billion in principal of secured and unsecured debts, the majority maturing in 2016 and 2017, "in order to maintain the Company's existing credit metrics and strong credit profile."
It's preparing for tougher times. And it did so even though it had to pay $112.4 million in prepayment penalties. But when the dust settles a few years down the road, it will have the moolah and credit flexibility to go on a shopping spree.
But we've been warned, in between the lines: "No one has ever accused me of not being a realist," Sam Zell told CNBC a few days before the company issued its warning. He was dissecting the markets for office and apartment buildings in major cities, explaining that they have already peaked and that there would be a downtrend. Then he got even gloomier and hammered ZIRP. Read… Ultimate Market Timer Sam Zell: "Know What the Problem Is?"
Enjoy reading WOLF STREET and want to support it? You can donate. I appreciate it immensely. Click on the beer and iced-tea mug to find out how:

Would you like to be notified via email when WOLF STREET publishes a new article? Sign up here.