Commodities Rout Not Quite Over Just Yet
We have not been true believers in the recent oil rally. And we still aren't. Oil made a huge move, at one point nearly doubling in three months, but it's still not at levels where US shale oil producers or Canadian tar sands producers can thrive, or even survive for long. We think the pain isn't over.
We have seen this play out in US natural gas. Every major rally brought new production on line followed by an even greater natural gas glut – along with a subsequent crash in prices. The process has been going on since 2009 – six full years – and it is destroying the industry. But because the industry is now being sufficiently destroyed, with creditors busy licking their wounds and many stockholders wiped out, we feel the bottom for natural gas is in. Not for drillers – but for the price of US natural gas.
That's not yet the case with oil.
Other commodities have rallied too, such as copper, only to swoon again. Agricultural commodities, after having gotten sacked, are struggling to creep higher. The S&P GSCI Agriculture index is up 12% from its February low, but it too appears to be out of breath. Corn is up 18% since the beginning of April, but at just over $4.14 a bushel, it's still at beaten-down levels.
In short, we feel the commodities rout isn't over yet. But we know that there will be sharp rallies in individual commodities, and some of them may even power higher this year, like US natural gas. Yet, natural gas drillers – those that aren't yet in bankruptcy – are too shaky and loaded up with too much debt to be of interest to us. We're thinking more about natural gas itself.
One commodity we rarely mention is uranium. It's one of the most hated commodities. It has been particularly brutalized. Being long uranium has been a widow maker trade for a decade. Every rally over the past 10 years has been followed by an even bigger crash. It too has risen from its decade-low in February, only to drop again. For some people, it looks like a buy. For some is has looked like a buy for years. But not yet, says Matt Badiali of The Growth Stock Wire below.
Matt Badiali's analysis:
"We had anticipated things would get better sooner." That's what Tim Gitzel, the CEO of uranium major Cameco (CCJ), told shareholders at the company's annual meeting last month.
In April, Cameco suspended operations at its Rabbit Lake uranium mine in northern Saskatchewan. Until then, Rabbit Lake was the longest-producing uranium operation in the province. Cameco also delayed development of wells at its U.S. operations. The decisions caused more than 500 employees to lose their jobs.
Gitzel's words reflect the tough uranium market that's still ongoing today.




A bear market has gripped uranium for the past decade. Conditions began to improve slightly from mid-2010 to early 2011. But in March 2011, a magnitude 9.0 earthquake and tsunami caused severe damage to the Fukushima Daiichi nuclear plant in Japan… and sent the industry reeling again.
The resulting decrease in demand coincided with competition from low-priced natural gas and coal. This combination has sent uranium prices plummeting to their lowest level since 2005…
As you can see in the chart below, the trend looks bleak for uranium…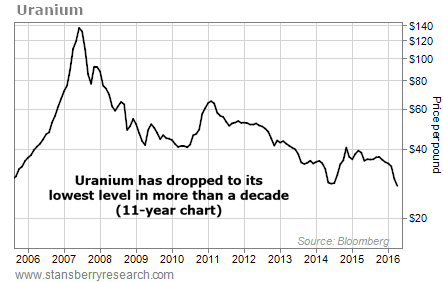 And even though uranium prices are down about 80% from their peak in mid-2007, improved plant efficiencies and the closure of older plants have slowed demand growth.
Uranium miners like Cameco have been hit hard in the past couple of years. Here are the returns since their 2014 highs:
| | | |
| --- | --- | --- |
| Company | Market Cap | Return* |
| | | |
| | | |
| | | |
| | | |
| | | |
| | | |
Low prices devastated production. In the first quarter of 2016, U.S. production of uranium fell from 1.2 million pounds to 626,000 pounds, a decline of nearly 50%.
That drop in production makes sense when you look at the decline in nuclear power plants in recent years. In 2012, there were 104 nuclear power plants operating in the U.S. Today, there are just 99. According to the Nuclear Energy Institute, we could see up to 20 of the existing plants close early.
It's clear uranium miners need more plants to come online. Most of this new production will take place in other parts of the world, namely China, India, and Korea.
Like all commodities, uranium is a cyclical industry. We expect the market to improve eventually. Cameco's decision to curtail production in the U.S. and Canada is a positive. The opening of new nuclear power plants will help, too.
Demand will improve once the plants sign long-term supply contracts. Until now – with prices falling at a steady clip – they've chosen not to lock in higher prices.
That's why we're avoiding these uranium miners for now. We still need to be patient with uranium stocks. We'll keep an eye on the market and wait for a turn. By Matt Badiali of theThe Growth Stock Wire
Enjoy reading WOLF STREET and want to support it? You can donate. I appreciate it immensely. Click on the beer and iced-tea mug to find out how:

Would you like to be notified via email when WOLF STREET publishes a new article? Sign up here.