Distress ratio spikes to Financial Crisis level.
Banks have a few, let's say, issues, among them: a source of big-fat investment banking fees is collapsing before their very eyes.
S&P Capital IQ reported today that there was an improvement in the "distress ratio" of junk bonds, after nearly a year of brutal deterioration that had pushed it beyond where it had been right after Lehman's bankruptcy. The recent surge in oil prices seems to have lifted all boats for a brief period. But not "leveraged loans." Their distress ratio spiked to the highest levels since the Financial Crisis! 
Leveraged loans are the loan-equivalent to junk bonds. They're issued by junk-rated companies to fund M&A, special dividends to the private equity firms that own the companies, or other "general corporate purposes." They form an $800-billion market and trade like securities. But the SEC, which regulates securities, considers them "loans" and doesn't regulate them. No one regulates them. This gives banks a lot of leeway.
But they're too risky for banks to keep on their balance sheet. Instead, they sell them to loan mutual funds or ETFs, or they slice and dice them and repackage them into Collateralized Loan Obligations (CLO) to sell them to institutional investors, such as mutual-fund companies.
Regulators have been exhorting banks to back off. Banks can get stuck with them when markets get woozy just when the loans blow up, as they did during the Financial Crisis – or as they're doing right now….
The S&P/LSTA Leveraged Loan Index Distress Ratio for February spiked to 12.96 from 11.13 in January, from 9.07 in December, from 7.77 in November… from 1.06 just last June!
It was the highest level since February 2010, when distress was on the way down from the Financial Crisis. It's where it had been in June 2008, when distress was blowing out as the Financial Crisis was cracking the slick veneer of the banks. Lehman went bankrupt in September 2008. By December, the distress ratio had reached a catastrophic 79.8.
This chart, based on data from S&P Capital IQ, shows that before the Financial Crisis, as the bubble was reaching its final stages, the distress ratio was near zero! This happened again in 2014. Even in 2015, leveraged loans held up well, as junk bonds were already falling apart. The happy times lasted till July, when the distress ratio began to spike relentlessly: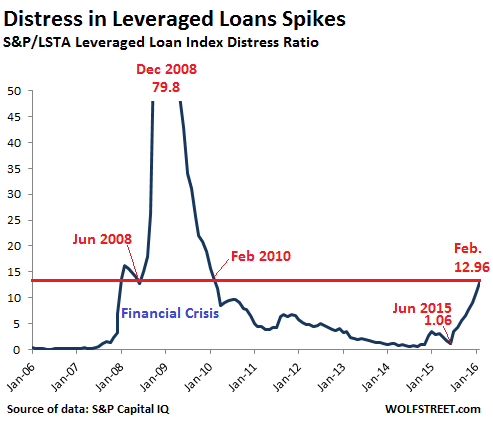 Debt is considered "distressed" when it trades at a yield that is 1,000 basis points (10 percentage points) higher than US Treasury yield. So in December 2008, at the peak of the panic, nearly 80% of leveraged loans were trading at distressed levels. This was resolved when the Fed decided to bail out Wall Street. Folks with advance knowledge of those bailouts, who were buying up those leveraged loans as they were dumped on the market by forced selling, made a freaking ton of money over the next two years.
Now, no one is talking about a bailout. Instead, the Fed is flip-flopping about raising rates. Calm reigns. But not for banks.
Banks, faced with this deterioration in leveraged loans and under pressure from regulators to back off, have backed off. Some banks have already gotten stuck with leveraged loans due to "challenging market conditions," as it's called, and could only sell them to institutional investors after heavily discounting them, at a loss to the bank.
Issuance of high-yield and institutional level loans combined plunged from $240 billion in Q1 2014 to $89 billion in Q4 2015, and to $44 billion in January and February 2016, due to, as Fitch put it today, "the repricing of risk."
The formerly monstrous underwriting revenues extracted from leveraged-loan issuance have plunged too. This chart shows those revenues for the top six investment banks in the sector combined (Bank of America, Citigroup, JP Morgan, Goldman Sachs, Morgan Stanley, and Jeffries):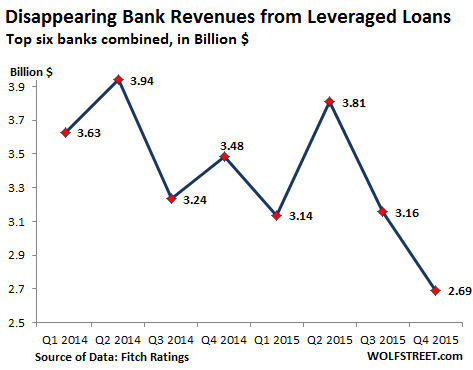 Fitch puts it this way:
Not surprisingly, some arrangers have had difficulty distributing loans extended prior to the current spread widening. In particular, syndication market conditions for loan exposures to issuers at the lower end of the rating spectrum remain challenging. This creates a negative feedback loop whereby widening spreads give banks pause to underwrite deals for fear of syndication risk, thereby driving spreads wider.

This slowdown in volumes has been particularly difficult for investment banks, which earn substantial origination and distribution fees from this activity. More broadly, this slowdown has also served in part to contribute to challenging earnings performance for investment banks.
Under pressure from plunging revenues and in some cases big losses (famously Deutsche Bank), investment banking divisions have cut jobs and have reacted in other ways.
At the other end of the spectrum are investors that ended up with these leveraged loans in their loan ETFs or loan mutual funds. And they've been dumping them. S&P Capital IQ today:
Amid outflows and falling loan prices, loan mutual funds' assets under management fell by $3.92 billion in February, to a three-year low of $107.2 billion.

Loan funds continued to face redemptions in February in response to shaky investor sentiment across the capital markets for most of the month, as well as falling rates.
Outflows and losses over the past two years have whittled down assets under management in leveraged loan ETFs and mutual funds by 37%:
But in early March, a reprieve! Funds "stopped bleeding" over the first two weeks of the month and posted a puny $232 million of inflows. That this is "the best two-week total since July 22, 2015" shows just how despised leveraged-loan funds have become.
Companies are still borrowing billions to buy back their own shares, one of the big drivers behind the blistering stock market rally of the past few years. But it's not working anymore. The shares of the biggest buyback queens are getting hammered. Something broke in the gears of financial engineering! Read…   Share Buybacks Turn Toxic
Enjoy reading WOLF STREET and want to support it? You can donate. I appreciate it immensely. Click on the beer and iced-tea mug to find out how:

Would you like to be notified via email when WOLF STREET publishes a new article? Sign up here.