Suddenly, all of the reasons refiners were profitable have vanished!
Unlike the rest of the oil industry – which has been decimated by lower oil prices – U.S. oil refiners have marched on to new highs. But the five-year-long bull market for these companies is about to come crashing down. Let me explain…
You can see the incredible uptrend in the following chart of refining giant Valero Energy (VLO). Its shares are trading near an all-time high…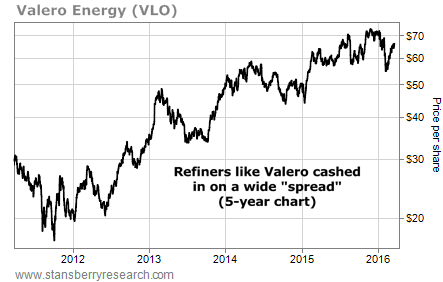 Does that look like the chart of a company whose commodity is down more than 30% over the last 10 months? Heck no. And it won't stay that way for long.
As longtime Growth Stock Wire readers know, fracking has allowed the U.S. to tap oil reserves in areas like Texas' Eagle Ford and North Dakota's Bakken shales. Because of this, annual U.S. crude oil production is up more than 70% since 2008. The glut of oil pushed the price of U.S. crude oil (called West Texas Intermediate, or "WTI") down more than 80% from its 2008 peak to its recent low. As a result, WTI crude traded at a big discount to European benchmark crude (called Brent).
And because the oil "spread" – the difference between WTI and Brent crude prices – was so large, U.S. refiners could undercut their overseas competitors and still book huge profits. As you can see in the graphic below, during this period, refiners' earnings soared…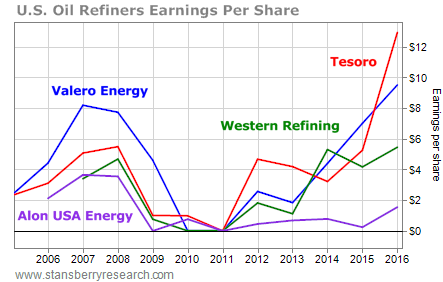 But in December, the U.S. government repealed the 40-year-long ban on exporting crude oil. As expected, that caused the oil spread to shrink… and today, WTI and Brent crude trade within pennies of each other. Suddenly, all of the reasons refiners were once profitable have vanished.
Because the U.S. can now export crude oil, U.S. and European refiners are on an even playing field. Without the huge price advantage, U.S. refiners will see their profit margins start to shrink. And we're already starting to see that happen.
The fourth quarter of 2015 was painful for refiners. Leading U.S. refiners Valero (VLO), Tesoro (TSO), Western Refining (WNR), and Alon USA Energy (ALJ) saw their earnings per share fall. And that's just the tip of the iceberg. But as you saw from the Valero chart I showed you earlier, the market has ignored this massive trend change so far. Refiners' share prices haven't suffered at all yet… but their share prices will get clobbered as they continue to report shrinking profits.
If you still own refiners, take profits soon… because things are about to get ugly. By Matt Badiali, The Growth Stock Wire
A terrible bit of news went unnoticed in the commotion amid the rebound in oil prices. A U.S. energy icon quietly announced news that could potentially shatter the industry. And it will cause the banks to tighten the noose. Read…  The Terrible Oil News Nobody Noticed




Enjoy reading WOLF STREET and want to support it? You can donate. I appreciate it immensely. Click on the beer and iced-tea mug to find out how:

Would you like to be notified via email when WOLF STREET publishes a new article? Sign up here.