Suddenly lurking in the shadow inventory.
The magnificent housing bubble in Canada has been stumbling recently, propped up largely by the two largest cities, Toronto and Vancouver.
Home prices declined 0.1% in January from a month earlier, the second month in a row of declines, according to the Teranet-National Bank National Composite House Price Index. Even Toronto booked a decline of 0.2%. The oil-dependent regions got hit harder. Prices rose only in four of the 11 metro areas in the index. On a 12-month basis, the index was still up only 5.9%, the lowest 12-month gain in three months.
But Vancouver has none of this slow-down rigmarole. Its housing market is booming, with prices up 12.5% year-over-year, beating Toronto's 12-month gain of 8.5%. Due to their size, they account for well over half of the index.
In Vancouver, prices have now soared 40% from the peak of the bubble just before the Financial Crisis. This chart by NBF Economics and Strategy of the Teranet-National Bank House Price Index shows just how crazy prices have been in Vancouver: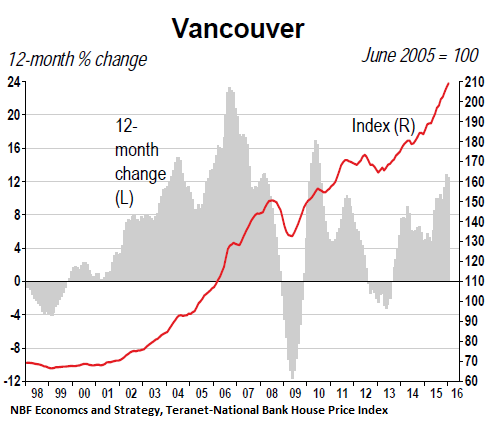 But the price increases might have been even crazier. Depending on methodologies used, "results may vary," as they say. The Real Estate Board of Greater Vancouver reported that home sales in February jumped 36% from a year ago and were 56% above the 10-year average.
"We're in a competitive, fast-moving market cycle that favors home sellers," gushed REBGV president Darcy McLeod. "Sustained home buyer competition is keeping upward pressure on home prices across the region."
So their benchmark price for all types of homes in Metro Vancouver soared 22.2% year-over-year to C$795,500.
In some of the more expensive neighborhoods, price increases were even higher. For instance, the benchmark price for all types of homes in Vancouver West and West Vancouver soared respectively 24% to C$1.1 million and 26.1% to C$2.25 million. The benchmark single-family house prices in both neighborhoods reached C$3.0 million and C$2.7 million respectively.
So those prices might not be an issue for wealthy foreign buyers who pick and choose among the trophy cities around the globe. They're not earning their income in artfully beaten-down Canadian dollars. But for local buyers, prices are an issue. Like other trophy cities, Vancouver is struggling with an affordability crisis.
To get a grip on the problem, the city commissioned a report last year, and the results were just presented to the City Council. The idea was to figure out how many homes were vacant, presumably owned by absentee investors. These vacant homes have been a hot topic.
"Home buyers and prospective renters have fretted for years that investors were snapping up homes and leaving them empty, cutting supply and boosting prices in the process," as the Financial Post put it.
The report analyzed residential electricity consumption via a decade's worth of anonymized data provided by BC Hydro, the electric utility. A home was considered non-occupied for the year if electricity use, which normally varies dramatically during the day, showed little variability in each of the "non-heating months August, September, and the following June and July.
And one thing stood out: 12.5% of the condos were deemed non-occupied.
They accounted for most of the city's 10,800 empty homes. But it might have been much higher: The methodology identified condos used as summer homes as occupied for the entire year, even if they were vacant the rest of the year.
By contrast, only about 1% of single-family homes, duplexes, and row houses were vacant. This brought the overall vacancy rate down to 4.8%.
This massive number of empty condos is now causing a lot of political hand-wringing.
"Given the significant housing affordability challenges in Vancouver and the intense pressure on renters and rental stock, the city needs to do what we can on this issue," explained Matthew Bourke, the city's lead on the empty homes report.
City councilors are urging the provincial government to do something about it. Academics have been bandying about a punitive tax on the owners of empty homes. Premier Christy Clark dodged the request for such tax measures this way: "I think we are all concerned about the vacancy rate in Vancouver in particular because we have to be concerned about it hollowing out neighborhoods."
It is ironic that the solution to the affordability crisis should be a tax on vacant homes, when these soaring prices are a direct result of the giant asset bubbles that central banks, including the Bank of Canada, have purposefully blown and, in their infinite wisdom, continue to blow with all their might.
Yet there is a real solution. It will kick in on its own. And it won't be pleasant. These vacant condos are investments. Prices have soared for years. Owners don't have to use their condos to make the math work; they can just rejoice in the feeling of getting richer as prices rocket toward the blue sky. But when prices turn around and head south, as they do when housing bubbles deflate, these thousands of vacant condos are suddenly lurking in the shadow inventory.
And they'll come out of the shadow and hit the market as owners try to salvage their gains or cut their losses. And just then, liquidity evaporates, as it always does during housing busts. Owners become even more desperate to dump their units. This sort of selling acts as the great accelerator and makes condo prices so notoriously volatile on the way down. Banks have learned that long ago, but now they can't remember.
Of course, this cannot happen in Vancouver, or more broadly in Canada, because the city and the country are immune to housing busts, given the healthy fundamentals that have been driving the market higher – that's what market gurus always say, until they're the last ones left still saying it.
Enjoy reading WOLF STREET and want to support it? You can donate. I appreciate it immensely. Click on the beer and iced-tea mug to find out how:

Would you like to be notified via email when WOLF STREET publishes a new article? Sign up here.