Every now and then we get a sign.
Money creation in China has gone bonkers. Authorities have opened the valves, and new credit is surging through money pipelines, including state-owned banks and the "shadow banking" system, and so loans in just the first two months this year soared by $1 trillion. Where did this money go?
We don't know, but we're getting indications that some of it is showing up right here in the US.
At the same time, "China is getting into the venture capital business in a big way. A really, really big way," as Bloomberg put it: Government-backed venture funds raised about 1.5 trillion yuan ($231 billion) last year to bring the total to 2.2 trillion yuan. "That's the biggest pot of money for startups in the world and almost five times the sum raised by other venture firms last year globally…."
While China is drowning in this sea of liquidity, its exports in February crashed 25% in dollar terms year over year. Part of it was due to the Chinese New Year effects. The rest was due to weakening global demand for Chinese goods: It was the 11th month of declines in 12 months.
Exports of goods are crashing, but hey, no problem, exports of money are booming. Capital flight takes on ever fancier dimensions: mansions in Southern California, tony condos in San Francisco, huge commercial and residential development projects, corporate acquisitions, and so on. Prices have surged for seven years and have reached ludicrous heights. So this is a good time to buy.
But this deal marks what everyone has been waiting for: a sign that the Chinese, in their desperate efforts to get these piles of money out of the country, have finally gone nuts.
They fell for WeWork – just when the "valuations" of startup companies are getting chopped in half as they raise new money, a time when this new money has in fact been harder to come by as investors suddenly ask uncomfortable questions about revenues, cash-burn, sustainability, or even survival [It Gets Ugly in the Startup Bust].
WeWork is essentially a real estate company. It leases large office spaces and then sublets smaller sections to whoever needs it – wayward workers of a large corporation, smaller companies, startups, or even individuals, and for whatever time periods – perhaps just a desk for a day.
And all these people get to work in the same cool communal space decked out with couches, snacks, and games. It started in 2010 in Manhattan and has grown to 80 of these coworking spaces in 23 cities mostly in the US with a few around the world. It's not a bad idea, but it's nothing fancy.
But WeWork timed the commercial real estate cycle just perfectly.




According to the Green Street Commercial Property Price Index, prices for office, retail, and apartment buildings jumped 10% in 2015, after having already jumped 10% in 2014. They've more than doubled from their cycle lows in May 2009. Even on an inflation-adjusted basis, prices have risen 12% above the peak of the prior bubble. But over the past few months, prices began stuttering, though they eked out another record in February: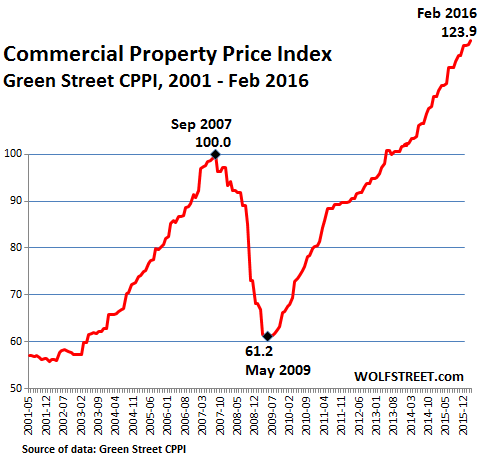 These prices are in a symbiotic relationship with lease rates, which is WeWork's business: it takes big ones and makes little ones out of them.
Now that the commercial real estate cycle is peaking, Chinese money got really excited about it in all kinds of ways, including WeWork.
Unnamed "WeWork executives" told the Wall Street Journal that the company was able to raise $430 million in a new round of funding led by Chinese investment companies Legend Holdings and Hony Capital Ltd. And the "valuation" these folks decided to attach to the company?
$16 billion.
That's up 60% from $10 billion the day before, established during the last round of funding in June 2015. The new "valuation" puts the office sublet company in fourth position, along with Snapchat, on the US list of startups with the highest valuations, behind Uber, Airbnb, and Palantir. The company intends to burn some of this new moolah in Asia.
And it has set in motion a new hope in the deflating startup bubble in San Francisco, Silicon Valley, and other places in the US: that the desperate money fleeing China will somehow show up here and give startups more time to breathe and burn cash, while stamping them with totally silly "valuations." This sort of thing happened before.
The moment when the "dumb money" arrives is also a sign of just how desperate the Chinese have become trying to siphon their liquidity out of China, apparently under the motto: the more, the better, no questions asked.
But even Chinese money might not be able to keep things from unwinding in San Francisco. Read…  This Will Crush the Insane San Francisco & Silicon Valley Housing Bubble




Enjoy reading WOLF STREET and want to support it? You can donate. I appreciate it immensely. Click on the beer and iced-tea mug to find out how:

Would you like to be notified via email when WOLF STREET publishes a new article? Sign up here.