It's not contained.
There are over $1.8 trillion of US junk bonds outstanding. It's the lifeblood of over-indebted corporate America. When yields began to soar over a year ago, and liquidity began to dry up at the bottom of the scale, it was "contained."
Yet contagion has spread from energy, metals, and mining to other industries and up the scale. According to UBS, about $1 trillion of these junk bonds are now "stressed" or "distressed." And the entire corporate bond market, which is far larger than the stock market, is getting antsy.
The average yield of CCC or lower-rated junk bonds hit the 20% mark a week ago. The last time yields had jumped to that level was on September 20, 2008, in the panic after the Lehman bankruptcy, as we pointed out. Today, that average yield is nearly 22%!
Today even the average yield spread between those bonds and US Treasuries has breached the 20% mark. Last time this happened was on October 6, 2008, during the post-Lehman panic: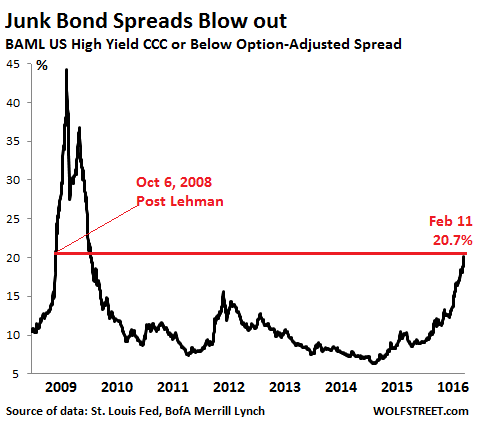 At this cost of capital, companies can no longer borrow. Since they're cash-flow negative, they'll run out of liquidity sooner or later. When that happens, defaults jump, which blows out spreads even further, which is what happened during the Financial Crisis. The market seizes. Financial chaos ensues.
It didn't help that Standard & Poor's just went on a "down-grade binge," as S&P Capital IQ LCD called it, hammering 25 energy companies deeper into junk, 11 of them into the "substantial-risk" category of CCC+ or below.
Back in the summer of 2014, during the peak of the wild credit bubble beautifully conjured up by the Fed, companies in this category had no problems issuing new debt in order to service existing debt, fill cash-flow holes, blow it on special dividends to their private-equity owners, and what not. The average yield of CCC or lower rated bonds at the time was around 8%.
Today the scenario is punctuated by defaults, debt restructurings with big haircuts, and bankruptcy filings. These risks had been there all along. But "consensual hallucination," as we've come to call the phenomenon, blinded investors, among them hedge funds, private equity firms, bond mutual funds for retail investors, and other honorable members of the "smart money."
But now that they've opened their eyes, they're running away. And so the market for new issuance is grinding down.
"Another tough week," S&P Capital IQ LCD said on Thursday in its HY Weekly. There was one small deal earlier this week: Manitowoc Cranes' $260 million B+ rated second-lien notes that mature in 2021 sold at a yield of 14%!
The M&A-related bond issue by Endurance International Group couldn't be syndicated and ended up on the balance sheets of the underwriters. LeasePlan has a $500 million deal on the calendar. If it goes today, it will bring the total this week to a measly $760 million, down 90% from the four-year average for the second week in February. According to S&P Capital IQ LCD, it would be "the lowest amount of early-February issuance since the credit crisis in 2009."
In the secondary market, where the high-yield bonds are traded, it's equally gloomy. S&P Capital IQ LCD:
The market was hit hard again this week amid solid volume trading as oil prices plunged anew. There was a meager attempt at stability on Wednesday, but some participants described it as similar to the calm at the eye of a hurricane.

That proved true today, as markets fell further. There was red across the board with losses in dollar terms ranging 1–5 points, depending on the credit and sector. The huge U.S. Treasury market rally gave no technical support, even as the yield on the 10-year note, for one, pierced 1.6%, a 4.5-year low.
And retail investors are catching on. Over the past three sessions alone, they pulled $488 million out of the largest high-yield ETF, the iShares HYG, which on Thursday closed at 75.59, down 21% from its high in June 2014, and the lowest level since May 2009.
On a broader scale, investors yanked $5.6 billion out of that asset class in January, the fourth month in a row of outflows.
All grades of junk bonds have been losing ground: the S&P High-Yield Index is down 3.9% year-to-date. But it's in the CCC-and-lower category where real bloodletting is occurring.
This chart shows the return from interest payments and price changes of that category. Since June 2014, the index has lost 28%. During the panic of the Financial Crisis, it plunged 48%. But now the volume of junk bonds outstanding is twice as large and the credit bubble is far bigger than it had been before the Financial Crisis. So this might just be the beginning: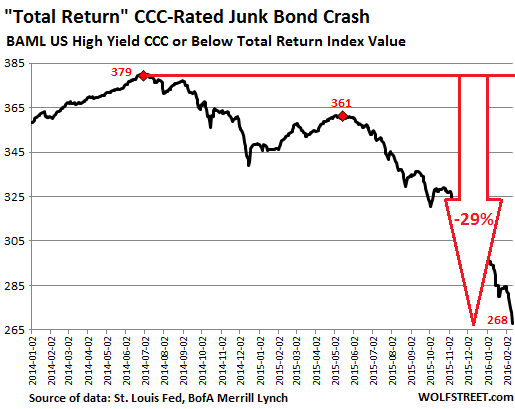 It's not just energy. The category includes all kinds of companies, among them brick-and-mortar retailers and restaurants, hit hard by excessive debt, slack demand, consumer preference for online shopping, and other scourges. Unlike oil and gas drillers, these companies have no assets to sell. Standard & Poor's "believes these trends will accelerate in the coming year and lead to further retail defaults."
S&P now expects the overall default rate to reach 3.9% by the end of 2016. But it may be the rosy scenario; last March, S&P still thought the default rate at the end of 2016 would be 2.8%. Credits are deteriorating fast.
Among these CCC-rated retailers and restaurants are Claire's Stores, Logan's Roadhouse, and the Bon-Ton Department Stores. Others, at B-, are just a downgrade away, such as Toys "R" Us, 99 Cents Only Stores, or P.F. Chang's China Bistro. Some are rated B, such as Men's Wearhouse and Neiman Marcus. If these companies need money, it's going to get very expensive.
And contagion is spreading to high-grade bonds: issuance so far in February plunged 90% to just $5 billion, from the same period a year ago. Year-to-date issuance was inflated by one monster deal carried over from last year, the $46-billion M&A-driven trade for Anheuser-Busch InBev, bringing the total to $126.5 billion, still down 13%. S&P Capital IQ LCD:
Severe broad market volatility shuttered the investment-grade primary market for a fifth consecutive session Thursday, as secondary-market spreads continued to widen.
But when there is blood in the streets, there are opportunities though perhaps not in the usual corners. Read…  What's Booming in this Economy? Bankruptcy & Restructuring Business "Highest Since Great Recession"




Enjoy reading WOLF STREET and want to support it? You can donate. I appreciate it immensely. Click on the beer and iced-tea mug to find out how:

Would you like to be notified via email when WOLF STREET publishes a new article? Sign up here.