Those Sinking Banks
That the rest of the world didn't follow Asia into another Friday stock-market abyss caused a worldwide sigh of relief. In many markets, short sellers got their heads handed to them, and no one felt sorry for them. But Asia descended into financial turmoil.
China's markets were mercifully closed all week. But Hong Kong's Hang Seng opened on Thursday with a 4% nosedive and ended the week down 5%. The Hang Seng China Enterprises Index, which tracks mainland Chinese companies traded in Hong Kong, plunged 4.9% on Thursday and another 2% on Friday. Down 50% from its peak, it's back where it had been during the Financial Crisis.
Markets in Tokyo were closed on Thursday. But on Friday, the Nikkei plunged 4.8%, to 14,963, the lowest since October 2014. It's back where it first had been in February 1986. It's down 21% year-to-date. It's down 28.6% from its recent high.
Thus it was inducted into a bear market, which we define loosely was a decline of 20% or worse from a more or less recent high.
It plunged 11% during the week, the worst weekly drop since October 2008. It plunged 17% during the past eight trading days, starting with February 2. That was the propitious day when the Bank of Japan's negative-interest-rate magic curdled into a toxic mix.
On Friday, January 29, the BOJ had cut one of its deposit rates from positive 0.1% to negative 0.1%. Due to the three-tiered system, the rate cut won't even impact anything for now as there are no deposits in that tier. It was a head fake.
The move was designed to bash the recalcitrant yen that was inching up against the dollar, and to inflate Japanese stocks that were teetering at the edge of a bear market. It worked for just two days! Then it all came unglued.
On Tuesday, February 2, stocks began to plunge, and the yen began to climb, eventually reaching 111 yen to the dollar, though it has since edged back to 112.6. Bank stocks got crushed. This has become the norm with NIRP: it hammers stocks, crushes bank stocks, and does unpredictable things to currencies.
But it inflates government bonds, and even the 10-year JGB yield fell into the pandemic negative-yield absurdity for the first time ever. Now the 10-year yield is back in the positive, a microscopic 0.08%.
After watching stock prices plunge for eight days, the frazzled BOJ dispatched its deputy governor Hiroshi Nakaso to New York to rationalize the BOJ's action. Yesterday, he met with some investors and bankers and told them that the selloff in Japanese bank stocks was "overdone," thus joining other voices around the globe that are desperately trying to talk up bank stocks.
Concerning the negative deposit rate, he said that it was "technically possible to go farther down in the negative." But he added, perhaps ruing the day the BOJ went down this road, "My sense is that for now I would like to watch carefully how this new policy is going to work through the economy."
It was part of the BOJ's hearts-and-minds campaign. He and his colleagues were also talking with bankers in Japan, he said, "to seek their understanding that overcoming deflation is in everyone's interest."
So when Europe didn't follow Japan on Friday, markets emitted an audible sigh of relief.
For once, the big banks didn't get hammered. They're trying to re-inflate confidence in them with methods that are eerily reminiscent of 2008. So Deutsche Bank came up with a new thingy: a plan to buy back its own bonds to show off its "strong liquidity position." Its shares soared 12.5% to €15.40. Now they're down only 51.6% from July 31, 2015.
Funny thing is, no one doubted that it had enough liquidity. Banks are awash in liquidity. What folks are worried about are potential losses buried on its balance sheet, more fines, penalties, and settlements for its misdeeds, and its derivative exposure, the second largest in the world.
They're worried the bank doesn't have enough regulatory capital to absorb these losses. It can only get this capital from earning a profit and issuing new shares or hybrid securities that count as capital, such as the infamous "CoCo" bonds which have collapsed.
But at least on Friday, Deutsche Bank's joke worked. Folks needed some comic relief, on the principle that nothing goes to heck in a straight line.
And so, in Europe a terrible week became less terrible on Friday.
The London FTSE snuck out of bear market territory with a well-engineered one-hour surge at the very end. The 3% gain on Friday left the index down 19.9% from its recent high. Whew.
It still fell 2.4% for the week. Other major European markets weren't so lucky. They're hounded by NIRP.
Germany's DAX rose 2.5% for day but ended the week down 3.4%. France's CAC 40 rose 2.5% for the day but ended the week down 4.9%. Italy's MIB rallied 4.7% on Friday but still dropped 4.3% for the week. Spain's IBEX 35 rose 2.3% for the day and still plunged 6.8% for the week.
That's how bad the prior four days had been. And they're all stuck deeply in a bear market.
In the US, the rally was badly needed. On Thursday, the Dow hat closed at its lowest level since February 6, 2014, and the S&P 500 at its lowest level since April 11, 2014. The Nasdaq had closed within a hair of a bear market.
Something had to be done! And it worked: The Dow and the S&P 500 ended up about 2% on Friday, and the Nasdaq 1.7%. But it still left all three in the hole for the week.
So our Bear Market Progress Report shows some, well, progress. A week ago, eight of the major markets we track were not in a bear market. This week, only seven are left. Three of them are within less than one percentage point of qualifying for a bear market. For the moment, the S&P 500 is the cleanest dirty shirt (-11.7%), followed by the Dow (-13.0%), the Korean KOSPI (-15.6%), and the Nasdaq (-17.1%). To find the Nikkei, which a week ago wasn't even in a bear market, you have to dive much deeper: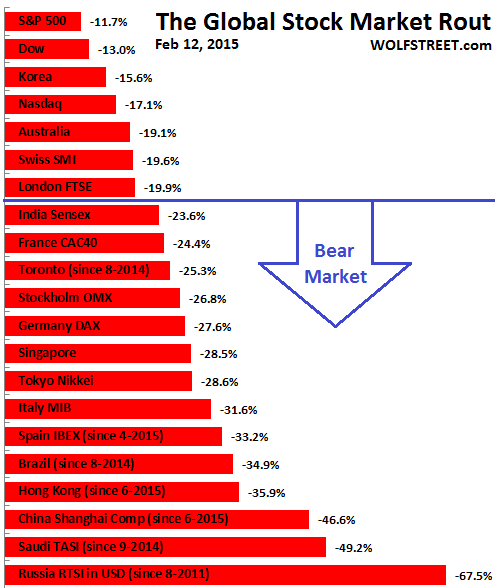 Gold surged 7% during the week and 16% since the start of the year. A phenomenal climb for the beaten down metal. It paralleled the climb in US Treasuries with longer maturities. It pushed the 10-year yield down to 1.55% at one point. That combination speaks of fear. But on Friday, as fear subsided, gold and Treasuries fell.
And crude oil had its best trading day in seven years, with WTI up 10.7% on Friday as short sellers scrambled for dry land. But that huge bounce still left WTI at a gruesomely low $29.02 a barrel.
In the US alone, there are over $1.8 trillion of junk bonds outstanding. It's the lifeblood of over-indebted corporate America. When the bonds at the bottom of the scale began to swoon over a year ago, with yields soaring and liquidity drying up, it was said to be "contained." But now it's not contained. Read…  This is How Financial Chaos Begins
Enjoy reading WOLF STREET and want to support it? You can donate. I appreciate it immensely. Click on the beer and iced-tea mug to find out how:

Would you like to be notified via email when WOLF STREET publishes a new article? Sign up here.