A toxic cocktail.
American corporations borrowed more in the years following the Financial Crisis than ever before. Debt was dirt-cheap even for the riskiest borrowers, and they went out and sold bonds and borrowed from banks, and blew the proceeds on funding operating losses, buy each other out in a record-breaking wave of M&A, and buy back their own shares. And not enough went into productive investments that would help their businesses grow and thrive.
This has been one of the reasons the economic recovery has been so crummy. Business investment is crucial, and there just wasn't enough. And now it's getting even worse.
Over $1.8 trillion of US corporate bonds are rated below investment grade, having doubled since the Financial Crisis. But for these junk-rated borrowers, the costs of borrowing have been rising. At the bottom end, bonds rated CCC or lower sport an average yield of nearly 20%. These companies can no longer afford to raise money via bond offerings. At the upper end of the junk-bond field, just below investment grade, the average yield has risen to 6.5% from 4.5% in 2014. These companies can still borrow, but it's getting much more expensive. Even investment-grade borrowers have seen their costs rise.
Just how difficult is it for junk-rated companies to issue bonds? January has been, according to S&P Capital IQ's LCD HY Weekly, "the slowest start to any year since the Financial Crisis circa January 2009."
The trailing four-week average junk-bond issuance plunged 85% from the same period last year to a minuscule $1.5 billion.
The rising cost of debt "has to dull your willingness to invest going forward," Rick Rieder, CIO of global fixed income at BlackRock told Bloomberg TV. As costs rise, US companies face even greater challenges investing – and that will put a drag on the economy, he said.
This comes in an environment where profit margins are under pressure, where sales of S&P 500 companies have been shrinking for an entire year, and where their net profits are likely to have declined for three quarters in a row. This is a toxic cocktail for business investment. And it has started to show up in the official numbers.
Orders for non-military capital goods excluding aircraft, a measure of investment in business equipment, fell 4.3% in December on a monthly bases, the sharpest drop in 10 months. They're down 8.1% year-over-year.




This is what companies order to build and expand their businesses, update their technologies and equipment, become more competitive, and move the company forward. These orders, at $65.87 billion in December, were the lowest since October 2013 ($64.1 billion), then September 2012 ($64.5 billion), and November 2011 ($64.47 billion).
This was also the lower end of the range in 2006 and 2007, which speaks of long-term stagnation of business investment interrupted by violent cutbacks during the Financial Crisis. Neither QE nor ZIRP that made borrowing historically cheap, nor a soaring stock market, had any positive impact on business investment: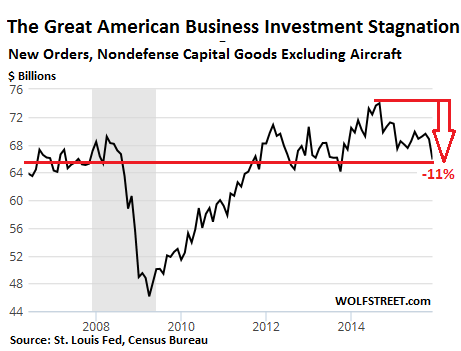 Note the mini-boom from October 2013 to September 2014, when capital goods orders hit an all-time peak of $73.9 billion, and when hope began to circulate that businesses would finally invest again, that the drought was over. But then it all came unglued, and investment in capital goods has since plunged 11%.
The broadest measure, orders of all durable goods, dropped 5.1% in December to $225.4 billion, the lowest since polar-vortex February 2015, and then October 2013. Excluding transportation equipment — volatile aircraft orders plunged 29.4% in December — durable goods orders still fell 1.2%. This pull-back was broad-based and not exactly encouraging.
But US companies can't blame the "strong dollar," which these days conveniently gets blamed for just about everything when blaming the weather won't do. The "strong dollar" makes imported components and equipment cheaper and has no impact on domestically produced equipment. So it should have encouraged investment. But no.
The collapse of oil & gas investments has had some impact on the recent decline in business investment. But in prior years, when oil & gas investments were booming, overall business investment was already stagnating, and without oil & gas would have looked even more miserable.
Years of QE and ZIRP, instead of generating a tsunami of investment in productive activities, and thus economic growth, have pushed financial engineering – share buybacks and M&A – to new levels that have left corporate America more leveraged, more fragile, and more financially unstable than ever before. As companies are starting to grapple with the consequences of their financial engineering strategies in this environment, business investment is going to be relegated to an afterthought. And this will be a further whack-down for the already limping economy.
The credit market is in turmoil, and distressed corporate debt has reached Lehman-Moment levels. Read…  Ka-boom Goes the Bottom of the US Bond Market




Enjoy reading WOLF STREET and want to support it? You can donate. I appreciate it immensely. Click on the beer and iced-tea mug to find out how:

Would you like to be notified via email when WOLF STREET publishes a new article? Sign up here.