Alberta Falls off the Chart.
Owners of small businesses in Canada have been feeling the blues for months. And in January, their optimism dropped to the lowest level since March 2009, the trough of the Financial Crisis.
That's what the Canadian Federation of Independent Business (CFIB) reported. Its Business Barometer has a scale between 0 and 100. A level above 50 indicates that owners who expect their businesses to be stronger over the next 12 months outnumber those who expect their businesses to be weaker.
But: "One normally sees an index level of between 65 and 70 when the economy is growing at its potential." That's what the CFIB calls "normal economic growth."
In January, the Barometer dropped to 54.3, the third monthly decline in a row, down from the post-Financial crisis peak in April 2011 of 70.6, and, as the report said, "about 10 points below the level associated with normal economic growth." It was the worst level since March 2009: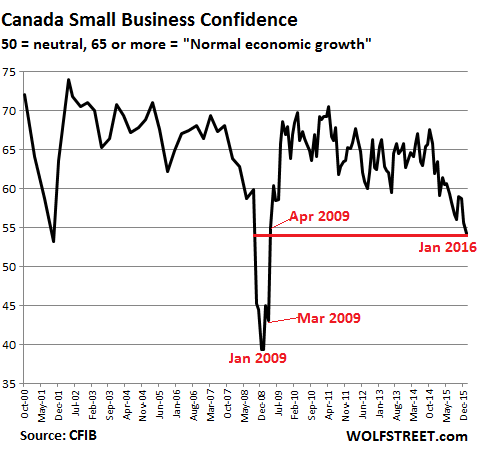 But there was a bifurcation: business owners in the services sectors came out on top. If not exactly gung-ho, at least they were hanging in there; the most optimistic were in the category Professional and Enterprise Services. At 65.2, it was the only category associated with "normal economic growth."




Business owners in Information, Arts, and Recreation had the second highest rate of optimism, at 62.0, but already below "normal economic growth." In the rest of the categories, optimism swooned, with businesses in Construction (45.9) and in Natural Resources (44.3) feeling the most pain. And note Retail, a reflection of where the consumer stands: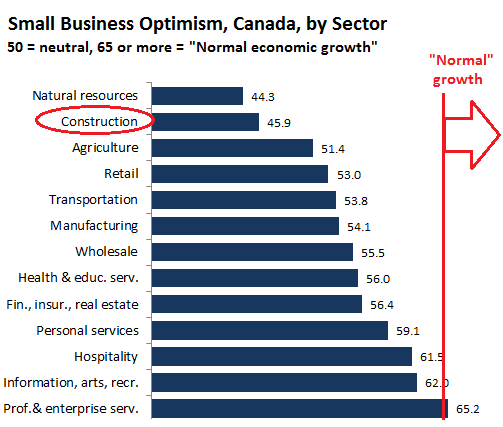 The survey found that "hiring and wage plans are weak for this time of year." It specifically blamed the Canadian dollar, whose "freefall is also causing problems – the percentage of respondents squeezed by currency-related costs has reached a record 38%, compared to 10% to 15% in more 'normal' times."
Of the limitations on sales or production growth, "insufficient domestic demand" was by far the most important factor (45%).
And there were big differences by province. Business owners in Nova Scotia led the country in optimism, but at 69.0, the index was down two points from December. Nova Scotia was the only province with an index level over 65, associated with "normal economic growth."
Business owners in Newfoundland and Labrador, New Brunswick, Quebec, Manitoba, and British Columbia muddled along, with index levels in the low 60s. In Saskatchewan and Ontario, business owners were even less optimistic, at 58.7 and 58.4 respectively.
And in Alberta, Canada's oil province, the index plunged "yet again," this time 4.3 points, to 28.8, "depths so far uncharted by the Barometer."
In September, pessimism in Alberta had first blown through the previously worst level during the Financial Crisis in February 2009 (37.4), then recovered a little, only to re-plunge to even lower levels: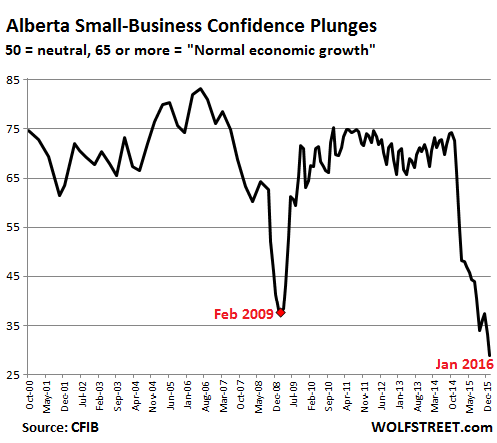 The report:
Short-term hiring plans worsen even more with 35% of owners expecting to cut back and only 9% intending to hire. Furthermore, 29% of owners cite that their firms are in bad shape and 19% say their businesses are in good shape – a slight deterioration over the previous month.
Of the limitations on sales or production growth, 71% of the business owners listed "insufficient domestic demand." That's a sign that the local economy, ravaged by the oil price collapse, is in a tailspin.
During the Financial Crisis, the price of oil collapsed too, but then rebounded in a V-shaped recovery, and small business optimism along with it, as the chart above shows. But there is no indication that there will be a V-shaped recovery of oil prices to levels where Canadian tar-sands producers, the high-cost producers in the world, can survive. However, there will be plenty of sharp rallies this year and perhaps even next year that then implode again. So Alberta's economic issues are likely to get worse before they get better.
They're already bad enough. Statistics Canada just reported that non-farm payrolls in Alberta plunged by 65,200 employees in November from a year ago. And average weekly earnings – for the lucky ones who had jobs – fell by 2.4%, to C$1,130, the fifth year-over-year decline in a row. And it wasn't just oil: StatCan:
Declines were spread across many sectors, led by construction; accommodation and food services; as well as real estate and rental and leasing.
However, weekly earnings in Alberta are still the highest among the provinces. The average for Canada rose 1.4% from a year ago to C$951.
That's what oil booms do. Money flows knee-deep through the streets. Wages are high. Businesses are exuberant. It feeds all kinds of sub-booms, including office-tower construction booms that further crank up the local economy. But when the money dries up, everything comes to a halt. People lose their jobs. Towers remain vacant. Construction halts. Loans go bad. Homes no longer sell. Home prices fall. Consumers slash their spending. And small businesses get hit very, very hard.
Already, Canada's brick-and-mortar retail is spiraling into turmoil. Read…  'Footprint Rationalization': Sears adds to Woes of Canada's Malls




Enjoy reading WOLF STREET and want to support it? You can donate. I appreciate it immensely. Click on the beer and iced-tea mug to find out how:

Would you like to be notified via email when WOLF STREET publishes a new article? Sign up here.