Last time a "plateau" was declared, the market crashed.
Legendary real-estate bottom-and-top picker Sam Zell, chairman of apartment mega-landlord Equity Residential, got on Bloomberg TV and said, "There is a high probability that we are looking at a recession in the next 12 months."
This is not even a remote possibility in the Fed's miserably slow-growth forecasts it issued yesterday. But Zell was once again having a will of his own. He offered a laundry list of reasons: Multinationals are announcing mass-layoffs; global trade is deteriorating; China's economy might be spiraling down; and "the strong dollar" is hitting US production.
But he said this only after he'd unloaded a ton of commercial real estate: in total 23,262 apartments in five states. The deal was announced at the end of October. Another 4,728 apartments are to be dumped next year.
As his firm pocketed the $5.4 billion it got from Starwood Capital Group for these units, Zell said: With "pricing currently available in the commercial real estate market, it is very hard not to be a seller."
And prices for office, retail, and apartment buildings are in the most phenomenal bubble ever: up 10% this year through November, according to the Green Street Commercial Property Price Index, after having already jumped 10% in 2014. They're up 100% from May 2009. They're up 23% from September 2007, the peak of the insane bubble that blew up. Even on an inflation-adjusted basis, prices are now 12% higher than they'd been during that propitious peak of the bubble: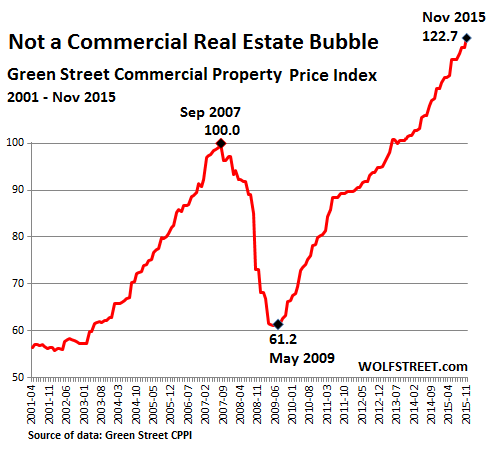 So Zell dumped about a quarter of Equity Residential's portfolio and will unload more next year. Most of these units are low-rise and mid-rise buildings, just when a dizzying construction boom is beginning to throw a lot of new supply on the market.
The unnerving thing is that Zell has a history: in 2007, when the commercial property bubble was already teetering, he dumped Equity Office Properties Trust into Blackstone's lap for $23 billion, not including $16 billion in debt. Then all heck broke lose, prices crashed – see above chart – and commercial property defaults ricocheted around the country. And after the Financial Crisis, he went on a shopping binge.
In one of the most exuberant property bubbles, San Francisco, rents have soared to where we now call it a "housing crisis" and read editorials like this one in the San Francisco Examiner:
When people talk about the dominant news story in The City, the housing crisis is usually the first thing mentioned. The term "crisis" is not even debated as a description — it's accepted as fact….  It's a crisis, possibly a state of emergency, that it's easier for a camel to go through the eye of a needle than it is for a family to find affordable housing in The City.
But it has been good for the industry. Sky-high rents make all industry dreams possible, or at least they did. Because now, there's suddenly talk of a "plateau." The last time industry experts envisioned a "plateau" was in 2007 as the market was beginning to crash.
Jay Greenberg and Trigg Splenda at SF apartment brokerage Alain Pinel Investment Group see that kind of bone-chilling "plateau" in their latest report, based on two property pricing metrics, the Gross Rent Multiplier (GRM, sales price divided by gross rent) and capitalization rate (Cap Rate, Net Operating Income divided by property asset value):
GRMs and Cap Rates have reached unprecedented levels. Can prices escalate further or has pricing peaked? Of course anything is possible, and in our opinion there is little pricing appreciation left in this real estate cycle in relation to gross rent multiplier [GRM] escalation and cap rate compression.
So "if we are not at the peak pricing levels for GRM/Cap Rates then we believe we are very close." They are echoing Green Street Advisors (source of the data for the above chart) which concluded: "If this isn't the peak, we're probably close."
Greenberg and Splenda:
Currently buyers are willing to pay in excess of twenty times gross [annual rent] for quality properties. However as pricing creeps above this level we are starting to see quality properties sit on the market.

Real estate agents are privy to future closing data not yet exposed to the marketplace. Active agents have listings and escrows that are in contract and/or pending close of escrow and thus know the number of offers received, offer ranges, and final selling prices prior to the sale being published. In essence, we agents have future data available to us. As current escrows close in the 4th quarter of 2015, we will see value indicators continue to nudge forward. Yet offer activity has dropped.
In fact, still talking about apartment buildings with 10+ units…
In 2015 we've had escalating pricing levels with a 42% decrease in number of transactions. As we reach year end, we are currently at the highest pricing levels ever. For 2016 we are predicting pricing levels to hold and number of transactions to remain low. We'd be surprised if new market entrants (outside of the consolidated buying pool of late 2015) suddenly emerge and find a willingness to bid up GRM's from current pricing levels.
These "new market entrants" are the rich Chinese that everyone in the industry is now praying for. But they're tangled up in their own problems in China right now.
So the number of transactions for these types of buildings is crashing, in part because prices have shot up to levels where they no longer make financial sense for buyers, and buyers are suddenly pulling back, even at these sky-high "housing-crisis" rents:
This leads us to the conclusion that the market may have peaked (for now), and we are in a plateauing phase where buyers will pay up to a certain price, but not continue to chase properties higher.
Again that bone-chilling term, "plateauing phase."
That would be the rosy scenario. It assumes rents don't buckle under pressure from 59,000 units now under construction or in the planning stages that will wash over a market with a total housing stock of only 382,000 units [read… This Will Bust San Francisco's Insane Home Price Bubble]. But when vacancies rise and rents come down, as they did during the last bust, the entire elegant math of Cap Rates and GRMs falls apart unceremoniously. Sam Zell must have had more than an inkling of that.
Alas as the chart above shows, after big booms in commercial real estate, there are no "plateaus." Read…  Industry Holds Breath for Craziest-Ever Commercial Property Boom to Implode
Enjoy reading WOLF STREET and want to support it? You can donate. I appreciate it immensely. Click on the beer and iced-tea mug to find out how:

Would you like to be notified via email when WOLF STREET publishes a new article? Sign up here.