A terrible deterioration.
It got somewhat lost in the hoopla of the jobs report and the blistering rally in the stock market on Friday. But the US trade deficit worsened by 3.4% in October to $43.9 billion, according to the Commerce Department, once again disappointing soothsayers who'd hoped for an improvement in the trade deficit.
But as bad as the overall trade deficit is, the trade deficit in goods (without services) is much worse, and even then, the oil trade covers up just how terrible the underlying trade of non-petroleum goods really is, how far and how fast non-petroleum exports have plunged, and how much US manufacturing is getting whacked.
The worsening trade deficit was a nasty "surprise" – nasty because it dings US economic growth; and surprise because it appears inexplicably difficult for Wall Street economists to predict a downhill slope.
Exports add to GDP, and imports reduce GDP. So when imports exceed exports, the sacred US GDP figures get hit as they have been since the 1990s. But October was bad: exports of goods plunged 10.4% year-over-year to $123.8 billion, the worst level since June 2011.
The culprits: the strong dollar that makes US goods more expensive in other currencies, and tepid economic growth in the rest of the world, with some major markets in a recession, or a deep recession, such as Russia, or even worse, such as Brazil. The China slowdown isn't helping. But in the case of exports to China, the dollar can't be blamed since the yuan is pegged to the dollar, and the recent devaluation was tiny compared to the moves of other currencies.
Imports of goods fell 6.6% year-over-year to $186.8 billion – despite the strong dollar, though a strong dollar, in theory, should have caused imports to rise. This testifies to tepid demand in the US. Imports of petroleum products were blamed. The US is – despite the oil bust – pumping so much oil for domestic consumption that imports of petroleum products have been falling for years. And in October, the value of petroleum imports hit the lowest level since 2003!
In fact, the US is pumping so much oil that exports of petroleum products have been booming, and the net petroleum trade deficit – the difference in value between imports and exports of petroleum products – dropped to a minuscule $4.47 billion, the lowest since April 1999.
Credit must be given to the shale oil revolution – and to the many billions of investor dollars that have been drilled into the ground where they have now disappeared without trace!
But this flourishing oil trade covers up the terrible deterioration in the non-petroleum trade deficit. It's volatile from month to month, but the trend is clear: in October, it worsened by 25% year-over-year, to $56.8 billion, after an all-time worst of $59.3 billion in August. Before this year, the worst had been $47.8 billion – in December 2014!
This chart shows just how fast and how far the non-petroleum trade balance (blue line) has plunged, while the net petroleum deficit (black line) is on the way, if this trend continues, to a surplus: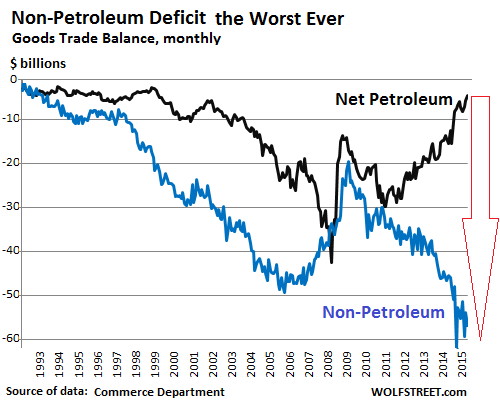 The reason for the rapidly deteriorating non-petroleum trade deficit: declining exports. In October, non-petroleum exports fell 9% year-over-year to $115.9 billion. The trend is worsening: year-to-date, non-petroleum exports dropped only 4%, but October and August were the worst months since 2011.
This swoon in non-petroleum exports explains in part the malaise in US manufacturing. What the regional manufacturing indices have been saying loud and clear for months, the national Manufacturing ISM Report On Business finally confirmed: for November, the index fell to 48.6 (below 50 = contraction), with new orders dropping to 48.9, not a good harbinger for the future. It was the first contraction since November 2012.
Bad as it is, it has been propped up by the massive US auto manufacturing sector that has been flying high, pumped up by cheap credit, loose underwriting standards, extended loan terms, loan-to-value ratios that exceed 100%, the rising proportion of subprime loans, and of course, securitization of these loans [read… What Happens When the Auto-Loan Boom Blows Up].
And auto manufacturing is still hot, fired up by US auto sales that might soon set an all-time record in units and have already set all-time records in dollars due to higher vehicle prices.
But the rest of US manufacturing can't be so easily propped up with loosey-goosy consumer debt. In these sectors, there has been no manufacturing renaissance, as this chart by NBF Economics and Strategy shows. It compares the soaring output of the auto sector (dotted blue line) to the languishing output of the rest of manufacturing (dotted red line):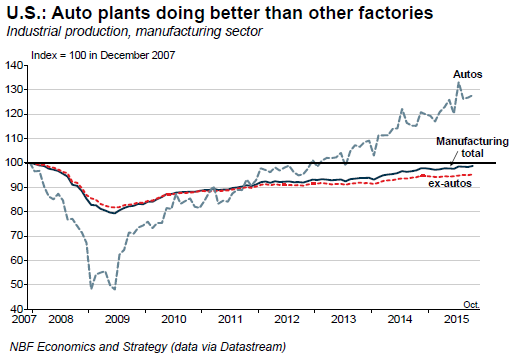 NBF's report notes that factory production excluding autos is still 5% below the pre-recession peak, "having stagnated in the last year or so."
But auto manufacturing in the US isn't for export; it's mostly for the US market. Once the auto loan boom hits rough waters, as all loan booms eventually do, auto manufacturing too will get into trouble. This will pull out the last prop under overall manufacturing in the US.
And trouble, deep trouble, is already hitting manufacturing of heavy trucks. Read… Toxic Mix Hits Trucking, Orders for New Trucks Totally Collapse, Pummel Manufacturers
Enjoy reading WOLF STREET and want to support it? You can donate. I appreciate it immensely. Click on the beer and iced-tea mug to find out how:

Would you like to be notified via email when WOLF STREET publishes a new article? Sign up here.