Autos impact various parts of the economy in a big way.
One theory of the bulls – who don't see a recession in the future – is that the slow recovery since 2008 means that there are few imbalances in the big sectors of the US economy whose busts could cause recessions. The idea is that they haven't been inflated to risky levels.
That is not correct. Here we look at one: automobile sales. They've been booming, and loans associated with them have been soaring: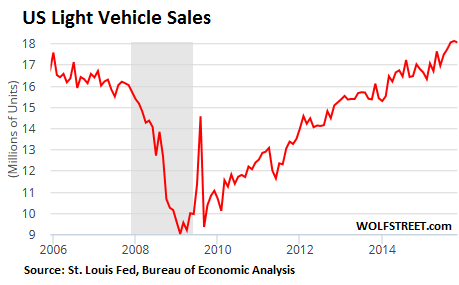 To achieve this, lenders have taken car loans and leases beyond any sensible level of prudence, as documented by data from Experian's Q3 State Of The Automotive Finance Market and the Fed's quarterly Consumer Credit report.
Record high average amount financed for new cars: $27,000, 50% of median household income ($54,000).
A record 87% of new car purchases are financed.
Of those financed, 27% are leases, with short maturities (average 27 months) to people with strong credit, but not building any equity.
Car loans with record long loan maturities: 44% with maturities of 61-72 months, 28% of 73+ months.
Record high loan-to-value ratios (LTV) for new and used vehicles, exceeding the value of the vehicles by a large margin. Even regulators are warning about it.
With long loan maturities and high LTV's, these cars have negative equity for many years, and owners will have difficulties trading out of them to buy the next car.
11% of new car loans are to people with subprime credit (scores of 600 or below).
This is how auto loan balances outstanding have ballooned from record to record, hitting $1.03 trillion at the end of the third quarter: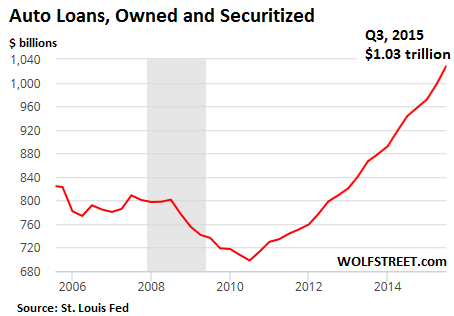 So far, delinquency rates remain stable: 5.2% of outstanding loans are 30+ days past due as of Q3, down year-over-year. After all, loan defaults result from economic downturns, not lead them.
Like the boom in student loans, auto loans boosts the economy (education and autos are two of America's major growth industries). Both look unsustainable at current levels. But their eventual ill effects will be unlike that of the 2008 housing bust.
First, auto lenders need not fear mass defaults: no "jingle mail" as when people default on their mortgages by mailing the keys to the bank. Many first mortgages are non-recourse to the borrower (the lender cannot chase the borrower for deficiencies); that's not so for auto loans. Home foreclosure can take months or even years following default. New technology makes repossession of cars fast and cheap. People can more easily find a place to live than survive in America without a car.
Second, outstanding auto loans are a small fraction of mortgages. In 2008, outstanding mortgages reached $10 trillion (70% of GDP). Auto loans are just over $1 trillion (6% of GDP). The mortgage default rocks the nation's financial system. A severe recession might cause auto-loan defaults to spike, but it won't be a catastrophe for the financial system. That's the good news.
The bad news? All these imprudent loans will likely produce an overreaction by lenders when the losses arrive during a recession — a drastic reduction in lending, a hammer blow to auto sales. That will hurt because auto sales provide a more powerful boost to the economy than home sales. In 2014, total new home sales were approximately $151 billion. New car dealers sold $72 billion in product in the single month of October this year (roughly 20% were imports).
Auto sales also support a vast US manufacturing machinery, from raw materials to final assembly. They support transportation activities (rail, truck, ports, etc.), finance, insurance, and other services…. They impact many parts of the economy.
But someday, without warning, car loans will become a drag on the economy. That might happen when a large fraction of households max out on auto loans, when they can no longer roll car loans with negative equity into new loans. And the subsequent slump in auto sales will help trigger a recession. Or worse, when defaults spike during a recession and lenders raise lending standards, as they tend to do during the recession. Then auto sales will roll over, causing ripples of unemployment to radiate through the economy, affecting materials, manufacturing, transportation, finance, services, and sales.
Our reliance on consumer debt — now taken to mad levels — makes our economy dangerously unstable. That's why car sales quickly dropped from 16 million in November 2007 to 9 million in February 2009 (-45%). Now they're running at 18 million, with lending even more extreme. They probably will drop at a similar rate and just as much in the next recession.
The most important fact about the 2008 bust was the surprise. Many economists saw the US housing bubble and the high likelihood of a recession. I have found none who predicted that many of the world's banks would collapse like card houses, plunging the world into a situation much like 1929-32.
The next recession will have different dynamics. I suspect it will surprise us just as much. By Larry Kummer, Editor of the Fabius Maximus website.
The slowness of this recovery has been its most amazing characteristic. Read…  Recession Watch: Hidden Messages in the Jobs Report
Enjoy reading WOLF STREET and want to support it? You can donate. I appreciate it immensely. Click on the beer and iced-tea mug to find out how:

Would you like to be notified via email when WOLF STREET publishes a new article? Sign up here.