Slack demand and sudden overcapacity.
When diesel-engine maker Cummins announced its third-quarter earnings debacle on October 28, chief operating officer Rich Freeland had a special word about future production and sales of heavy trucks: "It's evident now that retail sales [of trucks] and production will be down going forward."
He wasn't kidding. But it's a lot worse than imagined at the time.
Demand for Class 8 trucks, the largest trucks on US highways, had been strong in 2014, and orders were expected to reach a decade high in 2015. Last year, the trucking industry was roaring, and there was talk of shortages of trucks and drivers, a capacity squeeze caused by vibrant order books around the country. Companies were stocking up for the great year 2015.
Optimism was boiling over. Interest rates were at zero. Money was nearly free. The economy would hit escape velocity. Stocks hit new all-time highs. And carriers ordered trucks from truck makers to be able to meet this demand coming down the pike, and truck makers ordered engines from engine makers such as Cummins. And the whole industry was cooking. Then summer 2015 came around.
Retail sales had been disappointing. Escape velocity had turned out to be an illusion. Inventories around the country had built up to a historic glut. And companies began trimming their orders. Suddenly demand for transportation slowed while capacity soared. In this scenario of slack demand and overcapacity, the load-to-truck ratio, published by transportation data provider DAT, collapsed to the lowest level in years.
DAT calls the ratio "a sensitive, real-time indicator of the balance between spot market demand and capacity." It's a function of the number of loads for every truck posted on DAT Load Boards. By July, the ratio for van-type trailers was down to 1.8, the lowest in years.
Usually the load-to-truck ratio picks up in November, the middle of shipping season. It picked up this year too: from a terrible 1.5 in October to a still terrible 1.8 in November. In November of banner-year 2014, it was 3.5. In the more typical November of 2013, it was 2.5.
Since late last year, DAT's van load-to-truck ratio has been heading south. The chart shows how every month this year, the ratio (red line) has been below the ratio of the same month in 2014 (blue line). November's ratio of 1.8 was a dizzying 49% below November last year: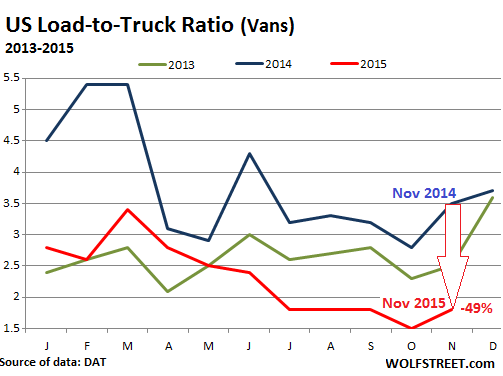 Trucking is a gauge of the real economy. It tracks exports and imports, manufacturing, distribution, retail, and other sectors. And the sudden slowdown in the trucking industry is worrisome.




But it's more than just a gauge: now the consequences are hitting manufacturing. In November, according to a report by ACT Research cited by the Wall Street Journal, orders for Class 8 trucks plunged to 16,600, down 36% from October, and down a stunning 60% year-over-year.
Without seasonal adjustments, it was the lowest number of orders since September 2012, and seasonally adjusted, it was the lowest since August 2010, according to ACT Research. Freight intelligence provider FTR figured that orders for Class 8 trucks made for the worst November since 2009.
A "major disappointment," it said with elegant understatement about this total collapse.
Trucking companies have seen the future: a toxic mix of overcapacity and slack demand, even during peak shipping season, when retailers stock up for the holiday extravaganza. But retailers are having a hard time. Thanksgiving weekend sales at brick-and-mortar stores were outright awful. And now they're sitting on a historic inventory glut [read…  There Better Be a Miracle for Retailers].
As retailers cut their orders, fewer trucks are needed to transport the merchandise, and it ricochets through the economy.
Trucking companies are responding to this situation, as Cummins and other companies have warned since this fall, but now they're responding much more sharply than previously imagined they would. Hence the total collapse of orders for Class 8 trucks.
Truck manufactures, their engine and component suppliers, trailer manufacturers, in short the entire industry building equipment for trucking companies – they're all getting hit hard. And this is going to cascade from there.
Truck maker Navistar already features on the list of "distressed" issuers of junk bonds. This is where investors are now getting bloodied as the Great Credit Bubble implodes from the bottom up. Read…  "Distress" in US Corporate Debt Spikes to 2009 Level
Enjoy reading WOLF STREET and want to support it? You can donate. I appreciate it immensely. Click on the beer and iced-tea mug to find out how:

Would you like to be notified via email when WOLF STREET publishes a new article? Sign up here.