"If this isn't the peak, we're probably close."
Commercial real estate prices over the past many years have done only two things, in this sequence: boom at a blistering pace to dizzying heights and then crash violently.
The benign description for this elegant and repetitive process: "the end of the credit cycle." Credit gets just a little tighter and a little more expensive, as investors are once again opening their eyes to risks and want to be compensated for them at least a little bit. Then cap rates can no longer compete with rising corporate bond yields. The lofty lease rates commercial property owners have been charging and that made all this possible smack into ordinary run-of-the-mill economic ills that cause vacancy rates to rise.
This coincides with a construction boom and lots of supply hitting the market for years to come. Suddenly the entire math, dragged out to prove that there is no bubble and that prices are sustainable, collapses. Then these highly leveraged investments crater under their pile of debt and drag down commercial mortgage-backed securities (CMBS) with them.
Been there, done that.
No one knows exactly when commercial real estate turns from blistering boom to bust, but there is no tapering or plateau, nor a period during which prices take a breather, or suffer even "modest declines," as insiders have recently envisioned. There is only boom or bust. And when the bust comes, it does so suddenly and relentlessly.
But not yet. November was still the boom. And what a party!
Commercial property prices jumped nearly 2% in November from October, according to the Green Street Commercial Property Price Index (CPPI). Year-to-date, they're up 10%, after having already jumped 10% in 2014. They've more than doubled from their Financial-Crisis low in May 2009 and are now nearly 23% higher than they'd been in September 2007, the peak of the prior totally insane bubble that imploded with stunning financial pyrotechnics: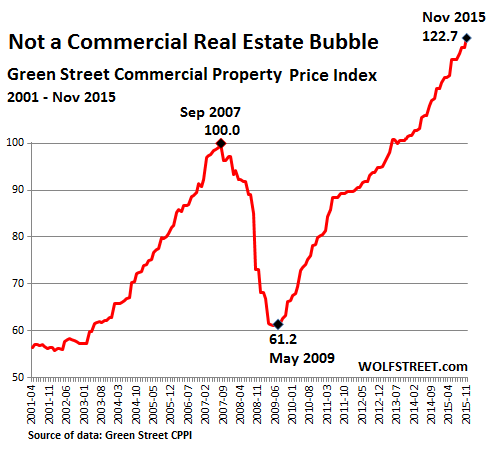 Even on an inflation-adjusted basis (using average annual CPI), prices now exceed the prior insane bubble peak by 12%.
"Cap rates have been holding firm, and in some instances, even moving lower as investor demand for commercial property remains strong," the report pointed out. "The question is whether that trend will continue. Cap rates look low when they're compared to corporate bond yields. Said another way, properties look expensive. If this isn't the peak, we're probably close."
However, peaks are not followed by plateaus, as the chart shows. They're followed by something entirely different. And Moody's, which rates the debt and CMBS associated with this boom, is now too getting nervous, after Fitch Ratings had begun fretting in September. Moody's warned that the leverage in CMBS "as measured by Moody's loan-to-value (MLTV) ratio already tops pre-crisis peak levels."
What has been keeping debt-service coverage strong has been the super-low interest rate environment. But the Fed is likely to raise rates this month, and yields of riskier bonds are already rising, with the riskiest end blowing off the top: B rated bonds currently yield over 8%, up from about 5% in mid-2014. And for CCC or below rated bonds, the low end of the junk-bond spectrum, yields have soared to over 16%!
So Moody's warns that "the expected rise in interest rates in 2016 and beyond will reduce this cushion" of high debt service coverage:
With commercial property prices exceeding pre-crisis peaks on an inflation-adjusted basis and most mortgage debt still sized as a percentage of current market value, we are entering the late stages of the current credit cycle.
When Moody's says that prices exceed "pre-crisis peaks on an inflation-adjusted basis," it makes a classic credit ratings agency understatement: as everyone agreed afterwards when the market was crashing in 2008 and 2009, those prices had been truly insane and not sustainable.
And September 2007, too, had been near the end of the credit cycle, and had been the end of the seven-year commercial property cycle, with majestic results.
Rising interest rates and tightening credit – the end of the credit cycle, as Moody's calls it – will put all kinds of pressures on debt service coverage, on cap rates, mortgages, CMBS, and prices. At the same time, the end of the credit cycle will hit the real economy. And when property prices come down hard, despite all their glorious justifications, the math dissolves into mush, and much of the debt that built the boom loses its foundation.
Investors are already getting bloodied as the Great Credit Bubble implodes viciously at the bottom. Read…  "Distress" in US Corporate Debt Spikes to 2009 Level
Enjoy reading WOLF STREET and want to support it? You can donate. I appreciate it immensely. Click on the beer and iced-tea mug to find out how:

Would you like to be notified via email when WOLF STREET publishes a new article? Sign up here.