Low oil prices are the wreckage from a war – a financial war.
Oil sell-off after OPEC makes even ECB look good. Better to have announced something, even if less than hoped for, than nothing at all…  — tweeted by Capital Economics.
We have not begun a new era of low oil prices, fruits of new tech and a beneficent Fate. Low oil prices are the wreckage from a war – a financial war.
The verdict is in. Experts proclaim OPEC's policies a failure. Here's T. Homer Bonitsis, associate professor of finance at the New Jersey Institute of Technology:
OPEC is non-relevant in terms of its ability to affect the price of oil. So any decision by OPEC will not have a long-term effect on the oil market. There are too many OPEC quota-chiseler countries and non-OPEC production countries that cast a shadow over the effectiveness of OPEC maneuvers. … If history is any guide, there is a secular downward trend on real oil prices.

… The Saudi strategy of attempting to knock out competitors by using predatory pricing is not a game changer long-term … Some producers may shut down temporarily, but will reopen when prices recover again. Indeed, some producers may go bankrupt — only to have their assets sold at bargain prices. The new investors in these assets have a lower fixed cost structure to produce oil; in essence, creating a lower-cost competitor! The policy is doomed to failure long-term."
This is an economist's perspective: now is forever, economics is everything. It's why they are so frequently astonished by events.
US oil production peaked in 1973 at 9.5 million b/day, a record that, despite exciting predictions, seems likely to stand for a while longer. Then the Saudi and Gulf princes used OPEC to take control of the world oil market (i.e., manage production to boost prices). That control was shaken in the early 1980s as other oil producers refused to cut production, forcing the Saudis to do so to stabilize prices. In 1986 the Saudis struck back. They boosted production by 40%, using their low cost output to force others (especially the Soviet Union) to cut both prices and production. The USSR collapsed, with its lost oil income making a large contribution to its bust.
Now the US has challenged Saudi control.
In 2014 world output was 8% above that of 2008. Non-US production had risen 2%; US output had risen 64%. Action was necessary. The Saudis kept their taps open, watched oil prices crumble, and waited. It's a game of chicken. With their cost of production (including both capital and operating costs) under $10/barrel, they know who will win.
Here's Saudi Aramco CEO Ali I. Naim yesterday at the International Petroleum Technology Conference in Qatar, speaking softly:
"There is no additional unconventional oil coming to the market; actually there is a decline. … So the supply and demand imbalance in the market will adjust and stabilize, and the gap will be closing. And we will be seeing, hopefully, adjustment in the prices going forward starting in 2016."
What is this? It's financial war
It will not be pretty. The US oil rig count is down 66% from its October 2014 peak. The international rig count is down 22% from its July 2014 peak. The financial damage is already severe, as WOLF STREET reported last week:
The oil-and-gas sector accounted for 37% of the total distressed debt and sported the second-highest sector distress ratio of 50.4%. That is, half of the oil-and-gas junk debt trades at distressed levels! The biggest names are Chesapeake Energy with $7.4 billion in distressed debt and Linn Energy LLC with nearly $6 billion.
Economists assume the current difficulties of the oil industry are a blip. But with the world's incremental sources of oil requiring $60 – $80 oil to justify production (including both capital and operating costs), low costs that bankrupt much of the oil industry will create ripples that last for a decade or more.
The expansion of US oil and natural gas production was fueled by cheap credit on easy terms. Now E&Ps' cost of capital will rise for a generation as investors and lenders remember the coming bankruptcies.
The owners – the new owners – will have a lower cost basis on their E&P assets. They might enjoy short-term profits, but oil prices will not justify new investments. Hence expectations for a massive drop in oil and gas from fracking, as production from existing wells drops quickly and few new wells are drilled. Hence stories like this from Reuters: "U.S. oil output on brink of 'dramatic' decline." Capital will flow out of the industry until oil prices double, or more, from current levels.
The casualties will cover the globe, hitting nations with high-cost oil or with underdeveloped fields needing investment.
Petrobras spent billions to become the next Saudi Arabia, developing its large but expensive to develop resources deep under the Atlantic. If oil were $150, they're be rich; with $40 oil, they are broke. At $150 WTI, Venezuela's vast oil reserves would have people saying "Rich as a Venezuelan"; $40 oil means they're broke. With $150 oil, Russia would boom; $40 throws it into a tailspin.
What is the cure for low oil prices?
Answer: the Saudi Princes cutting output, with other major producers following their lead. Spare capacity is low with everybody pumping at max, under two million b/day (much of this "surge" capacity, short-term only). A production cut of 3% would bring that up to a more normal four million barrels/day. OPEC's spare capacity (blue columns in this chart from EIA) was low during the global boom, driven by China, of 2003-2008. It's low now with the taps running open: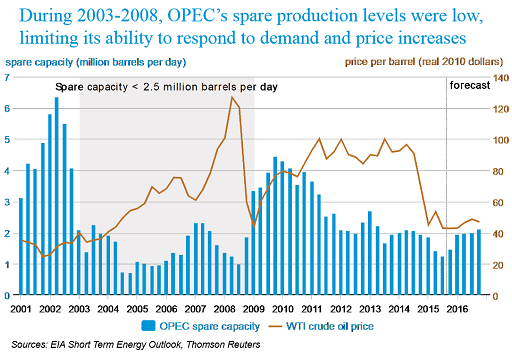 When will this happen? It could happen fast; it would hit the oil market like a thunderbolt. Capitulation, such as happens at the end of siege and at troughs in stock market prices, takes place in the minds of the decision-makers and cannot be predicted. But it will come. The Saudi and Gulf princes have more money in the bank than anyone else, and they have a lower cost of production than anyone else. They will squeeze their competitors as long as necessary, until they capitulate.
The survivors will beg the Saudi Princes to regain control of the oil markets. Norway and Russia might join OPEC (de facto if not formally). Texas, Colorado, and Alaska might muse about wanting to join OPEC. The sight of the gallows focuses the mind on the need for cooperation. By Larry Kummer, Editor of the Fabius Maximus website.
Investors are already getting bloodied as the Great US Credit Bubble implodes at the bottom – and it's not just energy. Read… "Distress" in US Corporate Debt Spikes to 2009 Level
Enjoy reading WOLF STREET and want to support it? You can donate. I appreciate it immensely. Click on the beer and iced-tea mug to find out how:

Would you like to be notified via email when WOLF STREET publishes a new article? Sign up here.