"Large amounts of potential and realized losses": Moody's
The US junk-bond market, after years of record-breaking issuance, has nearly doubled to $1.8 trillion since late 2008, one of the miracles the Fed's QE and ZIRP performed. Those were the good times. Now Fed-blinded investors are cracking open their eyes.
It didn't help that the week was punctuated by some juicy bankruptcies, including steelmaker Essar Steel Algoma, which filed in the US and Canada – for the second time in two years and for the third in 25 years – as it struggles with over $1 billion in debt. And Millennium Health, a malodorous mess I wrote about in July ["Leveraged Loan" Time Bomb Goes Off, JP Morgan Did It].
Energy junk bonds are sinking deeper into the mire. For example, natural-gas driller Chesapeake Energy's 6.625% notes due in 2020 fell 7 points last week to 58 cents on the dollar. Or the misbegotten Occidental Petroleum spin-off California Resources; according to S&P Capital IQ LCD, its 6.00% notes due 2024 dropped to 64.50 cents on the dollar.
Beyond energy, specialty chemicals maker Hexion's 6.625% notes due 2020 fell to about 81 cents on the dollar. And Mallinckrodt Pharmaceuticals, based in Ireland, with its US headquarters in St. Louis, Missouri, got hit by a tweet from short-seller Citron Research, after it took a break from eviscerating Valeant. As Mallinckrodt's shares plunged, its 5.625% notes due 2023 dropped from 94 before the tweet into "price discovery," with quotes around 85.
When tire-maker Titan International reported sharply declining revenues, its 6.875% secured notes due 2020 fell three points to 82.25. Scientific Games, which caters to lottery and gambling organizations, also reported crummy quarterly results; its 10% notes due 2022 plunged six points early in the week, to about 81.
Then there was Men's Wearhouse whose blood-soaked investors are ruing the day it acquired Jos. A. Bank. Its shares have been getting hammered relentlessly since Friday a week ago, and its bonds are now down to 85 cents on the dollar.
Sprint's 7.88% notes due 2023 plunged over 5 points to 84.50 cents on the dollar. Satellite communications company Intelsat Jackson, the US subsidiary of Luxembourg-based Intelsat, is edging closer to the brink, with its 7.75% notes due 2021 dropping nearly 5 points to 53 cents on the dollar.
You get the idea. S&P Capital IQ in its LCD HY Weekly described the junk-bond debacle this way:
Bad news amid low-volume, jittery market conditions led to some big downside movers again this week. Broad momentum was also negative amid signs of retail cash outflows from the asset class and higher underlying US Treasury rates after the blow-out November jobs data skewered bonds.
The junk-bond based High Yield Corporate Bond ETF (HYG) has fallen for eight trading days in a row. It's now just a hair above where it had been on October 1, at the bottom of the summer panic. It's down nearly 8% since May and over 13% from its recent peak in June 2014. The ballyhooed rally in October has once again turned out to be just another sucker rally: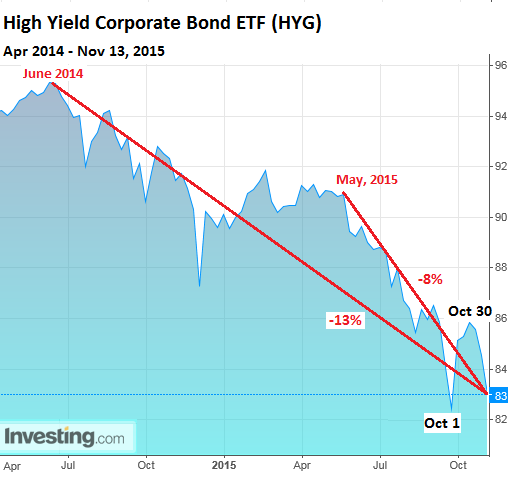 Not that these junk bonds have been issued over the past few years to fund productive activities that would generate cash flows with which to service the bonds. Far from it. According to LCD, in 2015 so far, the proceeds from 46% of the newly issued junk bonds were used to refinance maturing bonds, paying early investors with money raised from new investors.
Another 30% of junk bond issuance was used for M&A. Valeant is a prime example. It's teetering under $38 billion in debt and has a tangible net worth of a negative $33 billion. If it craters, the bloodletting among creditors will be brutal.
And 16% of the junk bond issuance was used for "corporate purposes" and "other," such as share buybacks, special dividends back to their private equity owners, and even some investments in productive activities, while 4% was used for LBOs.
The number of "distressed" bonds (defined as bonds whose yields are 10 percentage points higher than Treasury yields) has ballooned, Moody's pointed out: there are currently 616 distressed bonds, over six times as many as last year, and the most since 2009.
This "massive increase" in distressed bonds "anticipates a rising default rate," Moody's said, as these companies have trouble raising new money to pay earlier investors.
The problem is moving beyond distressed bonds. Year-to-date issuance of dollar-denominated junk bonds is down 16%. But it's much worse at the lower rated end. Over the past six months, the average monthly issuance rated Ba1 to B2 plunged 30% year-over-year, and issuance rated B3 or lower plunged 56%.
Many of these companies are essentially locked out of the credit markets and face default when the money runs out. Investors, who for years took huge risks to get a little extra yield, just as the Fed had wanted them to, are now feeling the pain.
"The burst in distressed corporate debt issues and the general rise in high yield interest rates has left investors sitting on large amounts of potential and realized losses," Moody's said. Those losses in market value since last year amount to $112 billion.
Of these losses, $50 billion are on energy bonds. The remaining $62 billion are on junk bonds issued in other sectors. And this is "pointing to more widespread poor performance among industrial firms."
Moody's warns: "Any potential rebound in high yield corporate issuance and debt valuation will be limited by the ongoing softness in global heavy industry activity."  So any rallies will once again be just sucker rallies in the darkening saga of the Fed-induced junk bond boom.
What's next? A credit crunch. And Moody's offers unnerving comparisons to 2008 and 1999! Read… Last Two Times this Happened, it was Mayhem
Enjoy reading WOLF STREET and want to support it? You can donate. I appreciate it immensely. Click on the beer and iced-tea mug to find out how:

Would you like to be notified via email when WOLF STREET publishes a new article? Sign up here.