September and October are part of the shipping season for US ports, a time when retailers, reveling in peak optimism, are loading up on merchandise for the holiday shopping season. But not this year.
At the three busiest ports in the US – the container terminals in Los Angeles, Long Beach, and around New York harbor which handle over 50% of the goods entering the US by sea – import volume in September and October fell by over 10%.
It was the "first time in at least a decade" that imports dropped during these key months, according to The Wall Street Journal, which had analyzed data from trade researcher Zepol Corp. A sudden shift in direction: volume in the prior months this year had been higher than last year.
So maybe November is the month when merchandise washes ashore. That's the hope at the National Retail Federation.
But not yet. The Wall Street Journal cites Fernando Rios, owner of a small trucking company which picks up containers at the port terminals in Elizabeth, N.J.:
"At this time it's supposed to be very busy, but it's not," he said. Only five of his eight trucks are currently running, and he has had to turn away drivers looking for work. Last year in September, he was moving 25 to 30 containers a week; this year it has been between 8 and 12.
Two possibilities explain this debacle, one worse than the other:
Economists are divided as to whether the peak season slump signals a short-term hiccup for the US economy, or marks the start of a sustained period of weakness.
There's no shortage of reasons for these un-rosy scenarios. The economy has been flying at below "stall speed" and somehow can't seem to pick up speed. Consumer spending growth has been sluggish, and retail spending has been flat for three months in a row. Strong auto sales this year have propped up overall retail sales. But ex autos, retails sales fell year over year.
These dreary sales realities are now colliding with optimistic projections by Wall Street's soothsayers that led businesses to order merchandise they then couldn't sell fast enough. So inventories have been piling up since late 2014, pushing up the inventory-to-sales ratio. It spiked to Financial Crisis levels during the first half, when business inventories soared by a record $223 billion. And it rose again in September, the Census Bureau reported on Friday.
This is the increasingly ugly chart of an inventory glut: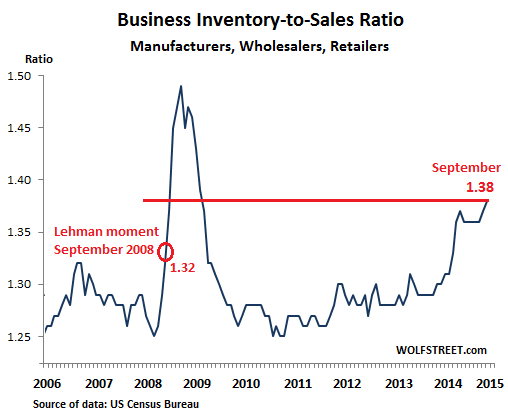 Eventually, businesses are trying to get their inventories in line by slashing orders and/or heavy discounting in order to move the merchandise. Both hit the overall economy just when it's already weak.
But optimism still reigns. The National Retail Federation predicts that consumers will do their jobs and push up holiday sales by 3.7%. FedEx expects to ship a record of 317 million packages from Black Friday through Christmas, up 12.4% from a year ago. UPS expects to ship over 630 million packages during the period, up 10% from a year ago. They're benefiting from the shift to online shopping.
Amazon too is gung-ho. But online sales are taking a bite out of brick-and-mortar retailers though they're still hoping things will turn out OK. Meanwhile, the ports aren't busy, trucking companies and railroads are warning, containerized shipping indexes are collapsing, and industry insiders are speaking up [see our reporting on these issues].
The inventory glut, particularly at the wholesale level, is starting to weigh on the economy. And retailers are feeling the weight too. A few days ago, The Wall Street Journal cited Nomura and Citi analysts concerning Macy's and Kohl's, whose disappointing sales had left them "awash in excess merchandise at the end of the period."  Further:
Specialty stores and apparel manufacturers also are experiencing "a build-up in inventories beyond the natural increase ahead of the holidays," according to a recent report from analysts at Macquarie Research. The report named 10 companies where inventory is growing faster than sales, including Lululemon Athletica, Nike Inc., Under Armour Inc., and VF Corp.
The Journal also cited a report by Cowen and Co., which warned that "inventory is above sales growth across retail," with bloated merchandise levels at DSW, Dicks Sporting Goods, and Skechers U.S.A., among other chains.
And the infamous driver shortage that trucking companies complained about last year? Turns out, according to the Labor Department, the industry has responded to the inventory glut, the weak economy, and the transportation malaise by cutting 2,800 jobs between August and October.
What's next? "A drawdown much like the one we saw in 2009 and 2010." Read… US Freight – Trucking, Rail, all of it – Goes to Heck
Enjoy reading WOLF STREET and want to support it? You can donate. I appreciate it immensely. Click on the beer and iced-tea mug to find out how:

Would you like to be notified via email when WOLF STREET publishes a new article? Sign up here.