First net outflow from Canadian securities since 2008.
On first sight, it wasn't that bad. Statistics Canada reported today that in September, foreign (non-resident) investors purchased C$3.3 billion of Canadian securities – adding C$3.2 billion in equities and C$0.9 billion in bonds to their holdings while getting rid of C$0.8 billion in money market instruments.
But in July and August, foreign investors had dumped large quantities of equities. While they bought Canadian bonds during those two months, it wasn't enough.
So for the third quarter overall, foreigners dumped C$9.2 billion of Canadian equities; "the highest such decline since the first quarter of 2013," Statistics Canada pointed out. They also dumped C$4.5 billion of money market instruments (private corporate paper and federal government business enterprise paper). And they picked up C$12.8 billion of bonds.
This makes for a total outflow of C$0.9 billion in the third quarter, the first such outflow of foreign investment from Canadian securities since 2008.
The data is very volatile, as the chart by NBF Economics and Strategy, a division of the National Bank of Canada, shows. But it had been volatile only with positive numbers, with increases of foreign investment, ever since that ignominious year 2008. So when this net quarterly outflow does occur, as it did in 2008 and in Q3 2015, it's a sign of something larger: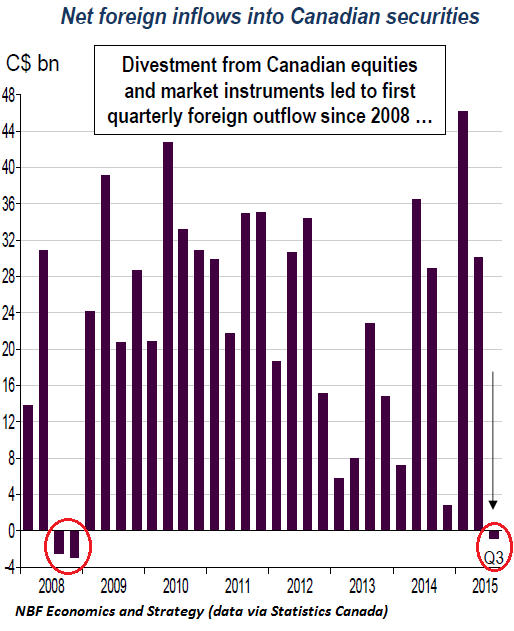 "Canada seems to be less alluring to foreign investors these days," NBF explains.
It doesn't help that Canadian stocks, as measured by the TSX, are dominated by the energy and mining sector and by former hedge-fund and mutual-fund darling and now deposed Canadian superstar Valeant. So the TSX has gotten clobbered, down 14% since April.
And the Bank of Canada has been in interest-rate-cutting mode this year. Its intention has been to beat down the Canadian dollar even more, which it accomplished. In late October, it hit $0.748, its lowest level against the USD since July 2004. Down 30% since April 2011. And it has barely edged up since, now at $0.7499.
So foreigners who've invested in Canadian stocks are faced with a double hit: the swoon in Canadian stocks and the falling Canadian dollar.
Then there are the money market instruments from private and public corporations. They too have become malodorous. NBF's report blames the "dovish Bank of Canada."
But that dovish Bank of Canada is good for bonds. Adding fuel to a credit bubble is expected to inflate bond valuations even further, in this era of ZIRP and QE. They might also hope that the Bank of Canada, which has abstained from QE so far, might finally fall in line with the rest of the world and start its own QE program. And so foreign investors went on a bond shopping spree.
But wait…
"Even the net quarterly inflows into bonds weren't necessarily a ringing endorsement of Canada by foreign investors," NBF explains. Turns out, while foreign investors added C$12.8 billion in bonds over the quarter, the bulk of what they added were Canadian-issued foreign-currency-denominated bonds, in particular bonds denominated in non-US-dollar-foreign-currencies.
These foreign investors spurned bonds denominated in the beaten-down Canadian dollar. Despite their overall appetite for bonds, they became net sellers of these C$-denominated bonds in September. But they also spurned US-dollar denominated bonds.
Statistics Canada didn't disclose what currencies these non-US-dollar denominated bonds were denominated in, but that's what these foreigners mostly bought. And so we wonder vaguely if, given the influx of Chinese money into Canada, and the perceived future of the yuan as a reserve currency, there might not be a subtle change underway.
Because now the yuan has arrived – at the elite club for the biggest currency warriors. Read… IMF's Lagarde Anoints Chinese Yuan. Will it Now Demolish the "Dollar Hegemony?"
Enjoy reading WOLF STREET and want to support it? You can donate. I appreciate it immensely. Click on the beer and iced-tea mug to find out how:

Would you like to be notified via email when WOLF STREET publishes a new article? Sign up here.