Hidden Key to Regime Change in the Stock Market.
By Larry Kummer, editor of the Fabius Maximus website:
The daily flow of economic statistics misleads even sophisticated analysts into watching the short-term trends while forgetting the long-term basics that often determine events – as we see today, with analysts chattering about beats of quarterly earnings and expectations for Friday's employment report.
The first plays a pointless manipulated game. The second concerns an impossible-to-accurately-predict, heavily revised, slow-changing metric (non-farm payroll growth has been 1.7% – 2.2% year-over-year for the past 15 months).
Larger factors drive the stock market, creating the macroeconomic foundation for bull and bear markets. One of the most dramatic trends of the past generation has been the rise in corporate profits. It has helped reshape America, powering a three decade long bull market. What created it? What will end it?
This was America during the summer of the Middle Class (1990=100):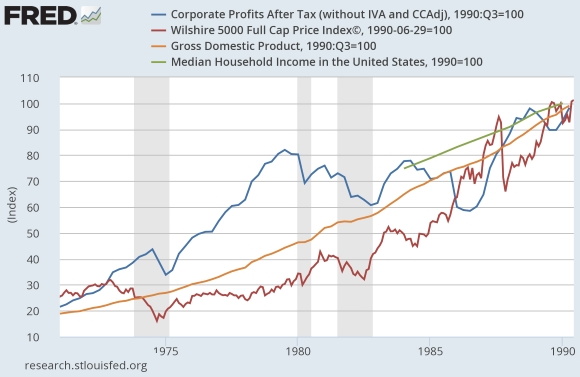 Corporate profits, household income, stock prices, and GDP all grew at roughly the same rate for 20 years. But this didn't please everybody, and much money and effort was invested to produce a New America.  We see the results below: profits and stock prices grow strongly while GDP and median household income grow slowly (all lines indexed to 1990).
This is a new America (1990=100):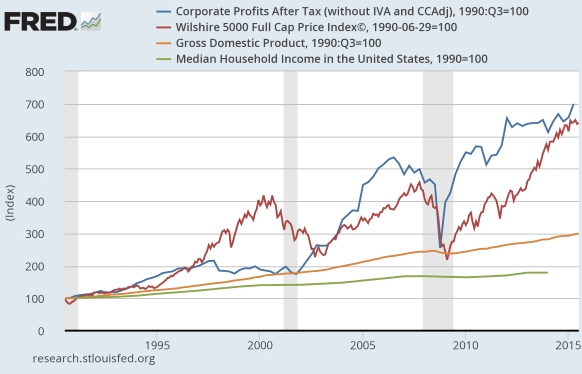 This is the basis for the stock market rise of the 21st C. Since Q1 2001 (peak of the 1990s economic expansion), corporate profits after tax have grown 372% (while shares outstanding in the SP500 remain roughly unchanged) — powering the rise in stock prices. The giddy enthusiasm generated has brought most valuations to (or above) their peaks from 1926 – 1999.
No surprise how this was done. Employers crushed private sector unions, with the help of unions' suicidal mismanagement. Minimum wages were eroded away by inflation. Regulators such as OSHA remained relatively toothless, with their tiny budgets (OSHA has only 2,000 inspectors) and trivial fines. Corporations learned to organize to reduce the need for a trained workforce. They shifted to part-time workers, had hard ceilings for wages to discourage long-term workers, shifted employment to third-party "temporary" agencies to give more ability for discretionary firing, supporting high rates of immigration (to keep wages low) — this and a thousand other techniques helped corporations (and their senior executives) to harvest for shareholders and executives the fantastic gains in productivity during the past 30 years.
The resulting level of corporate profits gives strong support to stock prices.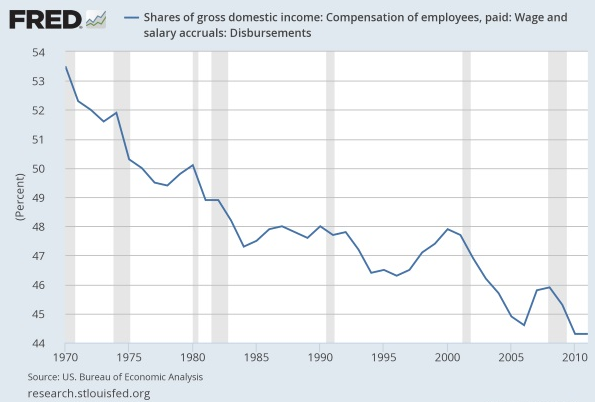 Looking forward at stock prices
What might destabilize the US stock market, creating a regime change to lower prices? That's the big question, more important to foresee than a bear market that interrupts and refreshes the long-term upward trend.
A recession seems likely during the next few years (US or global), which will depress stock prices for a few years (in the extreme case of the Great Recession it did so for 5+ years), as the government employs its powerful countercyclical tools. That's just the business cycle in action.
Rising rates — reversing the 33-year-long bond bull market — might depress stock prices, although the past shows no clear correlation. But Treasury yields probably will remain low despite Fed and Wall Street dreams of "normalizing" rates (natural interest rates are zero) — until growth accelerates and breaks us from the post-2010 slow mode.
A decisive change in sentiment would lower valuations. But Investors' animal spirits probably will remain high so long as good news is good news (growth!) and bad news is good news (stimulus!) — which results from investors' confidence in the Fed "put" (aka belief in Central Banks mythological ability to tune the economy). I suspect it will happen eventually as a result of an unexpected and large-scale event.
As always, geopolitical shocks can hurt the market. But that's always true. None of the usual suspects seem likely during the next few years.
Despite the usual sky is falling prognostications of strategists, the post-detente peaceful world seems likely to continue. Nuclear powers do not fight with each other, and the slow growth in the number of States with nukes puts a ceiling on the scourge of State to State warfare.
Terrorists are a threat, as they have been since the late 19thC when anarchists began their 50-year long "propaganda of the deed" terrorist campaign. But although they can cause a crash, they're unlikely to force a revaluation of the market.
Natural events such as plague and extreme weather have shaped history in the past, and will do so again. They are wild cards, unpredictable demons in the fat tails of the market's return distribution.
I suggest we seek the forces that might end corporations' reign of high profits among the forces that caused it.
Consequences of corporations' success
"I used to say that profitability was the most dependably mean-reverting series in finance, and it used to be. When it stops, capitalism is broken, at least partially, and needs fixing as quickly as possible."

— Jeremy Grantham in Barron's, 28 January 2015.
Economists long believed that profits/wages' share of both Gross Domestic Income and corporate revenues were mean-reverting, flowing up and down in long cycles. Their long fall after WWII resulted from the political settlements of the New Deal. Their long rise occurred as that political coalition lost power in the decades after 1970.
Shareholders have been among the major beneficiaries of higher profits. But there is a cost paid by America for so much of the national income shifting into corporate profits. People need money to buy the products and services produced by corporations; corporations need capex to grow. Both have been starved as profits grew.
The stagnation of real household income removed the "fuel" for rising sales. Borrowing sustained consumer spending during the 1982-2007 era, as mortgage debt rose from $1 trillion in 1983 to a peak of $10.8T in 2008, and consumer debt rose from $400 million to $2.7T.
Now that's played out. Even financial bubbles cannot boost the economy, leaving us with a slow-growth economy (other factors, such as demography and slowing technical and business innovation, have also depressed growth). Look at the growth in real GDP during these roughly 10-year periods (economic peak to peak)…
From Q4 1948 to Q2 1960: 52.9% (3.8%/year during the tough post-WWII transition).
From Q2 1960 to Q4 1969: 51.6% (4.6%/year).
From Q4 1969 to Q1 1980: 38.4% (3.2%).
From Q1 1980 to Q3 1990: 37.7% (3.1%).
From Q3 1990 to Q1 2001: 40.7% (3.3%).
During the 14 years from Q1 2001 to Q2 2015: 29.2% (1.8%, aided by massive stimulus).
Slow GDP growth with costs stagnant or growing means little sales growth and even less profits growth. After the tech and housing busts, corporations relied on cost-cutting and boosting efficiency, plus financial engineering, to grow profits.
Now these tools are played out. Companies find productivity gains difficult to obtain — sometimes even seeing their costs rising (e.g., Wal-Mart increasing staffing and wages) and stock buybacks no longer reliably boost stock prices.
Worse for them, the legal tide is changing as courts and regulators slowly begin to question the games that allow companies to avoid responsibility for their employees (e.g., classifying workers as "exempt" managers, creating the illusion of employment by third parties through long-term use of "temp" agencies, and the legal fiction of workers as "independent contractors". As Massey Energy's CEO, Don Blankenship was contemptuous of the Mine Safety & Health Administration; now he's on trial for the death of 29 miners due to his company's disregard of safety rules.
These changes make slowed profit growth almost inescapable for the stock market, an unpleasant surprise to investors enjoying stratospheric valuations. These are harbingers of the changed economic and political dynamics of a slow-growth era, where lavish corporate profits (and multi-millionaire corporate executives) become targets for public action.
Corporations seem to have almost invincible political power today, as usual for groups at their peak. Watch for changes in this, a driver of long-term mean reversion in corporate profits and a hidden key to regime change in the stock market. By Larry Kummer, editor of Fabius Maximus
So expect the unexpected. Read… What Will Cause the Next Recession?
Enjoy reading WOLF STREET and want to support it? You can donate. I appreciate it immensely. Click on the beer and iced-tea mug to find out how:

Would you like to be notified via email when WOLF STREET publishes a new article? Sign up here.