During the worst time of the year?
This is anecdotal evidence – a personal observation, numbers I counted myself. So it's reliable, and you know the source. But it is not statistical data. It doesn't cover the entire city, just a small part of it. Yet it's so unusual, so striking, that I decided to share it.
I advise caution using this observation. It needs to be confirmed by data. But if it is confirmed, San Francisco's crazy Housing Bubble 2, which is so much crazier than the prior housing bubble that blew up in 2007 with such spectacular results, is going to have a problem.
Today I walked to the Kaiser medical facility, 8 miles round-trip, from where we live near the bottom of Russian Hill facing Fisherman's Wharf to Geary and Divisadero. I chose a loop to avoid walking the same way twice. On the way back, I crossed Pacific Heights near the highest point because it's a gorgeous area, with splendid views, and some of the most expensive housing in the city.
Minus the two stretches of the route at the beginning and at the end that I walked out-and-back, I pounded 7 miles of different sidewalks. There were also some commercial strips with few or no residences, and two schools. So that's the route: about 6 miles through different residential areas.
The first realtor sign was on our block. When I saw the second realtor sign a few minutes later, I started counting. I walk everywhere in San Francisco. I see realtor signs from time to time but I might go weeks without seeing any. Sometimes I see two or three on the same walk.
I walked this route many times, for years. I know it inside-out and notice things that are different. And today it was different.
By the time I got back, I'd seen 14 realtor signs, advertising 15 units. San Francisco is on sale.
Last time I'd seen that many units for sale in such a short time span was during the Great San Francisco Housing Bust in 2008-2011. And even then, it wasn't often that I'd seen that many in such a short span.
At the top end today was a property at 2505 Divisadero, at the top of Pacific Heights, with an asking price of $11.85 million.
These were just the units with realtor signs in front. Not all units are sold via realtors. And not all units sold via realtors have signs in front of them. So these 15 units are just the visible part of what is for sale on that stretch of sidewalk.
Today's route went through older neighborhoods. They've been untouched by the phenomenal construction boom that is currently snarling traffic in other areas of the city where condo and apartment high-rises and medium-rises pop out of the ground like mushrooms. Those units are new supply. They've been hitting the market this year. Many more will hit next year. And even more in 2017.
On the leasing side, we're suddenly seeing – once again – promos with giveaways to entice people to grab one of these units. Here's a screenshot I took of an ad that ran right here on WOLF STREET on October 25, offering a "limited time leasing special," namely "up to 12 months free parking or $3,600 off your 2nd month's rent":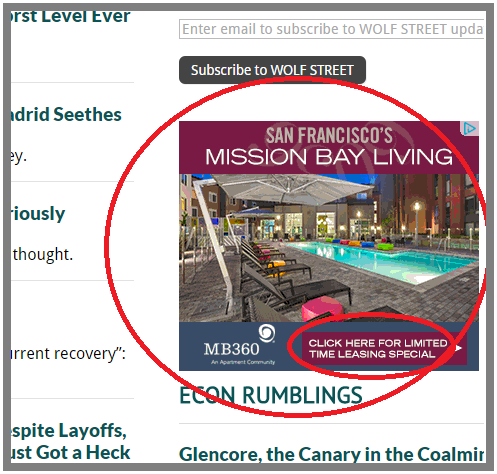 This is a sea change.
But November isn't a great time to sell. The housing market usually peaks in late spring or early summer, and then declines, with prices coming down often sharply in the fall and winter. This year, the median sale price of all types of homes peaked in May at $1,255,000, based on San Francisco MLS. By September, the median price was down to $1,150,000, an 8% decline. January is often the low point.
So why are they suddenly trying to dump all these homes on the market, during the worst time of the year?
Perhaps they're seeing the writing on the wall. Layoff announcements have started to burst into the headlines. San Francisco's darling, Twitter, which even extorted a payroll tax exemption from the city by threatening to leave when it was looking for larger digs, has started to axe people. Others are moving to Oakland and elsewhere because office space and housing are getting too expensive in the city. And suddenly, all this new supply of housing is coming on the scene – and for years to come.
Clearly, from what I've seen today, some folks who've been through this before want to get out of their properties at peak bubble prices while they still can.
It's time for people who can't afford to live here to make room for those who can, says the "real estate rock star" who is prominently and hilariously featured in this haunting video about Housing Bubble 2, and what it does to the people caught up in it… "Million Dollar Shack" In Silicon Valley (Video)
Enjoy reading WOLF STREET and want to support it? You can donate. I appreciate it immensely. Click on the beer and iced-tea mug to find out how:

Would you like to be notified via email when WOLF STREET publishes a new article? Sign up here.