If you look at auto sales, which are flirting with all-time highs, and at commercial real-estate prices, which are way beyond all-time highs, and if you look at the loans, including subprime, that make it all happen, you'd think the US economy is in a white-hot economic boom.
But the economy is barely limping along. What's booming is cheap but iffy debt that for the moment still looks good on the surface. And that is rattling bank regulators.
"We are clearly reaching the point in the cycle where credit risk is moving to the forefront," explained Thomas Curry, Comptroller of the Currency, in a speech today. The Office of the Comptroller of the Currency (OCC) – one in the triad of federal bank regulators alongside the Fed and the FDIC – is fretting about banks' exposure to the increasing risks of ballooning auto loans, particularly subprime auto loans, and commercial real-estate loans.
As they did in the run-up to the Financial Crisis, banks are "repackaging" these loans, including subprime loans, into highly-rated asset-backed securities, in face of "strong demand by investors" that are reaching for yield, in an environment where banks "are reaching for loan growth," Mr. Curry said. After having "already extended credit to their best customers," they're now lending to "less creditworthy borrowers, with all of the increased risk that entails."
But the auto-loan binge is good for everyone. It's good "for automakers and the economy," he said. "It's also good for banks," whose financing made "this activity possible." By the end of Q2, auto loans accounted for 10% of all retail credit in OCC-regulated banks, up from 7% in Q2 2011.
Total auto-loan balances outstanding shot up 10.5% in 12 months at the end of the second quarter and hit $1 trillion, according to Equifax. And 23.5% of new loans earlier this year were subprime, up from 22.7% a year ago.
This is what the auto-loan boom looks like. I mean, it's not like a bubble or anything: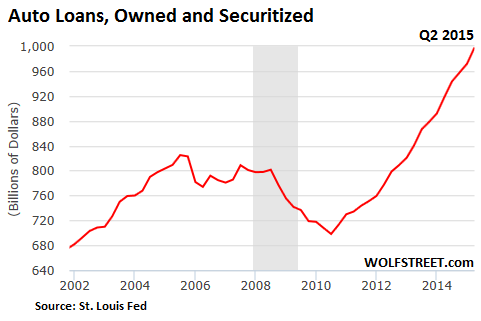 So Mr. Curry continues:
But what is happening in this space today reminds me of what happened in mortgage-backed securities in the run up to the crisis. At that time, lenders fed investor demand for more loans by relaxing underwriting standards and extending maturities.

Today, 30% of all new vehicle financing features maturities of more than six years, and it's entirely possible to obtain a car loan even with very low credit scores. With these longer terms, borrowers remain in a negative equity position much longer, exposing lenders and investors to higher potential losses.

Although delinquency and losses are currently low, it doesn't require great foresight to see that this may not last. How these auto loans, and especially the non-prime segment, will perform over their life is a matter of real concern to regulators.
Though auto loans – or most asset classes – aren't "inherently unsafe," he said, "what is inherently unsafe are excessive concentrations of any one kind of loan."
You don't need a very long memory to recall the central role that concentrations – whether in residential real estate, agricultural land, or oil and gas production – have played in individual bank failures and systemic breakdowns. It's an old movie that's been reprised on a regular basis.
And so he segued to the OCC's next warning: commercial real-estate loans.
Commercial property prices in the US rose 1% in September from August, and 10% from a year ago, according to the Green Street Commercial Property Price Index (CPPI). They have soared 97% from May 2009 and are now 21% higher than they'd been during the crazy days of September 2007, the peak of the commercial property bubble that collapsed with such splendid results during the Financial Crisis.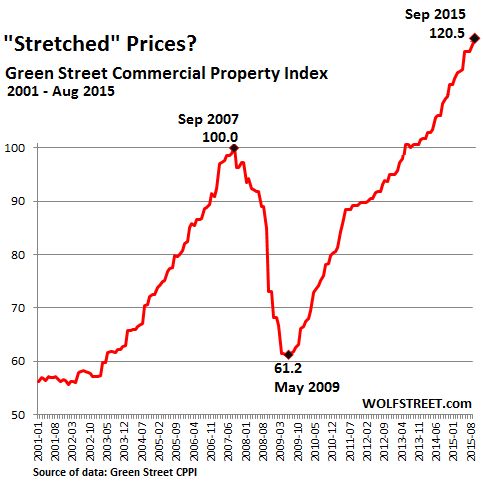 "Property pricing has shown no signs of weakening" the Green Street report said. "But one has to wonder how long that will continue. The repricing of risk in the corporate bond market should prove to be a strong headwind for commercial property, where valuations are now rather full."
But not yet.
Even ratings agency Fitch, which rates Commercial Mortgage Backed Securities, is beginning to fret: "There is nothing inherently dangerous about a real estate cycle," Fitch explained last month, echoing the OCC. "It only becomes dangerous when market participants forget there is one." And it warned: "CMBS cannot afford a repeat of the 2008-2009 experience."
The Financial Crisis was caused by just these sorts of bubbles that blew up in near-sync. The response has been seven years of loosey-goosey monetary policies that inundated the world with liquidity and ultra-cheap money in order to inflate valuations to even higher and crazier levels than they'd reached before the Financial Crisis. That's the one thing monetary policies have accomplished. Forget the real economy. And the irony is that regulators are now publicly worried about the monster they've wrought.
And the real economy? Now even Moody's is getting edgy. Read… Moody's Warns "of Jarring Slowdown" in Jobs, Jumps on Recession Bandwagon
Enjoy reading WOLF STREET and want to support it? You can donate. I appreciate it immensely. Click on the beer and iced-tea mug to find out how:

Would you like to be notified via email when WOLF STREET publishes a new article? Sign up here.