There has been a litany of layoff announcements recently: Biogen said yesterday that it would axe 11% of its people. ESPN would lay off 4% of its people. Twitter a couple of days ago said it would slash its workforce by 8%. Microsoft and HP are currently very busy shedding tens of thousands of workers.
Caterpillar announced over 10,000 layoffs last month. Intuit kicked off a new round of layoffs this summer. Permanently troubled former highflyer Groupon is laying of 1,100 folks. Even startups. Zomato, based in India, is laying of 300 folks, many of them in the US. Flipagram laid off 20% of its workers. And on and on. Even Snapchat.
It isn't a coincidence: It's tough out there. S&P 500 companies have been reporting shrinking revenues for what will be three quarters in a row (Q1, Q2, and Q3) and declining earnings for what will be two quarters in a row (Q2 and Q3). Q4 is shaping up to be no better. Unless a miracle happens, 2015 is going to be the worst year in that respect since the Financial Crisis.
So layoffs are a logical response from a corporate point of view.
Also – and this isn't a coincidence either – it's going to be a banner year for M&A. Alas, an M&A boom always triggers a relentless corporate chase after the promised "synergies" and "efficiencies" between the two combined companies. Hence more layoffs.
Layoffs are a lagging indicator for corporate troubles.
So in this malaise that our economic reality has been serving up, something exciting was needed, something far away that would goose stocks and remind folks that stock prices and reality have been surgically separated years ago, and that they aren't about to be allowed to grow back together in some unseemly manner.
And it arrived today: Draghi spoke. And it goosed stocks beautifully.
But his premonitions should have spooked them….
So at the press conference after the meeting of the Governing Council, ECB president Mario Draghi offered the alluring possibilities of "a whole menu" of options that would be considered at the December meeting, including QE that could be adjusted in "size, composition, and duration." So more QE for longer, covering additional types of securities or even "old bicycles," as German politician Frank Schäffler had said so elegantly in July 2012.
The Council also discussed lowering the deposit rate, which is already a negative -0.2%, to an even deeper negative – savers, pension funds, life insurance companies that are crucial in the European retirement system, and common sense be damned.
And then this happened: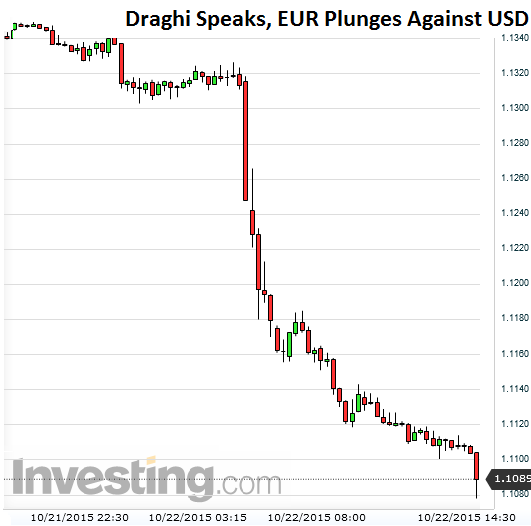 In the period from before the meeting to now as I'm writing this, the euro plunged 2.2% against the dollar, to $1.11, a huge single-day move for a major currency.
And that was really bad news for US corporations. They report their Eurozone business in dollars. That much maligned "strong dollar" has become the "most popular excuse" – practically a universal excuse – why revenues and earnings are so crummy these days. And now the dollar has just become a heck of a lot stronger.
Today's move, if it sticks, just knocked another 2% off US companies' revenues and earnings in the Eurozone when these revenues and earnings get translated into dollars, the very thing our ingenious CEOs have been lamenting all year, every time they report their sad numbers.
And yet, just to display a glorious independence from reality, US stocks soared, with the Dow up 320 points, even as CEOs are sitting there cringing about the euro's move and what they might have to tell analysts and investors during the next round of earnings confessions.
And the real economy? Now even Moody's is getting edgy. Read… Moody's Warns "of Jarring Slowdown" in Jobs, Jumps on Recession Bandwagon
Enjoy reading WOLF STREET and want to support it? You can donate. I appreciate it immensely. Click on the beer and iced-tea mug to find out how:

Would you like to be notified via email when WOLF STREET publishes a new article? Sign up here.