One of the indicators that show that things are not all that rosy in China, or in the global economy, is the price carriers charge to ship containers from China to its big trading partners around the globe. Those prices have totally collapsed.
Two factors are at work: Languishing demand for Chinese manufactured goods around the world; and a growing oversupply of ships to transport these containers (given the languishing demand), which has turned into a price war, with the largest carriers hoping to push the smaller ones out of business [Top Carriers Wage Price War to Form Global Shipping Oligopoly].
The rates for shipping containers from China to the rest of the world have been in trouble since February. "Trouble" is a euphemism. They have relentlessly plunged on a weekly basis with only some upticks in between.
The Shanghai Containerized Freight Index (SCFI), a measure that tracks spot rates (not contractual rates) of shipping containers from Shanghai to 15 major destinations around the world, is volatile. But the trend since February has been a pure rout. And for last week, the SCFI plunged 7.4% to a new record low.
The 44-point drop brought the index to 548.77, down 45% from where it had been during the Financial Crisis: it was set at 1,000 on October 16, 2009. And it's down 51% from February this year. This is what the terrible plunge looks like: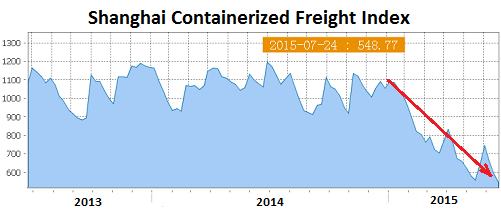 Rates tracked by the SCFI dropped on 9 of its 15 routes.
Spot rates for shipping containers from Shanghai to Northern European ports plunged 22.7% to $400 per TEU (Twenty-Foot Equivalent Unit), or about half the break-even rate for these routes, estimated at around $800 per TEU. But it's still up from the $200-per-TEU range in late June, a previously unimaginable low.
Spot rates from Shanghai to Mediterranean ports dropped 24% to $402 per TEU.
Spot rates from Shanghai to US West Coast ports had briefly bounced to nearly $2,000 per FEU (forty-foot container equivalent) at the beginning of May, but then began to re-plunge. Last week they hit $1,123 per FEU. Rates to US East Coast ports dropped to $2,635 per FEU.
The much broader China Containerized Freight Index (CCFI) tracks contractual rates as well as spot market rates from all major Chinese ports to major destinations around the world. It's less jumpy than the SCFI but it lags the movements of the SCFI. And it dropped 0.5% to 838.71 for last week, after a 50-point uptick from its terrible multi-year low at the beginning of July.
The biggest decliners in the index were the rates to South American (-7.6%), Africa (-6.0%), and the Persian Gulf and Red Sea (-6.2%).
The CCFI is now 22% below where it was in February, and 16% below where it had been in 1998, when it was set at 1,000! This is what the ugly trajectory looks like: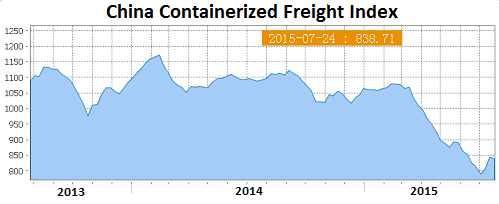 These sorts of indicators combine with other indicators to create a granular image of the real economy, in China and around the globe. But the real economy is not necessarily reflected in stock markets. Central banks have seen to that. Asset price inflation has been their number one goal of monetary policies since the Financial Crisis, and they succeeded in inflating all kinds of assets.
Those efforts now appear to be getting bogged down: Chinese stocks re-crashed on Monday, with the Shanghai stock index down 8.5%, the biggest single-day plunge since 2007. Government officials, brokers, state-owned companies, fund managers, and other forces that had been ordered to prop up stocks and had been given "unlimited" resources from the People's Bank of China to do so, failed to do so.
But the collapse of the containerized freight indices had nothing to do with the implosion of the China stock bubble. None of the other not-so-rosy indices had anything to do with it. That bubble inflated month after month starting over a year ago, even while the real economy had been giving off worrisome signs.
Now these signs are getting even more worrisome, such as electricity consumption, whose growth rate has dropped to a 30-year low. Read… The Chilling Thing China's Electricity Consumption Just Said about the Economy
Enjoy reading WOLF STREET and want to support it? You can donate. I appreciate it immensely. Click on the beer and iced-tea mug to find out how:

Would you like to be notified via email when WOLF STREET publishes a new article? Sign up here.