It's also happening in the US, but it's much worse in Canada.
In the US, May industrial production dropped "unexpectedly," as it was roundly called on Monday, by 0.2%, according to the Federal Reserve. The index value has now dropped from month to month since December, except in March when it was unchanged. The Empire State Manufacturing Survey, also released on Monday, confirmed this sort of scenario, ending up in the negative (-2.0) for the second time in three months.
But in Canada, manufacturing is getting hit hard – and not just because of the oil bust, though it plays a big role. Originally the hope was that a lower Canadian dollar would boost manufacturing through increased exports. The loonie dropped 17% against the US dollar from January 2014 through mid-March 2015, though it has ticked up a smidgen since. But the theory didn't work out.
Manufacturing sales fell 2.1% to C$49.8 billion in April, seasonally and inflation adjusted, Statistics Canada reported today. The index can be jumpy from month to month. For example, sales of food dropped 5.7% in April, the largest monthly drop since August 2013, after rising 3.4% in March. But the problem isn't limited to one month. Sales are now down 7.3% from July 2014, the largest and steepest such decline since the Financial Crisis. This is what this trend looks like: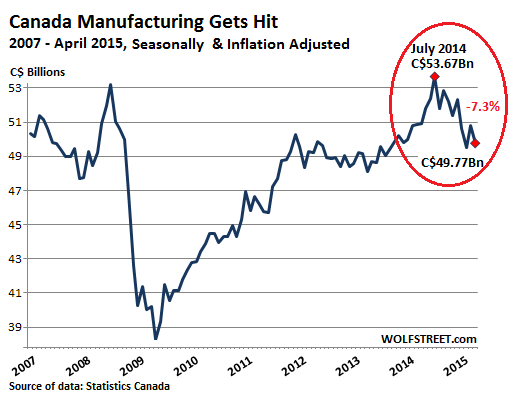 The biggest culprits in April were food (-5.7%), aerospace products and parts (-17.8%), petroleum and coal products (-2.7%), motor vehicles (-2.5%), and machinery (-2.7%). Of note, sales of machinery for the mining and oil & gas sectors plunged 30% year over year.
Aerospace production dove 17.8% in April after soaring 40.1% in March (which had helped boost March into the positive). To smoothen out these monthly gyrations: in the three months ending in April, aerospace productions was down 13.7% from the prior three months, and at the lowest level since June 2014.
Given the decline in sales, inventories have been piling up for the fourth month in a row. In April, they rose 0.8% to an all-time high of C$72.3 billion. Great, if sales had been rising along with it. But they declined. So the all-important inventory-to-sales ratio jumped from an already high 1.41 months in March to 1.45 months in April, the highest since July 2009, during the Financial Crisis.
This chart shows the soaring inventories (green line, left scale, in billions current C$) and the now dreadfully high inventory-to-sales ratio (black line, right scale, in months):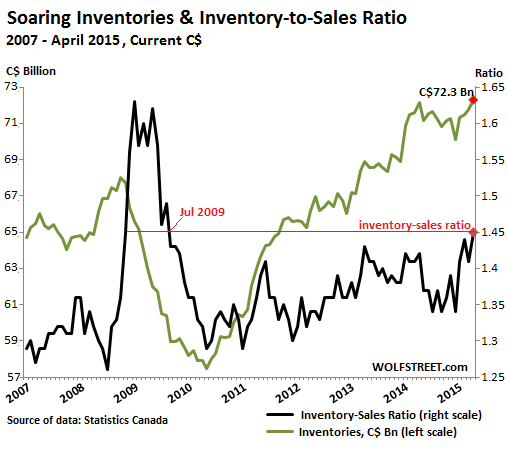 Over-optimistic executives expect sales to rise. They plan for it and order accordingly. If sales rise off the chart and draw down inventories, the inventories-to-sales ratio remains lean. That's the rosy scenario. But that hasn't been happening recently in Canada – or in the US, for that matter, where high inventory-to-sales ratios have also shot up, but not that far.
It seems executives swallowed hook, line, and sinker the central-bank propaganda that global easy-money policies would get sales to rise, magically, and that escape velocity would solve all problems. But that hasn't been happening anywhere. And then the oil bust hit Canada in the soft parts, and harder than it hit the US.
From the business point of view, growing inventories and lagging sales can turn into a capital-intensive nightmare. Inventory is money. There are only two ways to bring inventories down: increase sales or cut back on orders. If businesses are not able to crank up sales across the entire country to bring down these inventories, they'll trim their orders to suppliers, which tends to ricochet through the broader economy and trigger all kinds of secondary fireworks.
Oh, and new orders fell 5.6% in April!
While ballooning inventories add to GDP initially, the high inventory-to-sale ratio is a troubling sign for future orders and production.
Some of this is already showing up in industrial capacity utilization, which Statistics Canada reported last week: In the first quarter, it dropped to 82.7%, down from 83.5% in Q4, "the largest decline since the second quarter of 2009."
That these references to the Financial Crisis keep cropping up in official statistical data releases is chilling.
"All of that negative news has put a downer on consumer sentiment," is how Thomson Reuters explained it. Read…  It Gets Messy in Canada
Enjoy reading WOLF STREET and want to support it? You can donate. I appreciate it immensely. Click on the beer and iced-tea mug to find out how:

Would you like to be notified via email when WOLF STREET publishes a new article? Sign up here.