With EV charging, America is divided into two parts: Tesla's network and everything else.
ChargePoint, the largest public EV-charging network (open to all EVs) in the US issued a series of announcements last night: That, based on its preliminary estimate, revenues in Q3 plunged; that the board had sacked the CEO; and that the CFO had departed, both effective immediately. And all heck re-broke loose, and the shares made one big kathoomph after having already collapsed.
It's of course a creature of the SPAC era. It had announced back in September 2020 that it would go public via merger with a SPAC and completed the merger at peak hype-and-hoopla during that infamous February 2021, which marked the beginning of the end of it all.
Currently, shares [CHPT] are trading at $2.01, down 35.6% for the day, and down by 96% from their peak three years ago, and by 80% of the SPAC share price of $10. The plunge today is just a tiny dip in this awesome SPAC-collapse chart, the likes of which are now densely populating my pantheon of Imploded Stocks:
At the peak, ChargePoint had a market capitalization (share price times shares outstanding) of over $10 billion, a testament of the consensual hallucination, as I call it, of the times; today, it has a market cap of $725 million.
Last night, in addition to the sackings, it announced preliminary results for its Q3, ended October 31.
Revenues plunged. It said revenues would come in at a range of "$108 to $113 million," down from its recent guidance of "$150 to $165 million." The low end would be down 28% from its actual revenues in Q2 of $150 million.
There's a $42 million charge for an undefined "impairment," "resulting in GAAP gross margin of negative 23% to negative 21%." Negative gross margins are always fun.
It slashed its "pre-impairment" non-GAAP fake positive gross margin to "19% to 21%, as compared to 22% to 25% as previously expected."
The losses will continue. The company has always had losses, every quarter, and this is set to continue, with GAAP operating expenses – now estimated at "$129 million to $131 million" – much higher than its revenues ("$108 to $113 million"). The net losses will be bigger still.
But it's not going to run out of cash right this minute. At the end of the quarter, it had $397 million in "cash, cash equivalents and restricted cash."
The reason it still has this much cash left to burn is that it raised $232 million in new cash in October by selling newly issued shares. Institutional investors had agreed to take $175 million and it had sold $57 million to the public through its "at-the-market" facility.
The day before the news of the share sales came out, shares traded at $4.50. Upon this announcement on October 11, they plunged 15% and then continued to sag. And now they're at $2.
The company also has $296 million in debt. But no problem, it can still borrow $150 million on its unused revolving line of credit. And the debt doesn't come due until 2028, it said.
And the new CEO blamed the economy, LOL. After the sacking of the old CEO and the CFO, and after losing money every quarter, the new CEO said in the announcement yesterday: "Our core markets of North America and Europe both came under pressure late in the third quarter, with revenue falling far short of expectations. Overall macroeconomic conditions, along with fleet and commercial vehicle delivery delays impacted anticipated deployments with government, auto dealership and workplace customers."
With EV charging, America is divided in two parts:
1. Tesla's network
2. Everything else.
Tesla is vertically integrated. It has built its own charging network, using its own chargers, its own app, and its own payment system, to charge its own cars. It controls all parts of it. And that works.
As far as the rest is concerned, it's the wild west, beset with problems. Public charging networks have to work with all EVs. They control the chargers. But they don't control the EVs. And the payment system is third-party, such as credit cards. And maintenance and repairs are required, but these companies have trouble keeping up. So there are endless complaints about chargers not being able to communicate with the cars, or the payment systems not working, or the chargers being out of service, or malfunctioning.
The shares of the public charging networks got further hammered in recent months when more and more automakers announced that they were holding their nose and making deals with Tesla to allow their EVs to use Tesla's huge network of Superchargers. This brings Tesla's charging system – what it called the North American Charging Standard (NACS) when it rolled it out in 2012 – a step closer to becoming the de-facto standard in the US.
And public charging networks face the biggest competition of all: EV owners topping off their batteries at home every night.
ChargePoint is the largest of the public EV charging networks, in terms of revenues. It was the first that went public. Its SPAC merger, which raised a net of $493 million for the company, included $225 million in "private investment in public equity" or PIPE, which was also common at the time. These private investors were anchored by Baillie Gifford and funds managed by Neuberger Berman Alternatives Advisors.
In the announcement of the SPAC merger, the now-sacked CEO Pasquale Romano said: "With our business model tested over more than a decade and approximately $480 million in net proceeds raised from this transaction, I'm confident that ChargePoint is well positioned for continued growth in North America and Europe as the shift to electrified mobility takes hold globally." The hype-and-hoopla show was quite something.
Evgo, the next charging network in line with about one-third the revenues of ChargePoint, went public via merger with a SPAC that was announced in January 2021 and completed on July 1, 2021.
It raised over $600 million in cash, including $400 million from a PIPE, anchored by funds managed by PIMCO, BlackRock, Wellington Management, Neuberger Berman Funds, and Van Eck Associates.
And on July 2, 2021, as part of the incessant hype-and-hoopla show that must go on, it rang the opening bell at the Nasdaq in New York City.
In its last quarterly report, it said that revenues in Q3 plunged 30% quarter-to-quarter, to $35 million. It's just a tiny outfit. Its shares [EVGO] plunged too, and today trade at $2.96, down 88% from their high, giving it a still inexplicably high market cap of around $900 million. Long live Consensual Hallucination: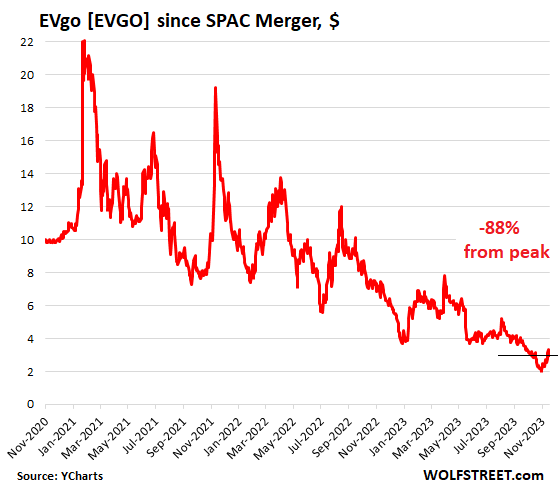 Enjoy reading WOLF STREET and want to support it? You can donate. I appreciate it immensely. Click on the beer and iced-tea mug to find out how:

Would you like to be notified via email when WOLF STREET publishes a new article? Sign up here.