But now, the 10-year yield jumps 15 basis points from Friday. Short-covering has run its course?
The fireworks over the past few weeks in the US Treasury market involved, as you'd expect, hedge funds creating and then covering massive highly leveraged short positions.
According to an aggregate of Commodity Futures Trading Commission figures going back to 2006, cited by Bloomberg this morning, hedge funds had taken on the most ever leveraged net short positions in Treasury futures trades by October 31.
Amid these short positions, the 10-year Treasury yield rose to 5% by October 23, and the rising yields mean falling prices in the cash Treasury market, and the Treasury-short bets were working, but that moment of 5% glory was followed by the insta-plunge in yields the same day, followed by further drops in yields. Dropping yields means prices rallied. And yet during that week, hedge funds continued to pile into this leveraged short trade until October 31.
And by October 31, the net short-positions in Treasury futures had reached the highest level ever, and this extreme positioning "was an accident waiting to happen," Gareth Berry, strategist at Macquarie Group, told Bloomberg.
Then on November 1, the Treasury department's Quarterly Refunding announcement, designed to whack down longer-term yields, pulled the rug out entirely from that short trade. And those trades unraveled.
"Price action in Treasuries for the past few months was a classic case of a persuasive story feeding the price action, until it went too far, leading to an overshoot which is now correcting," Gareth Berry, told Bloomberg.
These short trades also involved the "basis trade": selling Treasury futures and buying bonds in the Treasury cash market and extracting a small profit from the difference between them, but multiplied by huge leverage.
The basis trade has come under SEC scrutiny, which is supposed to regulate hedge funds; and by bank regulators who are worried because banks supply some of the funding to hedge funds for this trade, and they could get hit by the blowback. And the Fed is worried because hedge funds also borrow in the repo market, and leveraged bets blew out the repo market in 2019, when the Fed ended up stepping in to bail out those goofballs. And leveraged bets blowing up contributed to the crazy volatility in the Treasury market in March 2020 when the Fed then threw heaven and earth at it.
In August 2023, Fed researchers found that hedge funds were back at it: They found that short futures positions in the 2-year, 5-year, and 10-year Treasury contracts rose by $411 billion in 10 months, to $715 billion, and that total leveraged Treasury shorts rose to $860 billion – but that was based on data as of May 9. And the trade has ballooned since then. No one really knows how large this trade it.
And the Fed researchers pointed at this basis trade as a vulnerability for financial stability:
"The cash-futures basis trade is an arbitrage trade that involves a short Treasury futures position, a long Treasury cash position, and borrowing in the repo market to finance the trade and provide leverage. This trade presents a financial stability vulnerability because the trade is generally highly leveraged and is exposed to both changes in futures margins and changes in repo spreads. Hedge funds unwinding the cash-futures basis trade likely contributed to the March 2020 Treasury market instability."
Today, Fed Governor Lisa Cook in a speech on financial stability, pointed at hedge funds and the basis trade:
"For example, several indicators suggest that Treasury cash-futures basis trades—trades that involve the sale of a Treasury future and the purchase of a Treasury security deliverable into the futures contract—likely gained in popularity recently. Because the basis trade is often highly leveraged, a funding shock or heightened volatility in Treasury markets could force hedge funds to abruptly unwind their positions at potentially distressed prices."

"I will keep an eye on how these leveraged trades might interact with Treasury market liquidity."
The SEC has proposed new rules to reform the Treasury market to get a handle on these leveraged bets; among other things, those rules would treat hedge funds like the broker-dealer arms of banks.
Ken Griffin, CEO of the hedge fund Citadel which is up to its ears in the basis trade, pushed back against SEC scrutiny, and said that regulators should focus on banks and their lending to hedge funds, in order to reduce the risks to the financial system, he told the FT yesterday.
"If regulators are really worried about the size of the basis trade, they can ask banks to conduct stress tests to see if they have enough collateral from their counterparties," he told the FT.
Meanwhile, back in the Treasury market, the massive short-covering that helped push down the 10-year yield last week seems to have run its course, and today the 10-year yield already jumped by 15 basis points from the low on Friday to 4.65% at the moment.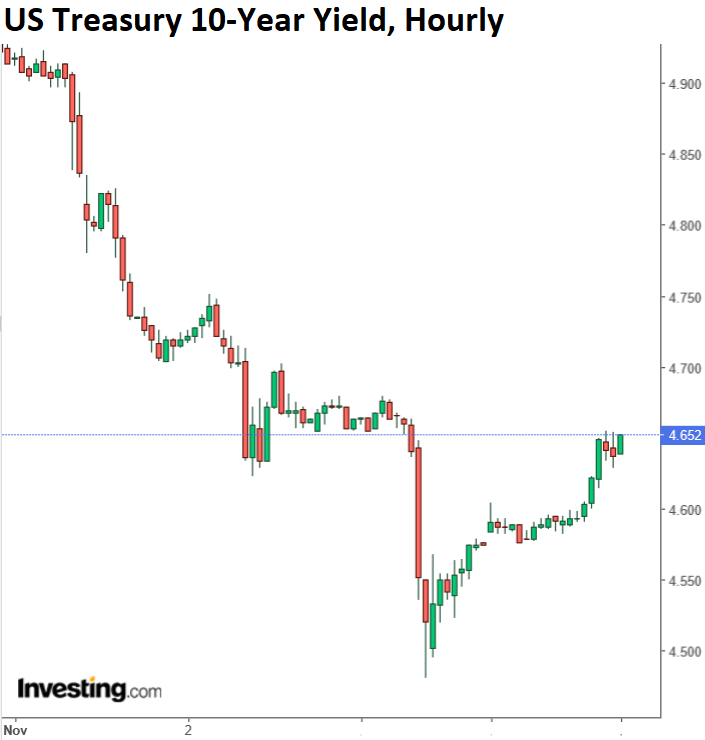 Enjoy reading WOLF STREET and want to support it? You can donate. I appreciate it immensely. Click on the beer and iced-tea mug to find out how:

Would you like to be notified via email when WOLF STREET publishes a new article? Sign up here.