We shoulda known better.
US government interest expense shot up over the past four quarters in line with higher interest rates and the ballooning pile of debt. At the same time, tax revenues fell from the peak levels in 2022 and are back where they'd been in Q4 2021, which had been a record high at the time.
So, interest expense as percent of tax revenues – the primary measure of the burden of the national debt on government finances – spiked to 32.9% in Q1, from 19.3% in Q1 2022. But wait… that 19.3% a year ago had been the lowest since 1969, thanks to the Fed's interest-rate repression through early 2022 and high tax revenues from the growing economy, wage inflation, and big realized capital gains as people sold assets to lock in their many years of gains.
In the 1980s, interest expense as a percent of tax receipts was around 50%. In the decades since then, Congress has been footloose and fancy-free about its spending and taxing policies, and there hasn't been any discipline, no matter who runs the show. It's just that priorities shift. A high interest-expense burden might be the only discipline left that will put some common sense into these people in Washington.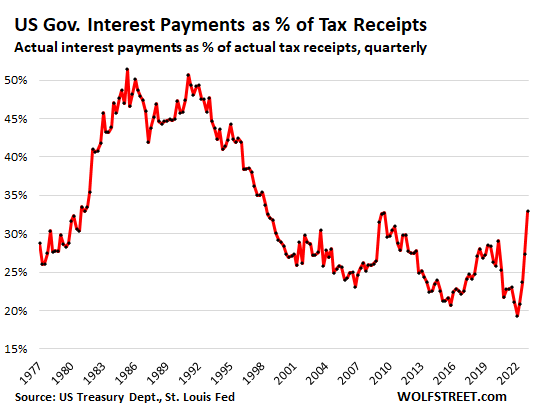 This is the holy-moly gross national debt, and how it ballooned under the last 2.5 years of the Trump administration and the first 2.5 years of the Biden Administration. Over that 5-year period, the debt has ballooned by $10.5 trillion, or by 50%, whereof $6.7 trillion under Trump and $3.8 trillion under Biden.
Over the days after the debt ceiling gets lifted, the gross national debt will spike in massive leaps, as it always does after the debt ceiling is lifted, because the debt ceiling never actually limits the debt, and we'll have some fun with that as it happens. And all this will be tacked on shortly (indicated in green in the chart below).
Spending bills are cobbled together and passed by Congress, though Presidents are big players in that game: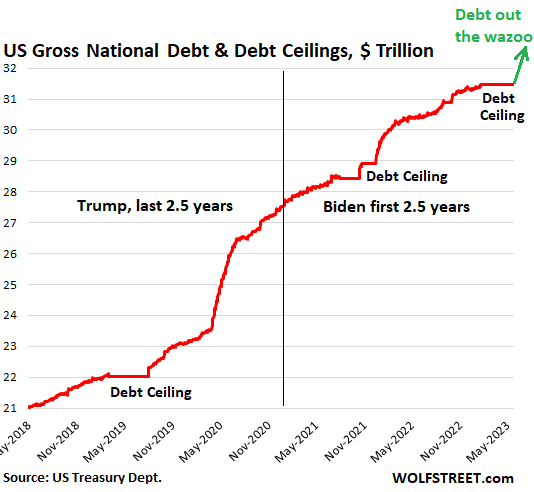 The US debt-to-GDP ratio dipped to 119% in Q1, having steadily declined from the spike in Q2, 2020, as nominal GDP (not adjusted for inflation) has surged, driven in part by inflation, and as the debt (also not adjusted for inflation) has surged at a slower rate.
Nominal GDP reflects economic growth plus inflation. Nominal GDP jumped by 7.8% in Q1 year-over-year. But the national debt jumped by "only" 3.4%, not counting the hundreds of billions that will be tacked on to it over the days following the lifting of the debt ceiling.
In other words if economic growth plus inflation are higher than the growth of the debt, the magnitude of the debt in relationship of the economy declines.
The Free-Money era – the Fed's near-0% policy rates plus QE – created the biggest borrowing binge by the US government, as Congress and the various White Houses fully bought into this concept that money will forever be free and that debt doesn't matter because debt is free too – though it now suddenly matters a lot because money and debt are no longer free: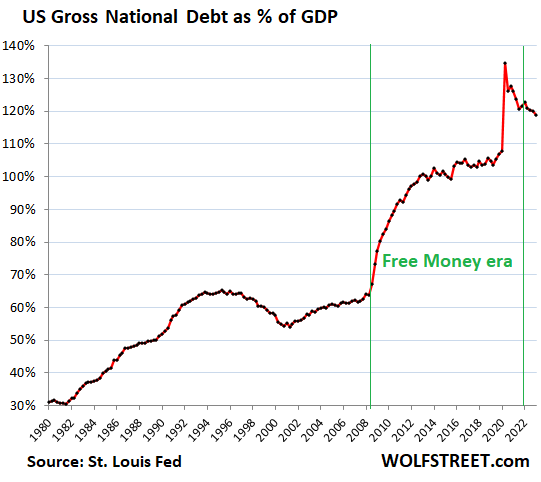 Interest expenses on the national debt spiked to $232 billion in Q1 (not seasonally adjusted), a new record obviously, because of the mix of the ballooning national debt and the much higher interest rates on newly issued Treasury securities that replace maturing securities or fund the new deficits.
After the debt ceiling is raised this week, the Treasury department will issue a tsunami of Treasury bills, with interest rates well above 5%, and they will add to that interest expense in short order: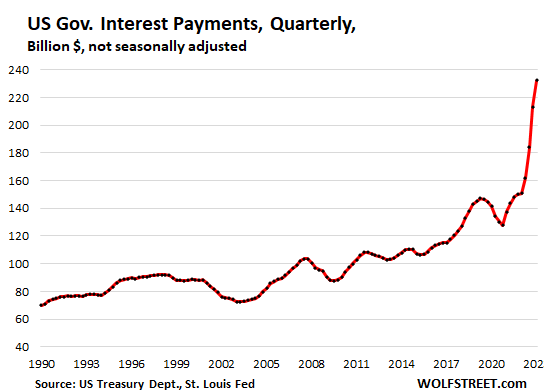 Tax revenues fell to $705 billion in Q1, roughly even with Q4 2021, which had been a record at the time.
In 2021 and 2022, tax revenues soared on soaring personal income taxes, including capital gains taxes – as investors sold securities and realized capital gains that had accumulated over the years, after the biggest asset bubble ever. There was also a surge in corporate income taxes as companies jacked up prices and thereby profits. And customs duties and excise taxes also rose. Everything worked together in 2021 and 2022 to produce this big jump in tax revenues.
Those tax revenues are reverting to trend, and the free-money party is over. The chart also shows the interest expense (green) to provide a better sense of proportion: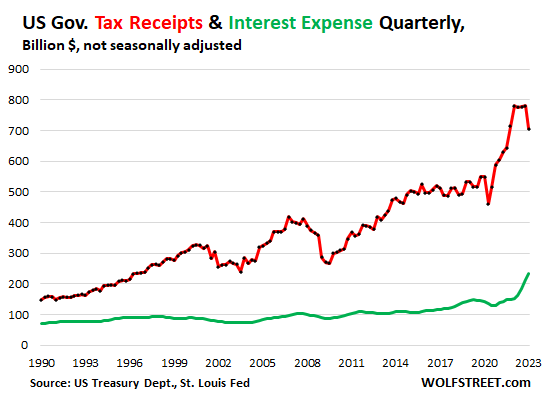 Interest expense as percent of GDP spiked to 3.6%, the highest since 2000, but well below the 1980s level that exceeded 5% a few times. This ratio is interest expense (actual, not adjusted for inflation or seasonality) divided by nominal GDP (not adjusted for inflation or seasonality).
One thing we can tell instantly: The Fed's rapid rate hikes and the rapidly ballooning debt created one heck of a historic spike over just three quarters: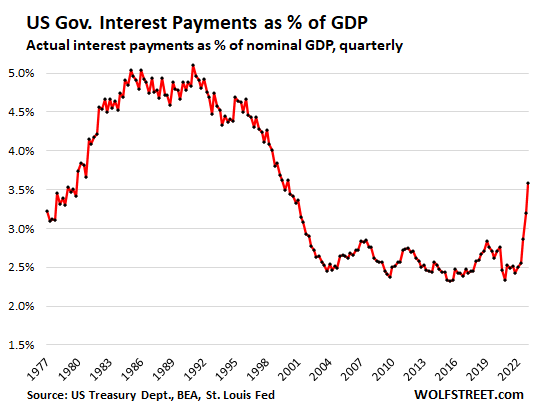 Everyone knows that it was nuts to boost deficit spending as it was done over the past 5 years; it's inflationary and contributed to the spike in inflation we have now; and as interest rates adjust to this higher for longer inflation, and as old securities with lower coupon interest mature and are replaced with new securities with higher coupon interest, the interest expense is going to be a headache.
On the other hand, fixed-income investors that buy those securities with the higher coupon interest are loving it, as they're finally getting interest on Treasury bills that exceeds the current rate of CPI inflation. And those folks are going to pay federal income taxes on the interest income – along with folks who are paying income taxes on the interest income from CDs, money market funds, and high-yield savings accounts. So there's more tax revenue heading toward the Treasury.
Enjoy reading WOLF STREET and want to support it? You can donate. I appreciate it immensely. Click on the beer and iced-tea mug to find out how:

Would you like to be notified via email when WOLF STREET publishes a new article? Sign up here.