Food Inflation Raged at 19%. But energy prices plunged. In response, UK government bond yields spiked, pricing in higher BOE policy rates.
No one ever seems to expect these nasty surprises that this inflation continues to dish out. The nasty surprise du jour was dished out in the UK, where the "core CPI" (which excludes energy, food, alcohol, and tobacco) and the services CPI had scary month-to-month spikes that pushed them to multidecade highs. And very unhelpfully, food inflation continued to rage at an annual rate of over 19%.
Core CPI (excludes energy, food, alcohol, and tobacco) spiked by 1.3% in April from March, on red-hot increases in the indices for new and used vehicles and for all kinds of services (more on those in a moment). To put this into perspective: a 1.3% month-to-month spike translates into 16.8% annualized!
This pushed the year-over-year increase up to 6.8%, the worst year-over-year increase since 1992, according to data from the UK Office of National Statistics (ONS) today. This reverses several false-hope declines starting in November.
Services CPI spiked by 1.6% in April from March, which translates into 21% annualized! It was powered by massive spikes in the indices for auto repairs, transportation, hospital services, communication, recreation & culture, rents, and insurance of all kinds, and was somewhat softened by drops in energy services.
These pushed up the year-over-year increase to 6.9% in April. Inflation is tough to quell once it reaches services, and like just about everywhere else, in the UK it reached services some time ago, and now on a month-to-month basis, all heck has broken loose.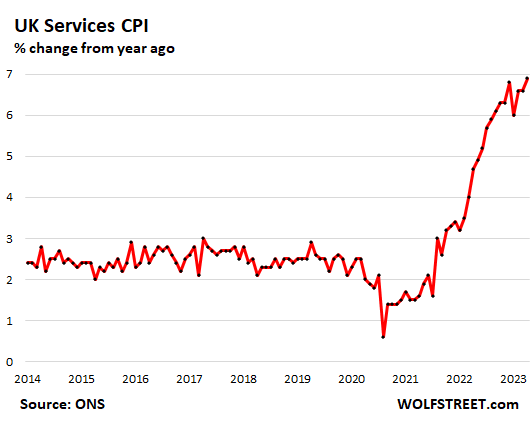 Food inflation continues to rage. For people trying to make ends meet, food inflation is among the worst and daily in-your-face nightmares. In April, the CPI for food and non-alcoholic beverages spiked by 1.4% from March, and by 19.1% from a year ago, nearly the same as in March, which had been the worst since August 1977, according to the ONS's "indicative modelled estimates" (its actual CPI data don't go back that far).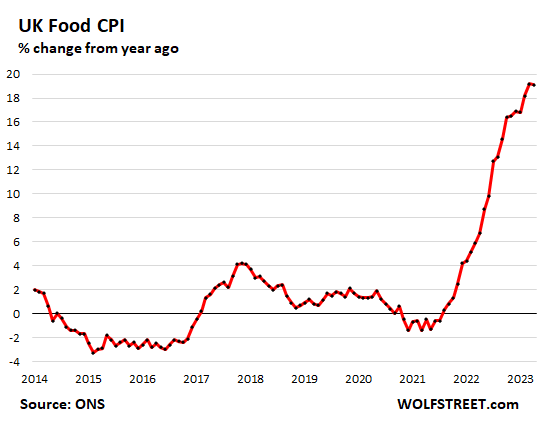 Energy prices dropped. Gasoline prices dropped 9.9% year-over-year, and diesel (which many passenger vehicles use) dropped by 7.7%. Combined, motor fuels dropped by 8.9% year-over-year, after having spiked by as much as 44% last summer. Prices of electricity and household gas also dipped in recent months.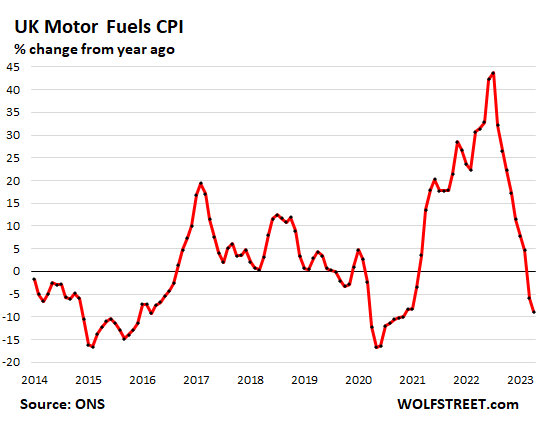 Goods CPI slightly less red-hot. Inflation in goods prices backed off to a still raging annual increase of 10.0% in April, down from 12.8% in March. The index includes motor fuels and food.
As everywhere else, prices of some goods are cooling off (especially fuels), but other goods prices are surging again, after having backed off, such as new and used vehicles whose prices spiked by 2.1% in April from March (28% annualized!). So here we go again, the inflation game of Whac-A-Mole: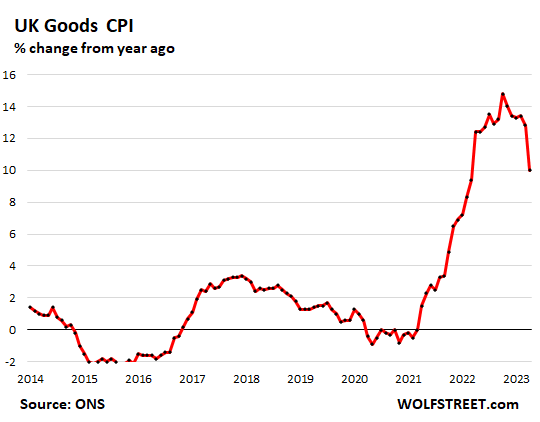 | | | |
| --- | --- | --- |
| Other Major Components | YoY | MoM |
| Food, non-alcoholic beverages | 19.1% | 1.4% |
| Alcohol, tobacco | 9.1% | 3.6% |
| Clothing, footwear | 6.8% | 0.7% |
| Housing, household services | 7.3% | 1.0% |
| of which owner occupiers' housing costs | 4.0% | 0.3% |
| Furniture and household goods | 7.5% | -0.7% |
| Health | 7.2% | 0.8% |
| Transport | 1.6% | 1.8% |
| Communication | 7.8% | 8.0% |
| Recreation and culture | 6.4% | 1.4% |
| Education | 3.2% | 0.0% |
| Restaurants and hotels | 10.2% | 0.7% |
| Miscellaneous goods & services | 6.8% | 0.5% |
Overall CPI jumped by 8.7% in April, compared to a year ago, somewhat less horrible than the 11.1% booked in October, as it was pushed down by the big drop in energy components.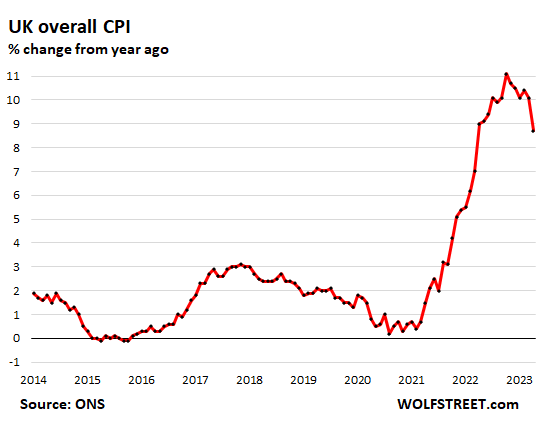 And yet, the Bank of England has been increasing its policy rate way too late, way too little, and far too slowly to get a handle on this. At its May meeting, it raised its policy rate by 25 basis points, to 4.5%, over two percentage points below the April "core CPI" rate.
The one-year UK government bond yield, upon the inflation news, spiked by 17 basis points today, and by 30 basis points in two days, to 4.76% the highest since August 2008, now beginning to price in higher BOE policy rates than previously imagined: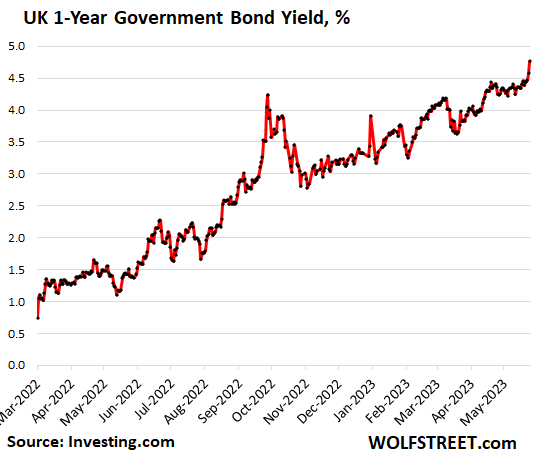 Enjoy reading WOLF STREET and want to support it? You can donate. I appreciate it immensely. Click on the beer and iced-tea mug to find out how:

Would you like to be notified via email when WOLF STREET publishes a new article? Sign up here.