The historic plunge in used vehicle retail prices from utterly absurd highs may have ended already.
Used vehicle prices, which spiked ridiculously in 2020 through 2021, were a big player in the surge of inflation during that time. Then, starting in early 2022, used vehicle prices began to drop, and the CPI for used vehicles plunged, and it helped push down overall CPI and "core" CPI.
But now, after these historic distortions, there has been a seemingly complete disconnect between used vehicle wholesale prices, which have been surging for months, and used-vehicle CPI, which has continued to fall, including yesterday's seasonally adjusted CPI release for March. Or so it seems.
Used-vehicle wholesale prices, seasonally adjusted, jumped for the fourth month in a row, this time 1.5% in March from February, after the 4.3% spike in February, according to Manheim, the largest auto auction house in the US and a unit of Cox Automotive (red line in the chart below).
Not seasonally adjusted, wholesale prices jumped for the third month in a row, this time by 3.5% after the 3.7% jump in February, to $21,375 (green line). Wholesale prices have now regained in three months nearly half (+$1,760) of what they'd lost in the prior 13 months (-$3,199).
Both metrics of wholesale prices are adjusted for changes in the mix and mileage. These increases in auction prices show that dealers have to pay more to purchase vehicles to restock their inventory, and so their costs went up.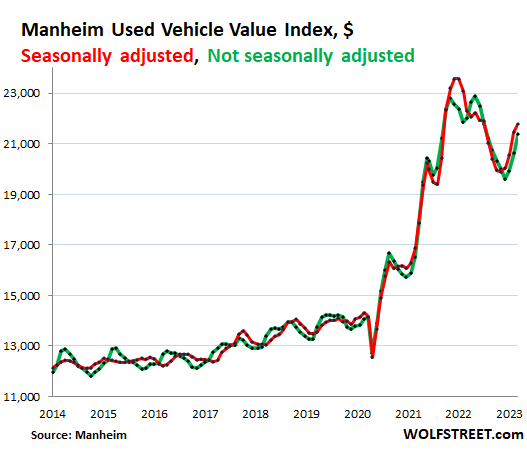 Used-vehicle CPI "not seasonally adjusted" rose in March.
The used-vehicle CPI jumped in March, but we didn't look in the right place. The normally cited CPI for used vehicles is "seasonally adjusted." But the "not-seasonally-adjusted" CPI used vehicles jumped by 1.0% in March from February, the first increase since July last year.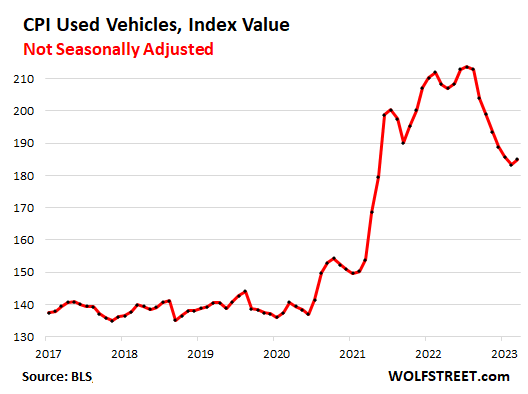 There is normally a lag of a couple of months between big changes in wholesale prices and when the CPI for used vehicles picks up those changes as they make their way into the retail prices at which dealers sold those vehicles for.
So this first rise of the not-seasonally-adjusted CPI for used vehicles is two months behind the not-seasonally adjusted wholesale index, which rose for the third month in a row, and the normal time lag of a couple of months is back on track.
This, along with an eye on the wholesale chart, kind of tells us that the drop in used-vehicle CPI is over, and that used vehicle prices may soon stop pushing down core CPI.
"Seasonally adjusted" CPI used vehicles continued to drop.
As if nothing had happened on the wholesale side of the business, the seasonally adjusted CPI for used vehicles continued to drop, including in March — though at a slower pace of 0.9% — bringing the cumulative drop from the December 2021 peak to 15%.
This is a huge unprecedented drop, after the huge unprecedented spike. And as the spike pushed up CPI and especially core CPI, the drop has pushed down CPI and especially core CPI. And this phase may be ending: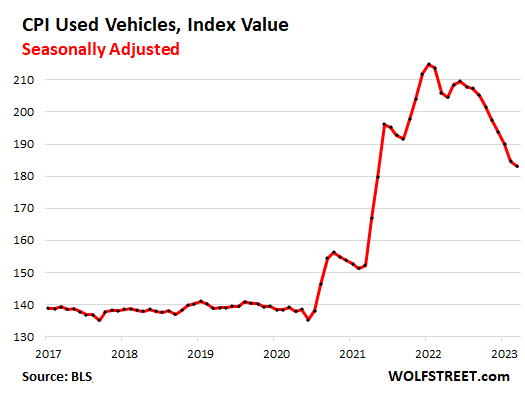 Seasonal adjustments…
Wholesale and retail prices normally rise in March. This is the beginning of the spring selling season, and it's tax-refund season, and people, armed with tax refunds as down payments, are coming out of hibernation to buy used vehicles in March and April, and demand is driving up prices. Dealers are stocking up for it at auction and are driving up auction prices. That's normal and predictable, and seasonal adjustments account for it.
The not seasonally adjusted CPI for used vehicles increased on average over the past 10 years by 1.24% in March from February. And so the increase in March 2023 of 1.0% was more than wiped out by the seasonal adjustments.
But this March was a little different in several ways:
Still high prices: Used vehicle retail prices have come down some from the absurd levels a year ago, but they're still at near-absurd levels, and lots of people aren't interested in paying those prices, and they're just driving what they already have.
Smaller and fewer tax refunds: Even though the IRS processed more refunds through March 31 than it had in the same period last year, the average refund fell by 10% to $2,910, and about 1% fewer people received refunds. The IRS issued $183 billion in refunds (nearly all as direct deposits), down 10.4% from the same time last year ($204 billion), according to IRS data.
Dealers willing to give up slivers of their big-fat per-vehicle gross profits they'd feasted on during the pandemic. Dealers have lots of room to play with, given where they are with their per-vehicle grosses, and they can yield on price to get volume, and still make huge per-vehicle grosses, compared to pre-pandemic normal times. So they're bidding up auction prices, even as they're willing to make deals to get retail volume. This might look like a profit-margin squeeze, but it's just a step back toward the normal-ish per-vehicle grosses before the pandemic, as this market is far from having normalized.
Finally…
So given the movements in wholesale prices, and the lag from wholesale prices to CPI for used vehicles, I expect the "not-seasonally adjusted" CPI for used vehicles to rise further in April, and the "seasonally adjusted" CPI to be either roughly flat or up in April, which would mark the end of the historic plunge in used vehicle CPI. This would indicate that consumers are getting more and more used to those still high prices, and that would be a bad sign for inflation.
Suddenly tight inventories at dealers could fuel further price increases. At the beginning of March, used-vehicle supply was down to just 38 days (compared to 53 days at the beginning of March 2019), according to Cox Automotive data.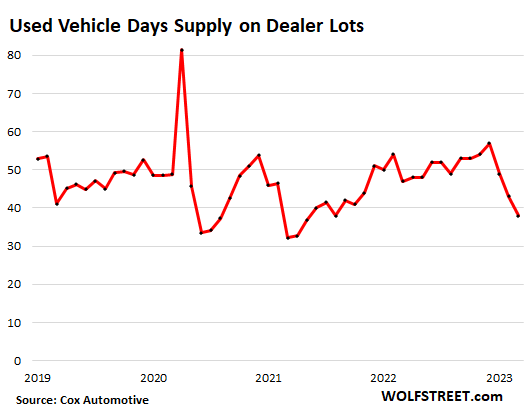 Enjoy reading WOLF STREET and want to support it? You can donate. I appreciate it immensely. Click on the beer and iced-tea mug to find out how:

Would you like to be notified via email when WOLF STREET publishes a new article? Sign up here.