Released Friday afternoon, the annual revisions by the BLS went in the wrong direction.
On Friday, the Bureau of Labor Statistics released its annual revisions to the Consumer Price Index for December, with some revisions going back to 2018. These revisions came just ahead of the January CPI to be released on Tuesday.
What was actually revised were the seasonal adjustments, and thereby the seasonally adjusted month-to-month CPI readings that everyone is talking about as a measure of current inflation, whether it's accelerating or slowing down.
The revisions for the December month-to-month readings were all to the upside, including:
Overall CPI (CPI-U), old -0.1%; new +0.1%. So there goes that.
"Core CPI" (without food and energy), old +0.3%; new +0.4%
Services CPI, old: +0.6%; new +0.7%. This is where nearly two-thirds of consumer spending goes. And it is red hot.
In addition, the readings for October and November were also revised up, taking a bite out of the "disinflation" scenario.
The indices were also revised for certain months going back to 2018, some months up, some months down. But for October, November, and December, they were all revised up.
In terms of magnitude, not necessarily direction, the December revisions were in line with revisions in prior years, the BLS said.
So we want to look at the two most important revisions, in terms of gauging how deep inflation has penetrated into the overall economy and what its direction might be.
The services CPI was revised to a red-hot +0.7% for December from November (originally 0.6%). And it was also revised up for November and October. This chart shows the revised services CPI (red) and the original (green).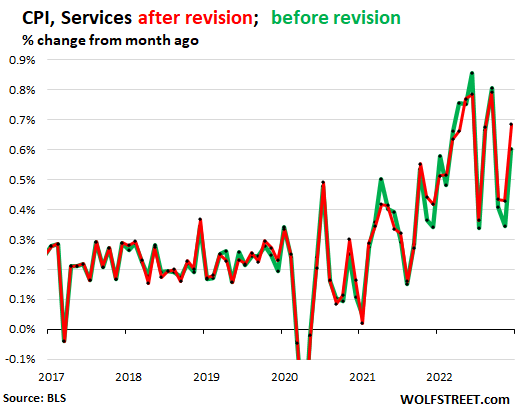 The core CPI was also revised up for October, November, and December, showing much less "disinflation" in October and November, and accelerating inflation in December. The revisions also took out some of the spikes in 2022 and 2021. The red line shows the revised core CPI, green is the original version: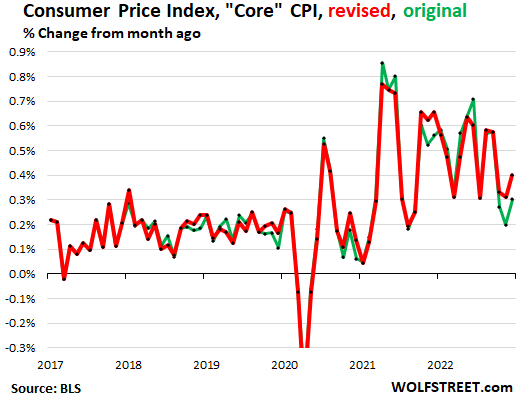 "Disinflation" hoopla gets deflated.
Disinflation means inflation, but easing rather than worsening inflation. These revisions for the past three months show that there was less disinflation in October and November than cited in all the hoopla about it, and that there has been worsening inflation in December.
They're revisions of seasonal adjustments. The not-seasonally adjusted data was not revised. But it's the seasonally adjusted inflation figures that everyone is tossing around, with the month-to-month figures – including the original negative CPI-U of -0.1% for December – being held up as of the disinflationary scenario. And the scenario just got a lot less disinflationary.
Enjoy reading WOLF STREET and want to support it? You can donate. I appreciate it immensely. Click on the beer and iced-tea mug to find out how:

Would you like to be notified via email when WOLF STREET publishes a new article? Sign up here.