But the architect of Abenomics will be outa there in April.
Japan's "core" Consumer Price Index for all items less fresh food – which the Bank of Japan uses for its 2% inflation targeting – rose to 4.0% in December, the highest since 1981, and double the BOJ's target, even outdistancing all the consumption-tax-hikes that had caused the prior spikes, according to data from Japan's Statistics Bureau today.
Inflation shot through the BOJ's inflation target (purple line) in April 2022. And the BOJ, under the Abenomics fossil Haruki Kuroda, is clinging to the fiction that this inflation is "transitory," and it is still stubbornly and recklessly fueling this inflation with its negative interest rate policy, the last central bank in the world to cling to NIRP despite raging inflation.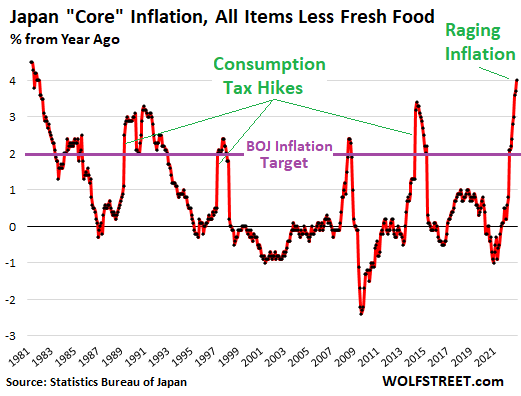 Kuroda is the architect of Japan's infamous money-printing binge under the economic religion of Abenomics, which started in 2012. But he'll be out in April, after which the BOJ will likely do some navel gazing in form of a monetary policy review. It'll be up to the next person to deal with this mess. Meanwhile, they're letting it rip.
Even today, relentlessly reckless, Kuroda, speaking at the World Economic Forum in Davos, defended the BOJ's monetary policy, which it had left unchanged on Wednesday, and he extra recklessly committed to continuing the BOJ's "extremely accommodative" monetary policies. But he'll be outa there in a couple of months.
The CPI for all items also rose to 4.0%, the worst inflation since 1990, having now outdistanced the consumption-tax spike of May 2014: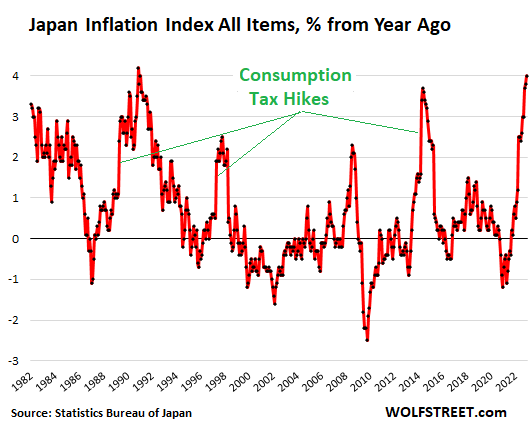 Some of the major categories of inflation.
Food: +7.0%. Includes: fresh fish and seafood +16.2%; fresh meats +7.1%; dairy products and eggs +9.0%; meals outside the home +5.8%.
Household electricity, gas, water: +15.2%.
Household durable goods: +10.8% (furnishings, appliances, utensils, bedding, etc.).
Repair and maintenance: +7.8%
Communication: +7.2%
Clothing and footwear: +2.9%
Rent: +0.1% (that's nice)
Governments hold down inflation where they control prices.
Healthcare inflation: In Japan's system of universal healthcare, the government largely decides what consumers have to pay:

Medical care: +0.4%
Medicines: +1.3%
Medical supplies and appliances: +1.0%
Medical services: -0.3%

Public transportation: +0.8%
Education: +0.7%
End of the era of actual price stability.
For over two decades, Japan had enjoyed something resembling actual price stability, where bouts of inflation were followed by some mild deflation, so that prices overall remained roughly level for 23 years.
Over this period, the CPI for all items as an index value to reflect price levels, not year-over-year price changes, had been relatively flat, ruffled by consumption tax hikes. This means that for Japanese consumers and businesses, the yen had roughly retained its purchasing power within Japan.
But now, inflation is spiking, and no one is prepared for the loss of the purchasing power of the yen – people, businesses, investors, savers, workers, retirees, the economy overall. And they're facing a central banker that lives in his own world and cannot back off from 10 years of his failed monetary policies under Abenomics that he staked his fame on.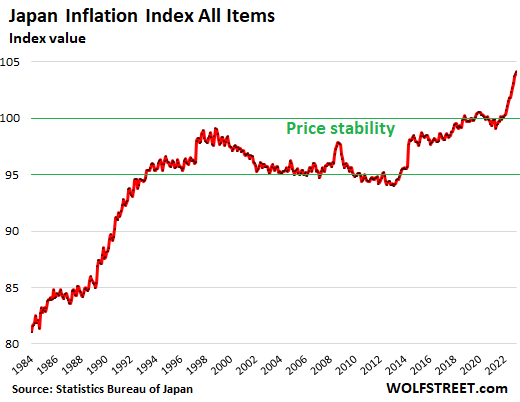 Enjoy reading WOLF STREET and want to support it? You can donate. I appreciate it immensely. Click on the beer and iced-tea mug to find out how:

Would you like to be notified via email when WOLF STREET publishes a new article? Sign up here.