Central-Bank Stimulus Fail: The longer it drags on, the worse it gets?
Manufacturing in the powerhouses Germany, Japan, and China took a hit – all of them complaining about exports. But US manufacturing continues to expand, according to a slew purchasing managers indices (PMI) released by IHS Markit.
US Manufacturing Clings to Gains:
In the US, "manufacturing remained a bright spot as production volumes expanded at the fastest pace for eight months," IHS Markit reported today. Domestic demand was strong, but export growth has been weakening. All factors combined, the Flash Manufacturing PMI rose to 54.9. In these indices, 50 is the dividing line, signifying "stagnation"; below 50 signals "contraction" and above 50 signals "expansion" (data via Investing.com):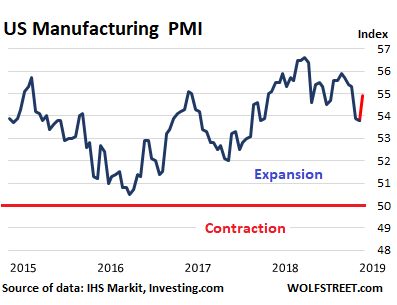 In the chart, the current observation is in red to show as we go further down the line how much the US manufacturing sector is diverging from those in Germany, Japan, and China.
Companies saw "robust demand" in the US but a "slowdown in export sales growth," the IHS Markit report said.
But their responses about hiring were "somewhat disappointing, with the overall rate of job creation slipping to a 20-month low," it said. "However, even this weaker January survey employment index reading is consistent with private sector payroll growth of approximately 150,000."
And "stretched supply chains remained a challenge for manufacturers, with vendor lead-times lengthening for the 55th month running in January," it said.
Eurozone manufacturing doesn't look hot.
And that has been a problem for quite a while. The Flash Eurozone Manufacturing PMI dropped to 50.5, a 50-month low, an indication that the manufacturing sector is "close to stagnation" in a "broad-based slow-down" (data via Investing.com, current observation in red):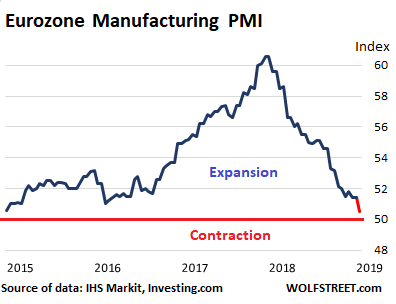 "The factory sector reported the weakest expansion since the current production upturn began in July 2013," IHS Markit said in the report. And it added:
Inflows of new work fell compared to December, registering the first such decline since November 2014 and signaling the largest drop in demand for goods and services since June 2013.
New orders for goods fell for a fourth successive month, declining at a rate not seen since April 2013. Deteriorating exports contributed to the disappointing order book picture.
Outstanding work decreased for the second consecutive month, worsening at the sharpest pace since December 2014.
The Eurozone economy slipped closer to stall speed in January, with companies reporting the first drop in demand for over four years.
German manufacturing declines
For the first time since November 2014, the Flash Germany Manufacturing PMI dipped below 50, falling 1.6 points from the December reading, to 49.9, indicating contraction in the sector, continuing a steep deterioration from peak growth in January 2018 (data via Investing.com, current observation in red):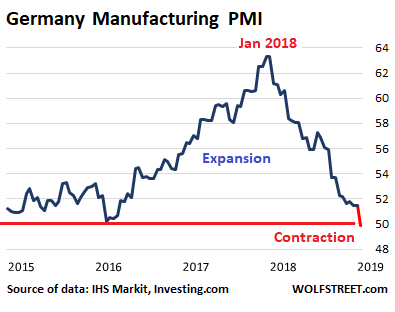 The report added these comments:
Manufacturing fell into contraction in January as the sector's order book situation continued to worsen, showing the steepest decline in incoming new work since 2012.
Weakness in the auto industry was once again widely reported, as was a slowdown in demand from China.
New export orders fell at an accelerated rate across both monitored sectors during the month.
Notably, January's survey data showed a decrease in overall inflows of new business – the first such decline since December 2014. This mainly reflected a deepening downturn in manufacturing order books, which contracted for the fourth successive month and at the quickest rate for over six years.
Continued weakness across the auto industry, lower demand in overseas markets (particularly China) and heightened uncertainty were all highlighted as factors.
Japan's manufacturing descends into stagnation.
The Nikkei Flash Japan Manufacturing Purchasing Managers' Index fell a very steep 2.6 points to 50.0 in January, ending the "longest expansionary run for over a decade" (data via Investing.com, current observation in red):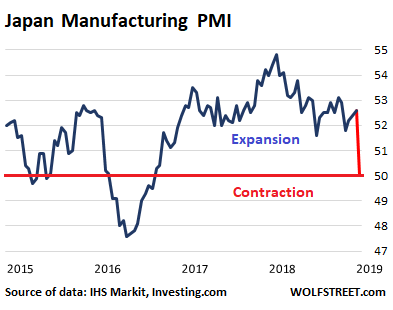 Exports fell at the "strongest pace in two-and-a-half years," the report said, production was cut for the first time since July 2016, and confidence was the "lowest in over six years," all of which "bodes ill for Japan's manufacturing sector." And it added:
The underlying picture will raise concern, given renewed reductions were seen in new orders and output.
Further signs that the downturn in the global trade cycle could yet worsen were also signaled, with new export orders falling at the sharpest rate since July 2016.
Domestic economic weakness compounded with slowing global growth coincided with the lowest level of business confidence for over six years.
China's manufacturing declines.
"Overall new business falls for first time in two-and-a-half years," said the report of the Caixin Purchasing Managers' Index, which covers December and was released in early January. It dipped below 50 (to 49.7) for the first time since May 2017. "It is looking increasingly likely that the Chinese economy may come under greater downward pressure," the report said: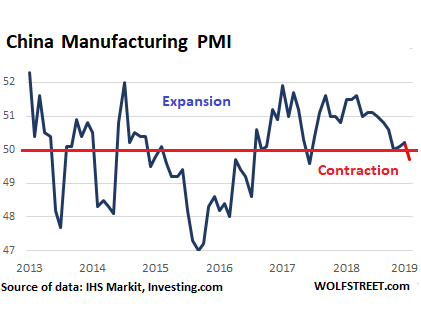 The subindex for new orders contracted "for the first time since June 2016, reflecting decreasing demand in the manufacturing sector," the report said, as "external demand remained subdued due to the trade frictions between China and the US, while domestic demand weakened more notably." And:
New export business meanwhile fell for the ninth month in a row, albeit at a softer pace than in November.
Efforts to reduce operating costs alongside decisions to not replace voluntary leavers meant that manufacturing employment in China continued to fall in December. The rate of job shedding was modest and similar to that seen in November.
The output subindex rose slightly to above 50, but was still near its lowest level in three years. The drag of weak demand on production may gradually become more evident.
Stocks of finished goods increased at a slower pace while stocks of purchased items declined, pointing to companies' growing intention to destock, which may in future disrupt the stability of the manufacturing sector's output.
This paints an interesting picture, not of a "global" slowdown in manufacturing, but of a slowdown in manufacturing in countries that have built up their export machinery in order to boost their economies. Germany (and the Eurozone overall), Japan, and China have vast merchandise trade surpluses with the US. They're the most vulnerable to changes in the US – the auto sector in particular, with vehicles and components from Germany and Japan, and with components from China.
Also note that, ironically, the Fed is the only central bank in the bunch that has taken its foot off the gas, has been raising rates since late 2015, and has been unwinding its balance sheet since late 2017. And manufacturing in the US is hanging on.
But Japan and the Eurozone are still mired in negative-interest-rate policy. The ECB has stopped QE but has no plan to unwind it. The Bank of Japan continues its QE in fits and starts. And China is in a struggle all of its own, boosting its economy while also trying to keep its debt bubble from imploding all at once. Which should be proof that this central bank stimulus does little if anything for the real economy, though it's very good at inflating asset bubbles and creating debt monsters.
Enjoy reading WOLF STREET and want to support it? You can donate. I appreciate it immensely. Click on the beer and iced-tea mug to find out how:

Would you like to be notified via email when WOLF STREET publishes a new article? Sign up here.