FANGMAN down 10.4% for the week, down $1.12 trillion from peak. Apple plunges.
This week was ugly for stocks in its own right, but it was particularly ugly because there was a major – and briefly very successful – effort by the Wall Street Journal to manipulate share prices higher. Tuesday was a bad day. Wednesday the stock market was closed. And Thursday just before noon, the Dow was already down over 700 points. It was time to pull out the big guns, namely the WSJ citing unnamed Fed "officials."
"Federal Reserve officials are considering whether to signal a new wait-and-see approach after a likely interest-rate increase at their meeting in December, which could slow down the pace of rate increases next year," it wrote.
The market – algos most of it – responded instantly, and stocks performed a miraculous recovery. At 11:25 AM, the Dow was down to 24,259. It closed the day at 24,947, having rallied nearly 700 points based on this story. WSJ even took credit for the rebound:
"The rebound accelerated late in the session after The Wall Street Journal reported on the Fed's evolving thinking on rates," it wrote. "The blue-chip index ended down 79.40 points, or 0.32%, to 24947.67, and the S&P 500 lost 4.11 points, or 0.15%, to 2695.95."
That was on Thursday. But on Friday, the whole thing came unglued again – and for the FANGMAN stocks – Facebook, Amazon, Netflix, Google's parent Alphabet, Microsoft, Apple, and NVIDIA – in a particularly ugly way.
The Dow fell 2.24% on Friday to 24,388, ending the week down 4.5%. It's down 9.5% from its peak, but down only 1.3% so far this year, and flat year-over-year.
The S&P 500 fell 2.3% on Friday to 2,633, ending the week down 4.6%. It's down 10.5% from its peak, down 1.5% year-to-date, and down 0.7% from a year ago.
The Nasdaq fell 3.05% on Friday to 6,969, ending the week down 4.9%. It's down 14.3% from its peak, but remains up 1% year-to-date and is up 1.9% from a year ago.
The Russell 2000 small caps index fell 1.98% on Friday, ending the week down 5.6%. It's down 16.9% from the peak, down 5.7% year-to-date, and down 4.8% from a year ago.
So in the bigger scheme of things, this sell-off is just a minor ripple. Wall Street crybabies are acting like it's the end of the world, and they want the Fed to back off, obviously, because stocks should only go up, and by a lot, every single year, for all times to come, and when they refuse to do that, it's a cruel abnormality.
There have been a number of efforts to manipulate stocks up. They all worked briefly, then collapsed. This includes the "dovish" interpretation of what Fed chief Jerome Powell had said, which had caused a huge rally. And it includes efforts to boost individual stocks, such as when famed short-seller Citron Research changed sides, and tried to boost the shares of Nvidia on November 20, with a tweet. The shares rallied wildly, but this week, shares began to drop again and on Friday plunged 6.7% to $147.61. They are now up only 1.6% from the close of the day before Citron Research made that infamous tweet.
The FANGMAN stocks are now in a peculiar position. Their combined market cap had once upon a time – namely August 31 – been $4.63 trillion. It has since plunged by 22.4%, or by $1.037 trillion, an astounding loss for just seven stocks. Friday was outright bloody for Apple, Nvidia, and Netflix:
Their combined market cap dropped 3.7% today, giving up $137 billion. For the week, they plunged $419 billion, or 10.4%. And they're down 22.4%, or a feather-ruffling $1.04 trillion, from their combined market cap peak on August 31: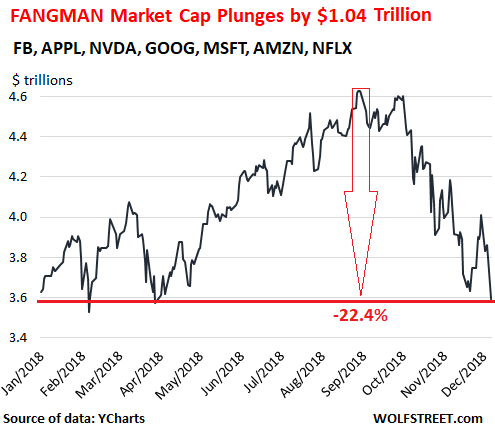 Apple, once the $1.12-trillion company that was walking on water on October 2, has since plunged 32.5%. In terms of dollars, its market cap was slashed by $364 billion to $755.8 billion, now below Amazon and Microsoft.
The FANGMAN stocks as a whole dipped into the red year-to-date on Friday. So from that perspective, this $1.034 trillion that disappeared since August 31 isn't anything to write home about – these stocks being down just a smidgen for the year, a harmless form of easy-come, easy-go. It's not like it can't get a whole lot worse.
Enjoy reading WOLF STREET and want to support it? You can donate. I appreciate it immensely. Click on the beer and iced-tea mug to find out how:

Would you like to be notified via email when WOLF STREET publishes a new article? Sign up here.