It's not pretty.
In 2018, "each month has brought weaker than normal sales, rising inventory, and continued downward pressure on prices" in Vancouver, British Columbia, writes Steve Saretsky, a Vancouver Realtor and publisher of real-estate blog, Vancity Condo Guide. The market faces another headwind: "With the Bank of Canada determined to reach a neutral rate of interest of between 2.5-3.5%, borrowing power continues to erode."
The single-family price spike unwinds.
The hardest hit segment are single-family houses ("detached houses"). Sales volume in the city of Vancouver has dropped to 27-year lows for most months of the year. In October, sales plunged 32% year-over-year to 146 houses, the third worst October on record. The plunge in sales was first triggered by the imposition of a tax in August 2016 on nonresident foreign buyers – mostly investors living in China. This chart from The Saretsky Report shows sales volume in every October going back to 1991 (click to enlarge):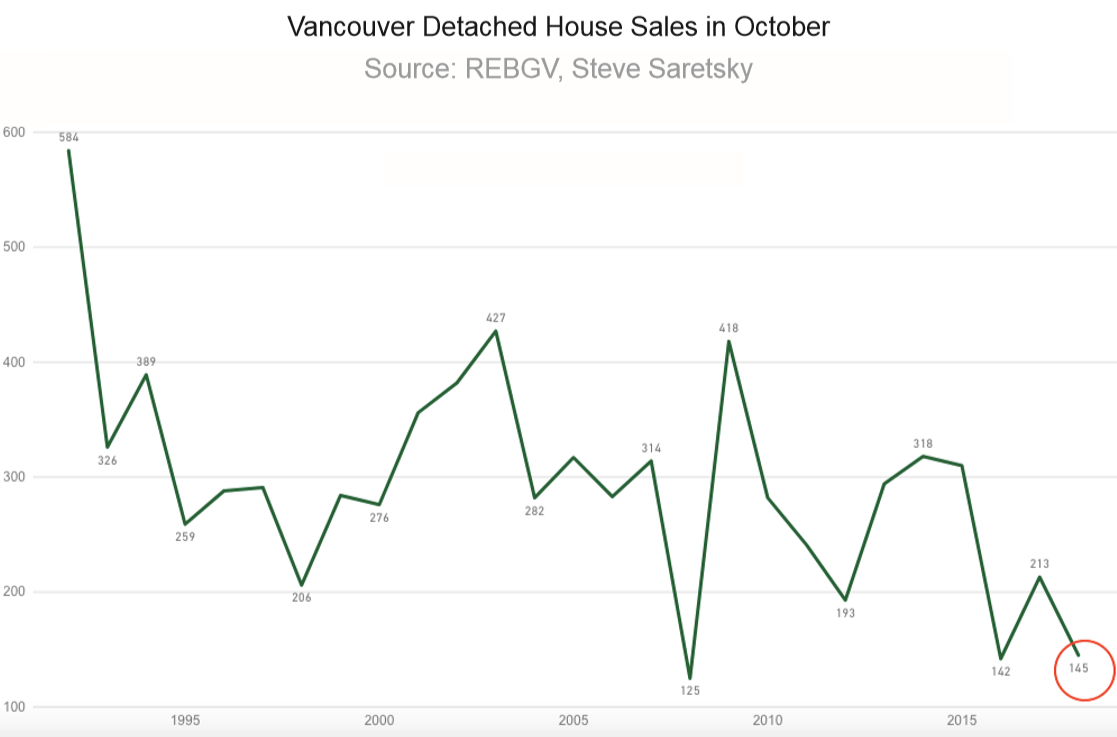 Inventory for sale of all types of homes combined – single-family, townhouse, and condo – in the city of Vancouver surged 24% year-over-year, "pushing prices lower across all property segments," he writes. Within that group, townhouse inventory jumped 34% and condo inventory soared 74%.
But inventory of single-family houses edged down by 4%, to 1,556 listings, "primarily a result of sellers taking their house off the market and trying to wait out current conditions," Saretsky writes. Given the decline in sales, months' supply surged 35% to 10.7 months. "This has paved the way for buyers to negotiate steep discounts":
We have now been in a weak detached housing market for over two years and as a result, price declines are becoming more noticeable and more significant. There is strong evidence from previous housing booms that volumes tend to lead prices by about two years, and for the most part that has been the case here in Vancouver.
The median sales price of single-family houses in October dropped 13% year-over-year to C$1.88 million. From the peak of the crazy spike in the spring of 2016 to October 2018, the median price has plunged by over C$700,000 or 28% (click to enlarge):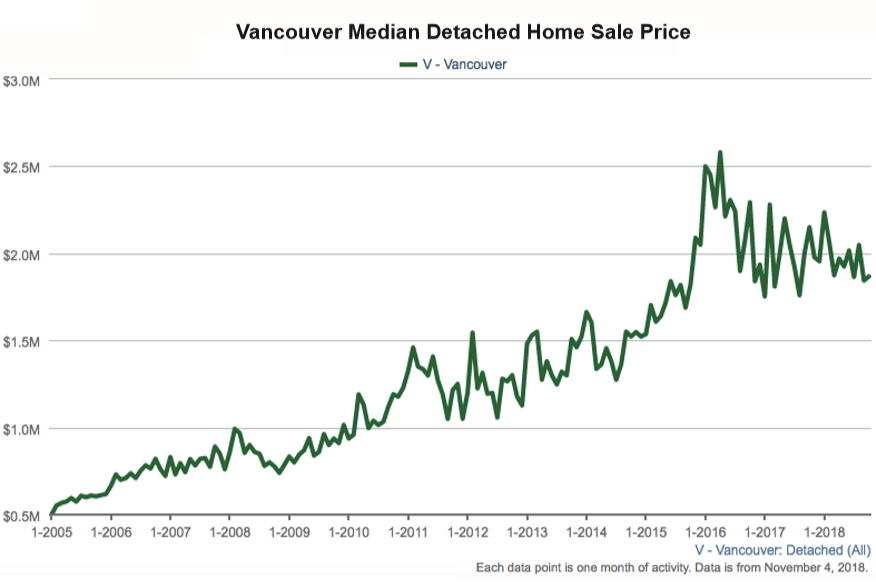 The Saretsky Report adds:
We are seeing more forced sales as a result of Vancouver's vacancy tax and BC's proposed speculation tax which is slated to begin starting January 2019. Remember, a house that is listed for sale but does not sell in the calendar year is still subject to Vancouver's empty homes tax of 1% of the assessed value.
The once red-hot condo market begins to gasp.
Sales of condos in the city of Vancouver fell 28% year-over-year, to 388 units, the lowest for any October since 2012 (click to enlarge):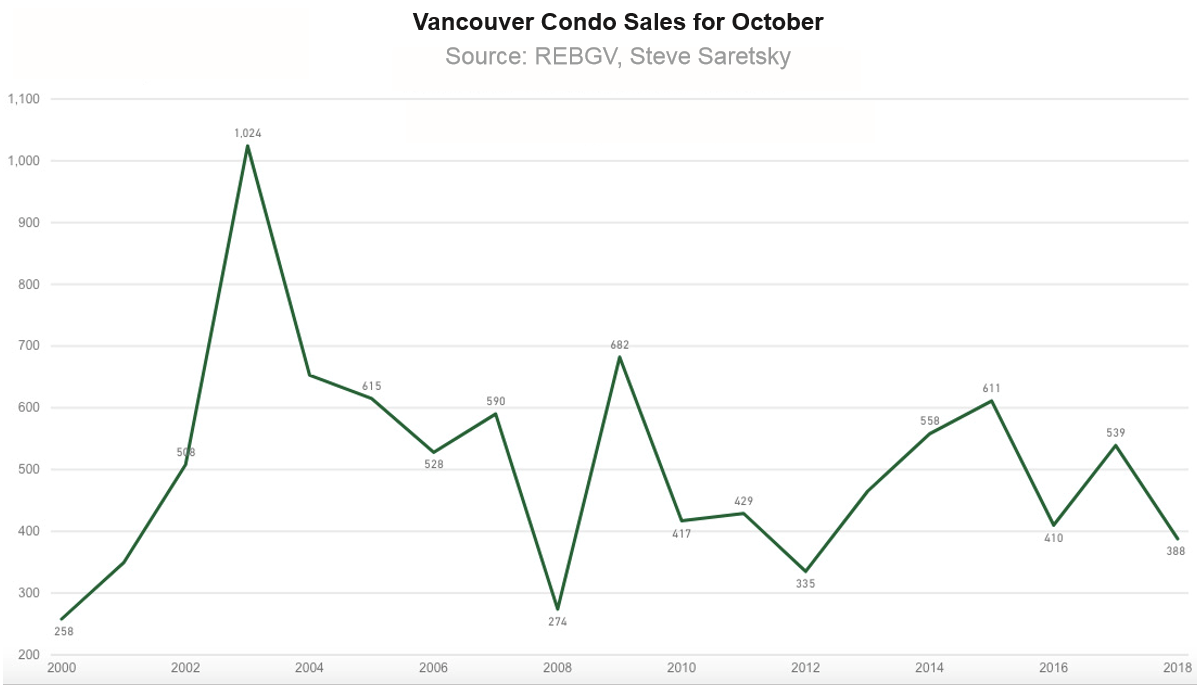 But inventory for sale jumped by 70% year-over-year to 1,845 condos, though it remains moderate by historical standards. Saretsky writes, "when sales fall and inventory jumps, that trend should keep market participants on their toes."
The report:
Similar to the detached market, sellers are trying to maintain current prices and buyers are holding out anticipating future price declines. Sellers will need to price their condos more competitively or they risk sitting stale on the market. There is now 4.7 months of inventory for sale.
The median price of condos sold in Vancouver in October dropped 7% year-over-year to C$699,000. The average sold price per square foot, at C$1,016, is now down 10% from the peak in January 2018 (click to enlarge):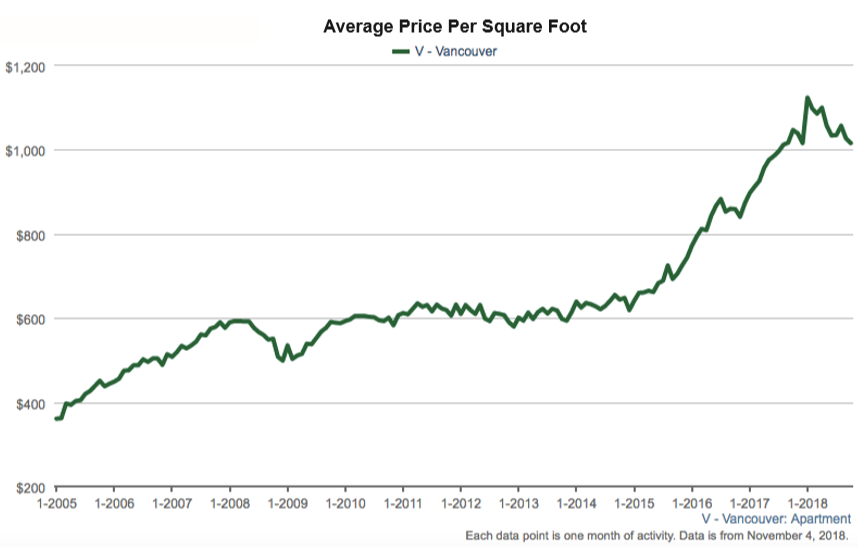 Then there is the condo construction boom.
Across Greater Vancouver, as of September there were 41,944 condos under construction "that will all require buyers to close upon completion date."
The recent slowdown in the condo market has also impacted the pre-sale market. Developers are reporting much weaker absorption rates at pre-sales centers and are ramping up incentives to entice new buyers. As a result of the slowdown and market uncertainty, commercial brokers and developers are reporting a significant decline in new land purchases.

If prices continue to decline, developers run the risk of seeing some buyers back out of existing contracts. There are growing reports coming out of Hong Kong that this is already beginning to happen in that market. What happens in the Hong Kong market is certainly relevant considering there are a number of projects being developed in Vancouver that were marketed and sold in Hong Kong.
Townhouses are more advanced in same scenario.
Sales fell 9% in October year-over-year to 67 townhouses. Inventory for sale surged 37% to 314 townhouses. Months' supply jumped 67% to 5.2 months. And the median price dropped 15% year-over-year to C$990,000.
Once red-hot Fraser Valley freezes over.
Fraser Valley – to the east of Metro Vancouver and destination for Vancouver housing refugees, lured once upon a time by massive developments and lower prices – "was the hottest condo market in the lower mainland in 2017, with year-over-year price growth peaking at 51% in December 2017," Saretsky writes. "However, 2018 hasn't been so kind. In October home sales plummeted 50% year-over-year, and inventory spiked 149%. The median sales price is decelerating rapidly."
This chart shows those trends in percentage terms: the spiking listings (red), declining median sold price (yellow), and plunging sales (blue). Click on the chart to enlarge: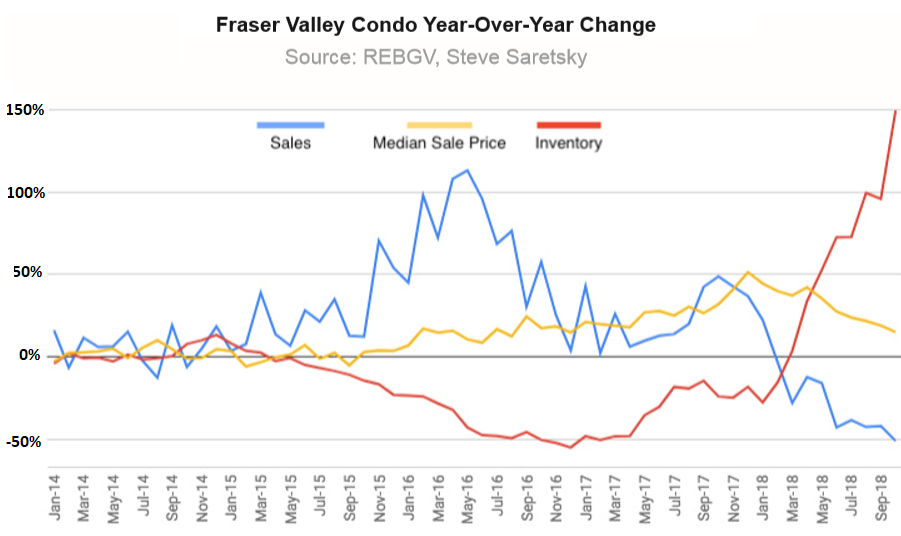 In the US too, hot air is hissing out of the market. Read…  Sales of New Houses Plunge, Pile of Unsold Homes Highest since January 2009, Prices Drop from Year Ago
Enjoy reading WOLF STREET and want to support it? You can donate. I appreciate it immensely. Click on the beer and iced-tea mug to find out how:

Would you like to be notified via email when WOLF STREET publishes a new article? Sign up here.