Yet, the crybabies on Wall Street are already clamoring for the "Powell put."
Let me just say right up front: The stock market did not "collapse." It has experienced a sell-off that made some people's ears ring, as sell-offs normally do, and October has been ugly so far, but it wasn't a "collapse."
This matters because the crybabies on Wall Street are already clamoring for the "Powell put." But the folks at the Fed have been around, and they know what a routine sell-off looks like and what a crash looks like, and they're glancing at these numbers, and they yawn. Because in the grander scheme of things, not much has happened yet. The next uptick lurks around the corner, powered by the dip buyers and massive corporate share-buybacks.
After the dotcom bubble, the Nasdaq plunged 78%. Wave after wave of dip buyers were rewarded with small goodies and then taken out the back and shot. Many companies disappeared entirely. That was an example of a collapse. That's when the Fed got nervous.
Today there are only some segments that have gotten hit very hard, though it's still no collapse, and we'll get to a few of them.
The Dow was well-behaved. It fell about 3% for the entire week and is about flat year-to-date. Nothing special. The Dow is only 8.4% off its peak. And compared to a year ago, it's still up 5.4%.
It's not a crime for stocks to be flat year-to-date. Stocks might actually be down for the year, and they might be down for years. But people have forgotten, and younger people have never experienced it in their life, after a decade of blatant market manipulations by central banks that have created this centrally planned Everything Bubble that is now "gradually" deflating.
The S&P 500 fell about 4% this week and is only 9.3% off its peak. It's about flat year-to-date (well, down a minuscule 0.6%) and up 3% compared to a year ago.
The Nasdaq fell 3.8% in the week and is down 12% from its peak, nearly all of it in October. But it's still up 3.8% year-to-date and up nearly 7% from a year ago. This is a far cry from being down 78%!
Fed Chairman Jerome Powell isn't going to get rattled by these numbers. Young investors who've never seen a real sell-off might, but Powell is an old hand, and this sell-off overall is nothing yet, especially after the huge run-up. For real damage to occur, the trip south would have to take a long time – years! And we're just looking at the beginning of it.
And the crybabies on Wall Street are just crybabies.
That said, it's getting interesting in some sectors. And this too is typical for the beginning of a stock-market downturn: Some segments let go first, others follow. When story-segments lose their story, they plunge. It's that simple. Here are a few examples:
Homebuilders are getting crushed. Homebuilder stocks took off after the election in 2016, on a wing and a prayer, powered by hype about a Trump-inspired housing construction boom. The IShares US Home Construction ETF [ITB] soared 51% from November 3, 2016, through January 22, 2018.
But then reality set in that there would be no Trump-inspired housing construction boom, and that instead the housing market was beginning to hiss hot air. The ETF then plunged 34% over the nine months. Nearly the entire "Trump bump" has been wiped out even as the housing downturn has just begun (stock data via Investing.com):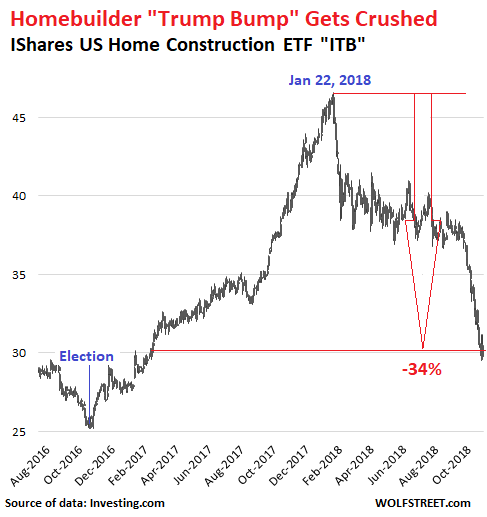 Building and Construction stocks surged 50% after the election in hopes for a mega construction boom, based on the story of a $1.5 trillion infrastructure plan. Much of that $1.5 trillion would be distributed to these companies, that was the hype. When markets realized that this plan was a head-fake, these stocks started to crash.
The PowerShares Dynamic Building & Construction ETF [PKB] has plunged 30% since January 23 and is back where it had been right after the election. This shows the "Trump bump" in operation: soaring on Wall-Street hype and crashing on reality: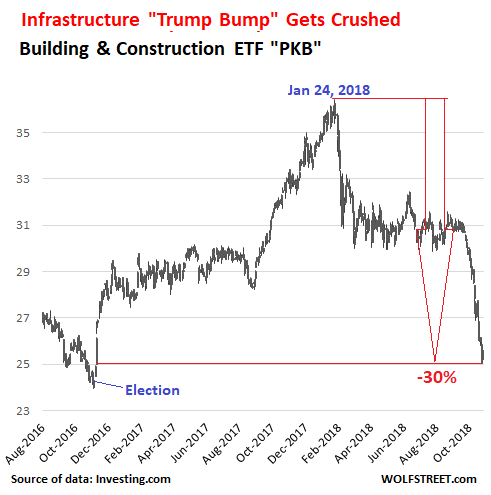 Small-cap stocks are letting go. The Russell 2000 index, which tracks the stocks with smaller market capitalization, has plunged 15% since August 31. These companies are heavily focused on US operations, unlike their big brethren that have large operations overseas. The index is now down year-over-year, and is back where it had been on September 28, 2017: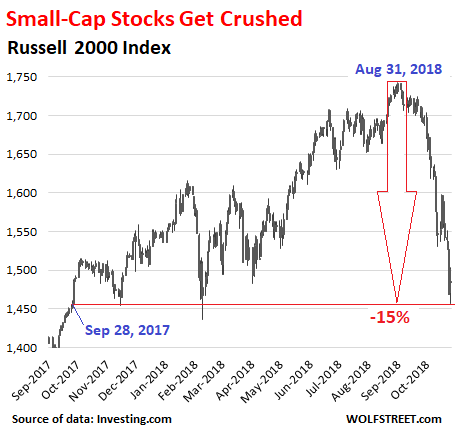 The Big Banks are losing it. The US KBW Bank index, which tracks large US banks, spiked after the election in November 2016 on hope – now being realized – of banking deregulation by the incoming administration, at the time being staffed with Wall-Streeters. Then these stocks floundered until late 2017. When the corporate tax cuts started becoming reality, the bank stocks surged again. From the election through January 26, the KBW Bank index soared 55%.
But that was the peak. The index has since plunged 19%, and is back where it had been in February 2017, or about 18 months ago, having unwound over half of the banks "Trump bump":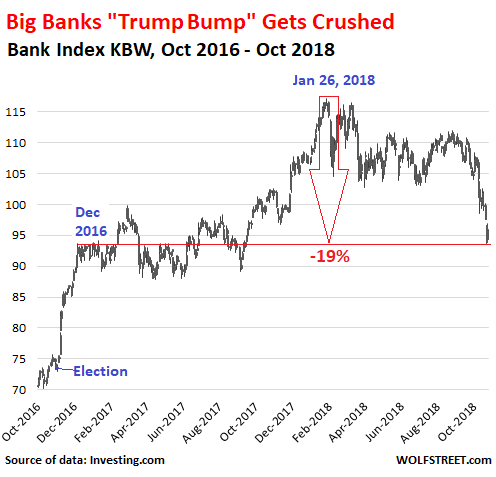 The FANGMAN stocks – Facebook, Amazon, Netflix, Google's parent Alphabet, Microsoft, Apple, and NVIDIA – have lost $538 billion in market capitalization from their combined peak of $4.63 trillion on August 31. In other words, $538 billion went where it had come from.
But that 12% dive took them back to where they'd been on May 30. So, given the ludicrously ballooning share prices, nothing serious has happened yet. Remember: the entire Nasdaq plunged 78% over the years following the dotcom peak. And many stocks disappeared entirely.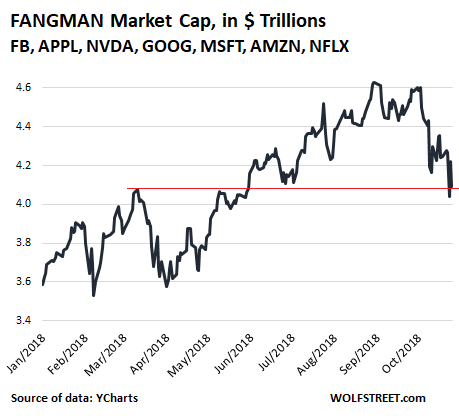 Nevertheless, there was some variation: Apple [AAPL], the giant among giants, has dropped only 6.6% from the peak on October 3, and Microsoft [MSFT] only 6.9% over the same period. But Amazon [AMZN] has plunged 20% since September 4 and Facebook [FB] 33% since July 25.
So it boils down to this: Some stocks have gotten crushed, but the market overall has barely been dented – though the fundamentals are rotten, shares are still ludicrously overpriced, enthusiasm is still exuberant except on bad days, and blind faith in annually rising stock prices still reigns. And the fact that stocks like Tesla [TSLA] or Netflix continue to levitate beyond all reality shows that this downturn has a long way, and years, to go.
Enjoy reading WOLF STREET and want to support it? You can donate. I appreciate it immensely. Click on the beer and iced-tea mug to find out how:

Would you like to be notified via email when WOLF STREET publishes a new article? Sign up here.