5% is here, 6% beckons as the next target.
The average interest rate for 30-year fixed-rate mortgages with conforming loan balances ($453,100 or less) and a 20% down-payment jumped to 4.97% for the week ending September 21, the Mortgage Bankers Association (MBA) reported this morning. A week ago, it was still at 4.88%. This is the highest average rate since the brief mini-spike that topped out in March 2011 at 5.01%. The last time before March 2011 that we saw this kind of average rate was in May 2010 (chart via Investing.com):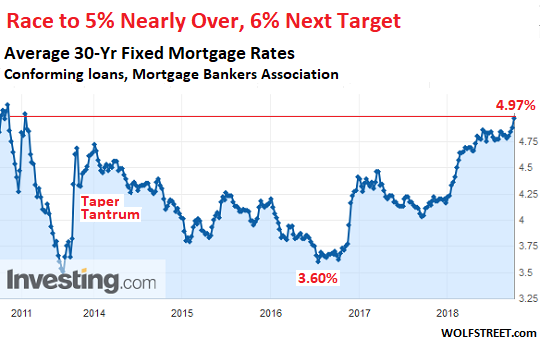 The average rate of 5% — some borrowers are getting lower rates and others higher rates — may sound sky-high for a 30-year fixed rate mortgage with 20% down, in this era of interest-rate repression that caused home prices to balloon. But now those inflated home prices must be financed at these higher rates.
And 6% beckons as the next target. Even 6% is still historically low. It would take rates back to late 2008, just as the Fed was starting to repress long-term rates via its first big bout of QE.
But QE ended in 2014, and the Fed has been raising rates "gradually" since December 2015, and has started to unwind QE in October 2017, which includes shedding its stash of mortgage-backed securities that it had acquired to repress mortgage rates. This is a new interest-rate era that's going to resemble the old pre-Financial-Crisis interest-rate era a lot more than what we've seen in the past 10 years (chart via Investing.com):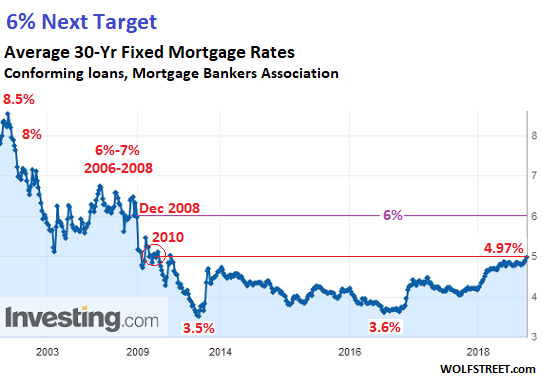 Mortgage rates follow the 10-year Treasury yield, but are consistently higher. The average mortgage rate, as surveyed by Freddie Mac (using a different methodology than the MBA) for the week ending September 20, was 4.65%. On that day, the 10-year Treasury yield closed at 3.07%. Thus, Freddie Mac's measure of the average 30-year fixed rate was 1.58 percentage points higher than the 10-year yield.
By this measure, over the past 15 years, the average mortgage rate was between 1.3 and 3.0 percentage points higher than the 10-year Treasury yield. This chart shows that relationship going back to 1985: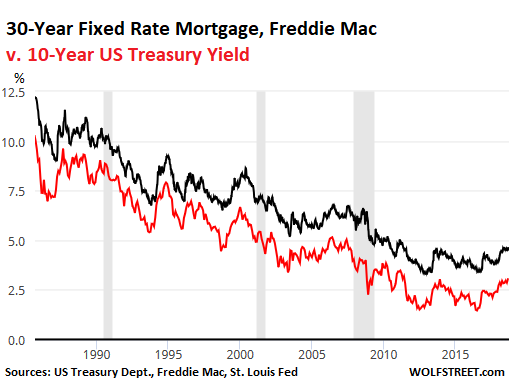 The current difference between the 10-year yield and Freddie Mac's measure of the 30-year mortgage rate is at the low end of the spectrum. The mid-range would be a difference of just over 2 percentage points. So a 10-year Treasury yield of over 4% will likely push Freddie Mac's measure of mortgage rates to around 6%.
By the MBA's measure, the average 30-year fixed rate of 4.97% as of September 21 was 1.9 percentage points higher than the 10-year yield. This spread too was at the lower end of the range. And by this measure, a 4% 10-year yield will likely push average mortgage rates above 6%.
OK, But When?
The rate hikes are in full swing. At the moment I'm writing this, the world is awaiting the announcement by the FOMC that it raised its target range again by a quarter percentage point. Another rate hike in December is becoming increasingly likely. More rate hikes are likely next year.
So what will the 10-year Treasury yield do? It has been having trouble staying ahead of short-term yields that have been rising consistently in a bond market that has been in denial for two years that this Fed has turned hawkish (by modern standards of "hawkish"). But "gradually," as the Fed keeps saying, it is sinking in.
The Fed's "gradual" approach to raising rates in this rate-hike cycle is giving markets some space to be in denial and at the same time prepare and adjust. So I expect the 10-year yield to stay ahead of the 2-year yield for a while longer. In this scenario, the 10-year yield will hit 4% in the first half next year.
So just for the spring home-buying season, average 30-year fixed-rate mortgage, as the MBA measures them, could hover around the so enticing 6%. Potential homebuyers are in for a budget crunch that potential home sellers, if they're still demanding the prices they've come to expect, will bump into.
And this is what's going on in the cities with the most splendid housing bubbles: Seattle's historic spike falters, New York condo prices are back where they were last September, and house prices in other metros get even more splendid. Read…  The Most Splendid Housing Bubbles in America
Enjoy reading WOLF STREET and want to support it? You can donate. I appreciate it immensely. Click on the beer and iced-tea mug to find out how:

Would you like to be notified via email when WOLF STREET publishes a new article? Sign up here.