And with impeccable timing, an immense flood of new construction.

In Sydney, breeding ground for one of the world's biggest housing bubbles, prices of single-family houses dropped 7.3% in August, compared to a year earlier. Prices of "units" — condos in US lingo — fell 2.2% year-over-year. Price declines were the sharpest at the high end, with prices down 8.1% in the most expensive quarter of home sales. Prices of all types of homes combined fell 5.6%, according to CoreLogic's Daily Home Value Index. The index is down 5.8% from its peak last September: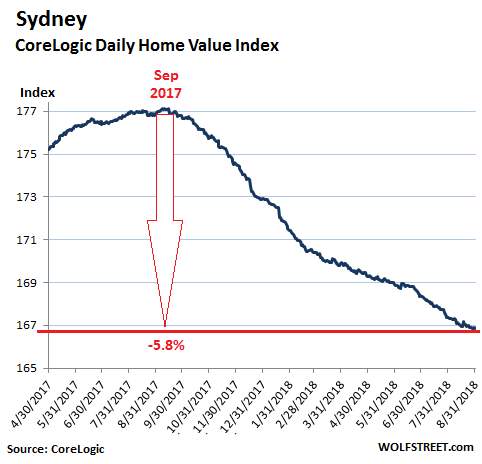 Melbourne, where the inflection point has been lagging a few months behind Sydney's, is in the process of catching up. Over the three month-period, June-August, prices fell 2.0%, making Melbourne the weakest housing market among the capital cities. By segment, house prices fell 2.7% from a year ago while condo prices still inched up 1.5%. At the most expensive quarter of sales, prices fell 5.2% from a year ago. For all types of dwellings combined, prices declined 1.7% year-over-year, to the lowest level since early June 2017, according to CoreLogic. Prices are down 3.6% from their peak at the end of November 2017: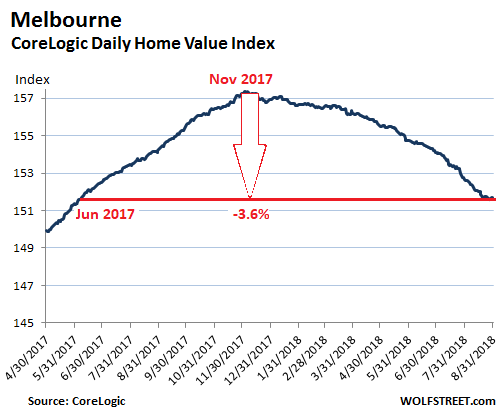 Corelogic tracks the largest five of Australia's eight capital cities in a separate index. Due to the size of their housing markets, Sydney and Melbourne weigh the most. In the remaining three of the five capital cities in the index, prices were mixed in August:
In Brisbane, home prices inched up 0.9% year-over-year.
In Adelaide, home prices ticked up 1.0%.
In Perth, home prices fell 2.0%, with houses down 1.5% and condos down 4.4%. Prices have been skidding since late 2014, when Western Australia mining boom turned into a mining bust.
The aggregate five capital cities index fell 3.1% in August year-over-year. The index has declined month-to-month for 11 months in a row and is down 3.5% from its peak in October 2017: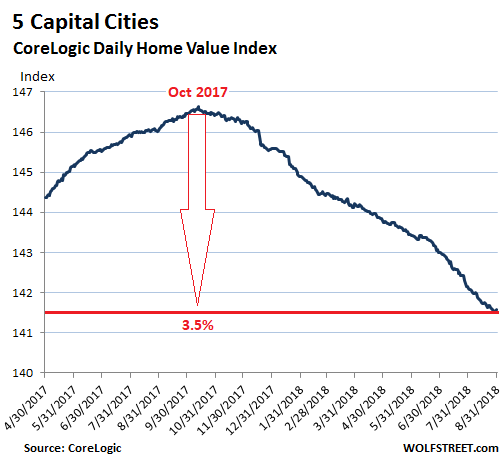 With impeccable timing, there is a flood of new condos expected to be completed over the next two years, something avid crane-counters in Sydney and Melbourne have been swearing for a while. Here are some of these astounding numbers that CoreLogic estimates based on data it collected from the industry:
Greater Sydney: In 2019: 31,500 new condos are scheduled to be completed. In 2020, another 45,500 condos are expected to be completed. This brings the two-year total of new condos to 77,000 units, which will increase the total stock of condos by 9.3%!
Greater Melbourne: The oncoming flood of new condos is expected to reach 29,000 units in 2019 and nearly 50,000 units in 2020. Over the two years, this will increase the total stock of condos by nearly 79,000 units, or by 11.5%!
As it becomes harder to find buyers for these projects, developers may delay or cancel some of them. So not all of these units may be completed in the two-year period.
In some of the other cities, the stock of condos is expected to increase over the next two years in similar fashion:
Greater Brisbane by a whopping 18.4%
Greater Adelaide by 12.5%
Greater Perth by 5.7%
Greater Hobart by 3.8%
Greater Darwin by 9.9%
Nationally, 94,500 condos are estimated to be added in 2019 and 2020, which would increase the existing stock by 9.3%! And so CoreLogic explains:
Over the past five years there has been a significant increase in overall unit supply. At the same time, housing market conditions have deteriorated over the past year, particularly in Sydney and Melbourne, with dwelling values falling and rental growth slowing.

In the face of weakening housing market conditions, both of these cities still have a high volume of unit stock to be completed. As the new supply comes on line over the coming years, it is anticipated that this could lead to further softening of both dwelling values and rents in Sydney and Melbourne.
In its home value report, released today, CoreLogic has a somber outlook:
[I]t's likely the spring season will be a challenging one for the housing sector. Advertised stock levels are already 7.6% higher than the same time last year across the combined capitals, despite a 5.7% reduction in 'fresh' stock being added to the market. The rise in inventory is simply due to a lack of absorption; with fewer buyers, homes are taking longer to sell and clearance rates [of homes sold at auction] have trended into the mid to low 50% range.
One of the reasons for the downturn is the fairly sudden exit of investors and speculators, which for banks are among the riskiest elements. Starting in 2014, Australia's banking regulator (APRA) and the Council of Financial Regulators introduced "macroprudential policies" (summary) that were designed to cut down speculation in the housing market. They initially produced no results. Speculation increased, and prices jumped. But as they were tightened, including the imposition of a 30% limit per bank on interest-only mortgages and higher interest rates on mortgages for investors, they suddenly began to bite.
After publicized scandals, shenanigans, and the findings by the Royal Commission investigation into the banks, lending standards have been tightened on the margins for potential homebuyers as well, some of whom are now being sidelined by the new focus on sustainable debt-to-income ratios and the crackdown on mortgage fraud, particularly in the most overpriced markets, Sydney and Melbourne.
As prices are declining and rental yields are historically low, investors and speculators will be further discouraged because now, the quick and easy gains have moved out of view.
All this is happening even as mortgage rates remain at historic lows. But mortgage rates too are expected to tick up as funding costs for the banks have risen – and will likely continue to rise. Smaller banks have already lifted mortgage rates, and now Westpac has become the first of the big four banks to increase its rate for variable rate mortgages. The other banks will follow. And according to CoreLogic, this "is likely to send a chill through the housing market."
Real estate is local and prices tend to move slowly over many years, on the way up as well as on the way down. But the housing markets of Sydney and Melbourne, ranked globally in the top housing bubbles, have passed a clearly visible inflection point late last year, when price moves changed direction and have formed well-defined U-turn.
New York condo prices fell again. Historic spikes slow in Seattle and other metros. Read…  The Most Splendid Housing Bubbles in America
Enjoy reading WOLF STREET and want to support it? You can donate. I appreciate it immensely. Click on the beer and iced-tea mug to find out how:

Would you like to be notified via email when WOLF STREET publishes a new article? Sign up here.