It is rare that a housing market makes such a beautifully defined U-turn, after a long hard surge.
In Sydney, Australia's largest housing market and one of the world's biggest housing bubbles, prices of homes of all types fell 5.4% in July compared to a year ago, and 5.5% from the peak in September. Prices of single-family houses dropped 7.0%, and prices of condos ("units") fell 1.6%, according to CoreLogic's Daily Home Value Index: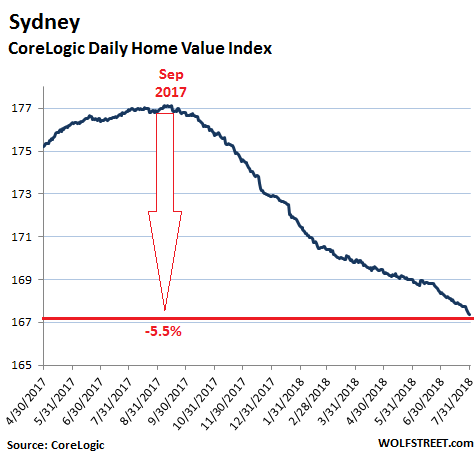 The most expensive quarter of the market got hit the hardest, with prices down 8.0% in July compared to a year ago. Across the so-called "most affordable quarter of the market" – "least unaffordable" would be more appropriate – prices fell by 1.8%.
And supply in Sydney is starting to come out of the woodwork: Total number of homes listed for sale, based on a rolling 28-day count, jumped 22% from a year ago to 26,103 listings, according to CoreLogic, the most since July 2012.
In the chart below, the number of homes listed for sale in 2018 is denoted with the black line. It's below only the blue line (2012), but creeping up on it. Note the seasonality, with listings getting pulled during the Christmas holiday period (chart via CoreLogic):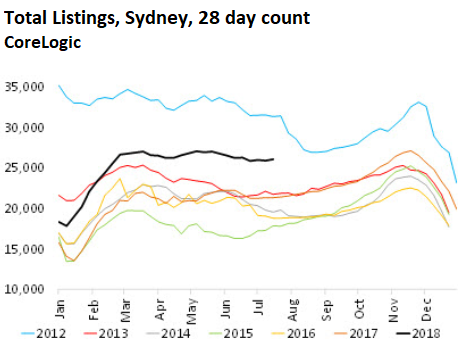 And so goes the rental market, where "conditions eased further in July," CoreLogic noted in its report: In Sydney rents fell 0.4% year-over-year. While that might not sound like much of an annual decline, it is "the largest decline on record" in CoreLogic's data going back over a decade.
Melbourne lags a few months behind Sydney but is now catching up. Home prices in Melbourne fell 0.5% in July year-over-year, according to CoreLogic, and are down 3.0% from their peak at the end of November 2017: House prices fell 1.4% from a year ago while condos are still up 2.3%. The index is now back where it had been at the end of June, 2017: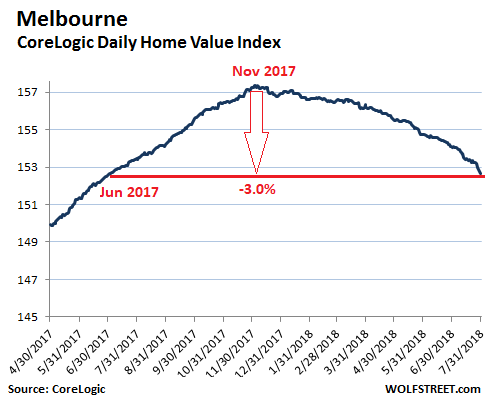 The most expensive quarter of Melbourne's market, as in Sydney, got hit the hardest, with prices down 4.1% from a year ago. In the "most affordable" quarter of the market, prices are still up 7.5%.
And supply is increasing: In July, there were 30,029 homes listed for sale, up 11% from a year ago, and the highest since 2014.
Corelogic tracks the largest five of Australia's eight capital cities in a separate index. Sydney and Melbourne, due to their enormous size, weigh the most. In the remaining three of the five capital cities in the index, prices were mixed in July:
In Brisbane, home prices rose 1.2% year-over-year.
In Adelaide, home prices ticked up 0.7%.
In Perth, home prices fell 2.3%, with houses down 1.8% and condos down 4.6%. Prices started skidding in late 2014, when Western Australia got hit by the mining bust.
In aggregate, the five capital cities index fell 2.4% in July year-over-year. Note that May was the first month with a year-over-year decline since October 2012. The index has now declined month-to-month for 10 months in a row and is down 3.1% from the peak in October last year: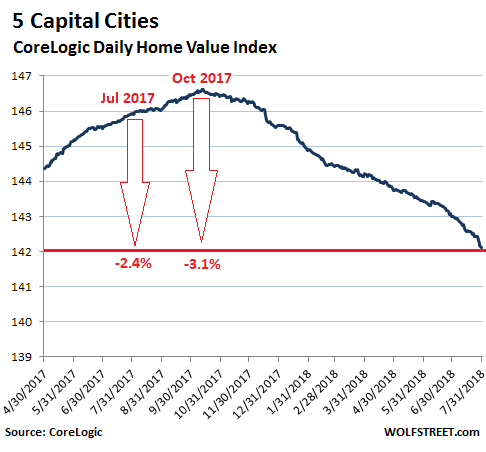 Across the country, home prices dropped 1.6% year-over-year, the largest annual fall since August 2012, according to CoreLogic, and are down 1.9% since the peak in September.
This is "a relatively mild downturn to date considering values remain 31% higher than they were five years ago," said CoreLogic head of research Tim Lawless in a report titled, "Housing Downturn Gathers Momentum In July." With the implication that there's a lot more room to fall?
[T]he weakness in dwelling values is being driven by the long running declines in Perth and Darwin along with an acceleration in the rate of decline across Sydney and Melbourne and slowing growth rates across most of the remaining regions.

Even the Hobart market, where the annual pace of capital gains has held in double digit growth territory since January 2017, is starting to slow down. Dwelling values were steady over the month and the annual rate of growth slowed to 11.5%; still strong but the slowest annual growth rate since February 2017.
To tamp down on the excesses in the housing market and to keep banks from exposing themselves to even more risks, Australia's banking regulator (APRA) and the Council of Financial Regulators started in 2014 to introduce "macroprudential policies" (summary) that were at first completely ineffectual but now are pulling the rug out from under housing speculators and investors – domestic and foreign alike.
These policies include a 30% limit per bank on interest-only mortgages and higher interest rates on mortgages for investors.
Investors and speculators are now also getting rattled by declining property prices, on top of historically low rental yields (though they're now creeping up as prices decline).
In terms of owner-occupied homes, banks have been pushed – after publicized scandals, shenanigans, and recent findings by the Royal Commission investigation – to look at debt-to-income ratios, a new emphasis that has effectively taken many potential buyers off the market, particularly in the most expensive cities, Sydney and Melbourne.
These dynamics are being accompanied by a surge in new construction coming on the market, according to CoreLogic:
Unit construction remains well above average across most states, and is at record highs across Victoria [Melbourne] and South Australia [Adelaide] and only marginally below the record high in New South Wales [Sydney].

Coupled with high supply, key segments of demand, including domestic investors and foreign buyers, have thinned out which could see downwards pressure on prices in those areas where new 'investment grade' projects are numerous.
Real estate moves slowly and price changes drag out over many years. It is rare that a market makes such a beautifully defined U-turn, after a long hard surge, as the markets in Sydney and Melbourne.
A historic home price spike in Seattle, sharp increases in other metros, but New York condos fall. Read…  The Most Splendid Housing Bubbles in America
Enjoy reading WOLF STREET and want to support it? Using ad blockers – I totally get why – but want to support the site? You can donate. I appreciate it immensely. Click on the beer and iced-tea mug to find out how:

Would you like to be notified via email when WOLF STREET publishes a new article? Sign up here.

Classic Metal Roofing Systems, our sponsor, manufactures beautiful metal shingles:
A variety of resin-based finishes
Deep grooves for a high-end natural look
Maintenance free – will not rust, crack, or rot
Resists streaking and staining
Click here or call 1-800-543-8938 for details from the Classic Metal Roofing folks.