His Toxic Mix: destruction of the lira and a mountain of foreign-currency debt.
Two big European banks, Italy's Unicredit and Spain's BBVA, will be following current events in Turkey extremely closely. The two lenders have the biggest exposure to the country, which is one of the world's fastest growing emerging economies. But investing there is an increasingly risk business.
Turkey continues to grow at high speed, expanding by 7.4% last year. But that growth has been fueled by reckless public and private-sector borrowing, much of it at the insistence of Turkey's strong-arm leader, Recep Tayyip Erdogan. Turkey's overall stock of private sector debt has grown from 33% of GDP in 2007 to 70% today. Due to the long-collapsing lira, much of this debt is in foreign currencies. As of the end of April, Turkish private sector companies owed more than $245 billion in foreign-currency debt, or nearly one-third the size of the country's overall economy.
There's already growing pressure on Turkish banks to reorganize foreign-currency denominated corporate loans as companies struggle to service them. At least $6.1 billion of loans taken out by energy companies are being restructured or refinanced, Bloomberg reports. If this trend continues, it could trigger a wave of bankruptcies that could leave financial institutions and taxpayers staring at massive losses.
Turkey is one of the three most vulnerable large emerging markets at present, alongside Argentina and Ukraine, according to rating agency Fitch. For its part, The New York Times warned that "in a global economy increasingly plagued by worries — from an unfolding trade war to higher oil prices — Turkey may present the most immediate cause for alarm":
The country's president, Recep Tayyip Erdogan, who has dominated national life for 15 years, was sworn in again on Monday following a re-election victory that came with extraordinary new powers. He has wielded his influence to deliver relentless economic growth through unrestrained borrowing, lifting debt levels to alarming heights. And the additional authority he has been granted is expected to further test the limits of economic reality.
Before Erdogan's reelection at the end of June BBVA's chairman Francisco González told CNBC that he thought — or at least hoped — that whoever was elected president would do whatever was necessary to stabilize Turkey's overheating economy. The exact opposite is happening.
Erdogan, reelected for another term with significantly expanded powers, has appointed his son-in-law as Economy Minister. That was on Monday. Then, on Tuesday he claimed the exclusive power to appoint central bank rate-setters, just as he had promised he would before the elections. This removes even the last doubt about the independence of the central bank. Erdogan then pledged to decrease, rather than increase, interest rates. And the lira has plunged 5.2% against the dollar starting on Monday. It has plunged 21% since early March and 75% over the past decade: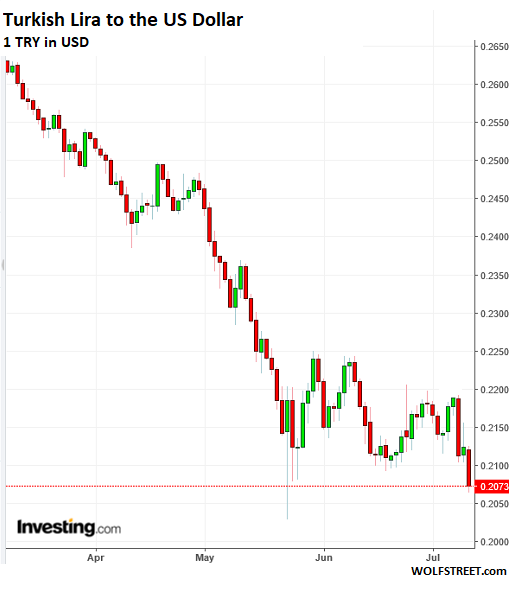 The collapse of the lira, in turn, is heaping pressure on Turkey's hugely negative current account balance as well as fueling higher prices. In June, annual inflation in Turkey soared to 15.4%, up from 12.2% in May. It hasn't been this high since 2004.
The more investors ditch the lira, the harder they make it for the country's corporations that do much of their business in lira to repay their large stacks of dollar-denominated debt, further worrying investors about the nation's economy and giving them another reason to dump the currency. Rinse. Repeat.
This vicious cycle shows little sign of slowing. "I'd have expected Erdogan to have learned the bitter cost of messing with markets," Atilla Yesilada, economist at GlobalSource Partners in Istanbul, wrote in an emailed report. "Apparently, he does think that with his new powers he can best the markets."
The markets responded in time-honored fashion. On Wednesday, the Istanbul 100 stock index dropped 5.2% — while bank shares plunged. The shares of Garanti, the bank majority owned by Spain's BBVA, plunged 11.6% on Wednesday and are down 20.5% so far this week. The shares of Yapi Kredi Bankasi, the bank part owned by Italy's Unicredit, plunged 6% for the day and are down nearly 13% for the week. The bank is hardly a picture of rude health. In May it was forced to increase its share capital, prompting the value of the bank's shares to nose-dive by almost half. Today they're languishing at a new record low of 2.18 lira.
But it's not just the value of the stock that matters; it's the value of the currency in which the stock is denominated. In the last eight years BBVA has spent €6.9 billion to get its hands on 49.85% of Garanti. Since those purchases, starting in 2010, the Lira has collapsed. Garanti's current market cap, converted into euros, is €5.17 billion — down from €6.3 billion just two weeks ago! BBVA's 49.85% stake in Garanti is now worth a measly €2.6 billion, compared to €3.2 billion a fortnight ago. In other words, BBVA has lost 62% of its investment!
It's not just BBVA and Unicredit that are taking a hit on their investments in Turkey — they're just the most exposed entities on a pound-for-pound basis. According to research by the Bank of International Settlements, the countries with the largest financial-sector exposure to Turkey in 2016 were France ($40.4 billion), the UK ($23.9 billion), the U.S. ($18.9 billion), Germany ($15.4 billion), Japan ($11.8 billion) and Italy ($8.9 billion).
In other words, as Erdogan continues along his path toward total dominance over Turkey's economy while systematically destroying its currency, the risk of a full-blown Turkish debt crisis continue to rise, and not just for Turkey. By Don Quijones.
It's payback time for the financial sector that was bailed out by taxpayers, Spain's new government thinks. Read: Banks Squeal as Spain's New Government Threatens to Do Unthinkable: Raise Taxes on Their Profits
Enjoy reading WOLF STREET and want to support it? You can donate. I appreciate it immensely. Click on the beer and iced-tea mug to find out how:

Would you like to be notified via email when WOLF STREET publishes a new article? Sign up here.