Where the heck is the hyped "replacement demand" from Hurricane Harvey?
Auto dealers in the Houston metro sold 23,720 new vehicles in May, down 9.2% from the dismal oil-bust levels of May last year, with car sales plunging 17.6% and with even truck sales – SUVs, pickups, vans, and compact SUVs (crossovers) — dropping 4.9%.
Even used vehicle sales plunged 13.5% in May from a year ago, to 67,239 vehicles. This is not a propitious indication. If there had been a shift from new to used, it would have been a different scenario. But both declined.
Auto sales in the Houston metro were battered by the oil bust. Between late 2016 and mid-2017, new-vehicle sales plunged by 20% to 30% a month compared to the same month a year earlier, to levels not seen since the Financial Crisis. Then, just as the effects of the oil bust were bottoming out and hopes were lining up that this would end Carmageddon in Houston, Hurricane Harvey slammed into the area. It shut down all dealers for days, and some of them for weeks, and new vehicle sales collapsed (down 45% year-over year in August from the oil-bust levels a year earlier).
But instantly, stories cropped up on Wall Street that the "replacement demand" from Hurricane Harvey would cause a boom of indescribable proportions in auto sales in the Houston area that would be so large as to fire up the declining auto sales in the US overall. And in Houston, though not the rest of the nation, auto sales did rise for a few months, but not nearly as much as promised, before starting to peter out again late last year.
And now Carmageddon is back.
The Houston situation has been fascinating to observe, in part because there is good and timely vehicle sales data available, gathered by the Houston Auto Dealer Association from its member dealers, put together by TexAuto Facts, published by InfoNation via the Greater Houston Partnership. Few other metro areas offer this kind of granular data.
For the rolling 12-month period ending in May, dealers sold 295,373 vehicles — up only 1.5% compared to the oil-bust levels a year earlier but down 22% from the happier era before the oil bust (chart via Greater Houston Partnership, red and green marks added):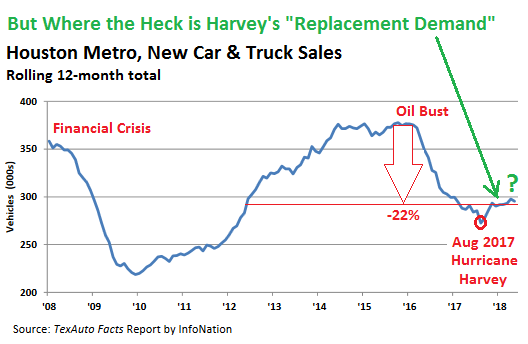 Year to date, total sales are up 4.2% from the oil-bust levels last year, with car sales down 7.3% and truck sales up 10.1%. But this includes the tail-end of the infamous "replacement demand" earlier this year that has now completely disappeared.
Sales of "trucks" — that is, SUVs, pickups, vans, and crossovers — accounted for 70% of total new-vehicle retail sales in May, as cars are simply dying out in Texas even faster than in the US overall.
Despite dismal unit sales, prices continue to rise: The average retail transaction price rose 2.2% to $37,258, largely due to "truck" transactions where the average transaction price reached nearly $40,000, compared to the average transaction price of cars at $31,090.
This dismal scenario in auto sales is not reflected in the overall economy in Houston, though it remains spotty. Some sectors are still getting crushed from the oil bust, including commercial construction, where activity has collapsed. Year-to-date non-residential building contracts, measured in dollars, have plunged 32% from the already terrible levels last year. But residential permits have surged 29%. And the total is down only 2.1%. Total employment rose 2.4% year-to-date through May, with employment in the goods-producing sector rising 3.7% and in the service sector 2.2%. And the unemployment rate in May declined to 4.2% from 4.8% a year earlier.
So the continued crisis-level new-vehicle sales in the Houston metro – still down by over 20% from their range before the oil bust – are in contradiction of other economic data in the area. To a much milder extent, this has also been the case in the US overall, where the economy has been growing a relatively decent pace, while new vehicles sales have been on decline since 2016. But it pales compared to the situation in Houston.
New and used vehicle transaction prices have been surging across the US. But don't expect this to show up in inflation data where "hedonic quality adjustments" perform miracles. Read…  The Dollar's Purchasing Power Drops 2.9% in May from Year Ago, Fastest Drop since Nov 2011
Enjoy reading WOLF STREET and want to support it? You can donate. I appreciate it immensely. Click on the beer and iced-tea mug to find out how:

Would you like to be notified via email when WOLF STREET publishes a new article? Sign up here.