Bond turmoil, no problem. But if Italy doesn't stick to the rules, the ECB might let the bonds go, "safeguard the remaining Eurozone members," and "merely control the disaster."
After dizzying plunges in the Italian government bond market on Monday and Tuesday, the ECB wasted no time communicating through unofficial channels: It's not stepping in for now, it's keeping an eye on the Italian bonds, but they haven't really plunged all that much yet, and yields aren't really that high, and there are no signs of stress in lending between Italian banks, and deposits are stable, and this isn't yet a big deal that would require ECB action.
They also said that the ECB had neither the tools nor a mandate to solve what it considers primarily a political crisis in Italy.
These envoys were "sources close to that matter," later described as "three officials," who talked to Reuters.
And this is what they were reacting to: The two-year Italian government bond yield had skyrocketed from near-zero to 2.8%, most of it on Monday and Tuesday. And today it fell back to 1.73%. This is an hourly chart of the past four days of bond turmoil: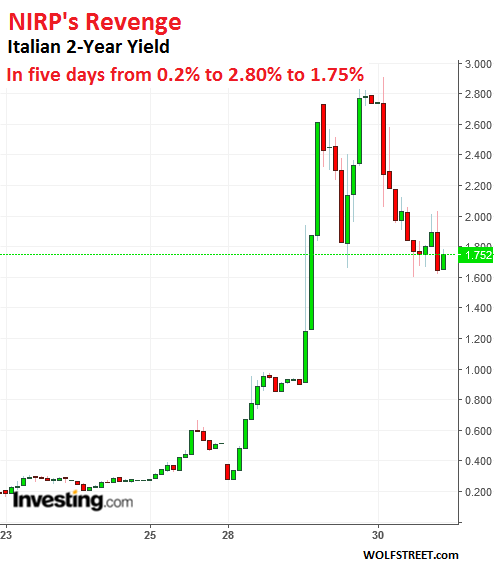 The sources said that Italian government bond yields, reflecting the government's borrowing costs, were still less than half of their peaks during the debt crisis in 2011.
Today the Italian government's debt office sold €1.8 billion of 10-year notes at a yield of 3.0%. So the cost of borrowing for the government has jumped from 1.7% at the last 10-year auction, but is still way lower than the 7.56% it paid in November 2011, during the peak of the Eurozone debt crisis. And it's just a little above what the US government currently would have to pay.
Also today, the debt office sold €1.7 billion in five-year notes at a yield of 2.325%. This is the most since 2013, but still low. And lower than what the US government would have to pay (2.66% currently).
Yesterday – on the worst day for Italian bonds in Eurozone history – the government sold €5.5 billion of six-month bills at an average yield of 1.21%. While that's up from negative yields in prior auctions, where investors absurdly agreed to pay the government for the privilege of lending it money, the yield is still massively below the US six-month yield of 2.06%.
And yields for maturities of three months and shorter are still negative. So the government has no trouble borrowing in this environment; it just has to pay a little more, an indication that the ECB's negative interest rate policy (NIRP) is beginning to phase out for Italy.
This is why the three envoys from the ECB told Reuters that the funding costs were still less than half of the costs during the debt crisis, that bank deposits were stable, and that there were no signs of stress in the interbank-lending market.
"No central bank would act on the back of the events of a few days," one source told Reuters.
"We're not yet at a stage when you have to start worrying about bank deposits and I hope we'll never get there," another source told Reuters.
This is not to say the ECB would never step in and aid Italy. In an interview with the Spiegel, published on May 29, outgoing ECB Vice President Vítor Constâncio, when asked if the ECB would intervene again as it had done in 2012, replied: yes, but there would be conditions – namely an "adjustment program" or commonly called austerity:
"I would like to stress that every intervention has to contribute to the fulfilment of our mandate and is also subject to conditionality. The Outright Monetary Transactions program for intervening in national sovereign bond markets of vulnerable countries can only be used if the country in question also agrees to an adjustment program. The rules are very clear on this. Everyone should remember that."
Spiegel: "So if Italy wants to circumvent the EU's fiscal rules, it can't necessarily count on the ECB's help?"
Constâncio: "I will only say that Italy knows the rules. They should perhaps take another close look at them."
But these rules are anathema to the two anti-establishment parties – the Five-Star Movement and the League which have been trying unsuccessfully so far to form a coalition government. The League has said that if its plan to lower taxes and raise spending (the opposite of austerity) isn't acceptable to the EU, it sees Italy's exit from the euro as a contingency plan. Hence, an "adjustment program," imposed on Italy in return for an ECB bailout, is not likely to happen if the coalition succeeds in forming a government.
Then the ECB might just let Italy's bonds go their own way and focus on preventing financial contagion in the remaining Eurozone member states, according to one of the sources who told Reuters: "The ECB could safeguard the remaining Eurozone members but it would be merely controlling the disaster."
And in that case, bondholders – mostly institutions – that hold Italian government debt would be left to negotiate with the Italian government on their own.
But that's not the case for now. And the bond market is not seriously speculating on this possibility either. It's simply normalizing yields, but doing so very swiftly, rather than gradually.
Markets wailed and gnashed their teeth on Monday and Tuesday as normalization of Italian yields set in. Read…  NIRP's Revenge: Italian Bonds Plunge, Worst Day in Decades
Enjoy reading WOLF STREET and want to support it? You can donate. I appreciate it immensely. Click on the beer and iced-tea mug to find out how:

Would you like to be notified via email when WOLF STREET publishes a new article? Sign up here.