This is a sight to behold. But I'm not sure what to make of it.
The TD Ameritrade's Investor Movement Index (IMX) dropped another 8.2% in April, after having plunged 12% in March, 23% in February — the biggest month-over-month plunge in the history of the index — and 9% in January. The January plunge, the first in the series of four, occurred around the time of the final spurt of the stock-market rally that took the S&P 500 index to its still standing record close on January 26.
After climbing every month last year and forming a perfect spike, the index has now plunged every month so far this year, collapsing 44% from its peak in December. This – up on a steep escalator and down by express elevator – is an investing cliché that rarely turns into such a perfect and baffling chart. Note the historic range: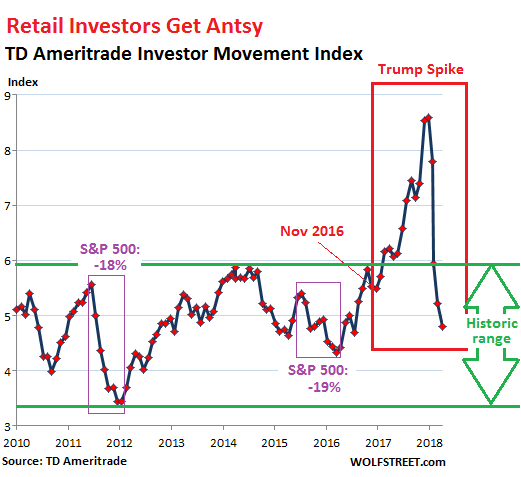 The IMX tracks the actual trading activities and positions of TDA's clients. It's not based on what investors say they "feel" or on what they say they "plan" on doing. It's based on what they've actually done in their accounts and how they're positioned in the markets. But the data does not go back to the Financial Crisis, so we don't know what the index does during extreme stress.
During the time that the IMX surged 55% from the election in November 2016 through January 26, 2018, the S&P 500 soared 35%. Retail investors went all in, boiling over with enthusiasm, adding exposure to market risk every month in 2017. But then in January 2018, they got nervous.
The IMX index fell sharply during the past two stock market sell-offs, when the S&P 500 fell 18% in 2011-2012 and when it fell 19% in 2015-2016. But as the chart above shows, those two declines in the IMX were barely a ripple compared to the collapse of the breath-taking Trump spike.
And yet, so far, the S&P 500 index is down just 7% from its super-lofty peak in January and is only flat year-to-date. It's really barely a dent. It's not like there's mayhem going on in the market, not at the level where I would expect investors and traders to get antsy to the point they're starting to look for safe-haven alternatives and exhibit a sudden interest in today's gold price.
But in just four months, the index collapsed from super-stratospheric and way beyond the historic range to "moderately low" within the historic range, with plenty of room to go lower. But at some point it will have to bounce, you'd think.
TDA Chief Market Strategist JJ Kinahan said in an interview that TDA's clients were net buyers still, but were buying "lower beta stocks overall," that they were rotating out of risk. "It's a little bit of a quandary for everybody," he said. "We're beating earnings, and the market isn't necessarily reacting."
This was a reference to the phenomenon that the S&P 500 index surged 35% in 14 months in anticipation of tax-cut-inflated earnings, and when those earnings arrived, the market didn't want to go any higher, and retail investors removed exposure to the market.
Retail investors' reaction to these moves may be classic in terms of direction, but the magnitude of the moves is baffling – the enormous spike way beyond the historical range, and the total and sudden collapse since. And it makes me wonder: Do retail investors on the whole, with their disparate views averaged into one unit, know something we retail investors as individuals do not know? I'm getting the feeling that some kind of history is being made here.
The Fed's QE Unwind is ramping up toward cruising speed to bleed oxygen out of the markets "gradually." But these are getting to be serious amounts. Read…  Fed's QE Unwind Accelerates Sharply
Enjoy reading WOLF STREET and want to support it? You can donate. I appreciate it immensely. Click on the beer and iced-tea mug to find out how:

Would you like to be notified via email when WOLF STREET publishes a new article? Sign up here.