War in business ground transportation. But tipping is not popular.
Rideshare companies have forced a revolution on ground transportation for business travelers that has crushed taxis and rental cars. At first it was just Uber. But then Lyft came along and ate into Uber's share. And then Uber ran into a series of self-inflicted fiascos, ranging from the predictable to the previously unimaginable and included a very messy change in leadership. The ceaseless revelations that made people across the world groan didn't exactly endear Uber to its customers. So where are we now?
Back in Q1 2014, taxis and rental cars combined still provided 92% of total reimbursed ground transportation for business travel in the US. By Q1 2018, this plunged to just 29%:
The share of taxis plunged to just 6% in Q1 2018, from 37% in Q1 2014.
The share of rental cars plunged to 23% of the total, from 55% in Q1 2014.
But rideshare companies Uber and Lyft combined, which eked out a market share of just 8% in Q1 2014, have taken 71% of the total by Q1 2018 – from non-entity in the sector to total domination in four years.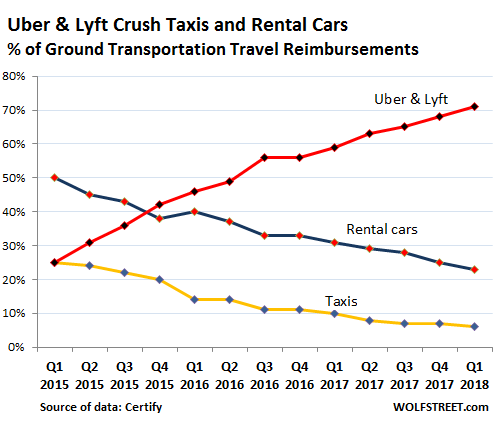 This data was gathered by Certify, which provides cloud-based travel and entertainment expense management software, and releases its SpendSmart reports on a quarterly basis.
But within the rideshare universe, a special battle has been fought between Uber and Lyft in terms of ground transportation reimbursement. Uber's share was 98.8% in 2014, when Lyft just nibbled away a few crumbs, amounting to 1.2%. By Q1 2018, Uber's share dropped to 80.9%, and Lyft's share surged to 19.1%.
To what extent Uber's self-inflicted fiascos have taken a bite out of its market share, and to what extent Lyft has benefited, can be seen in the chart below by Uber's steepening downward slope throughout 2017, and by Lyft's steepening upward slope. However, this year, the decline of Uber's market share has slowed, though it continues: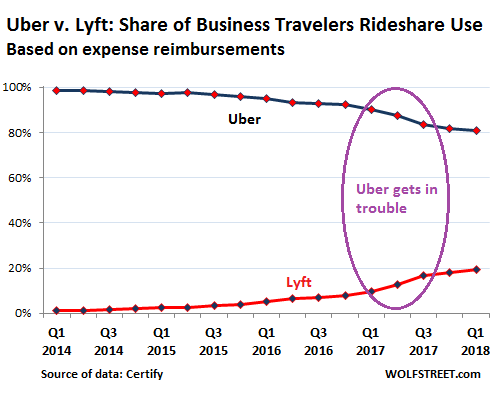 "Lyft's jump is the biggest surprise of Q1," says Certify CEO Robert Neveu. "As Uber experienced change in its senior leadership team and challenges in various markets, Lyft stayed the course and gained market. It will be very interesting to see if Lyft is able to maintain this level of usage in the business travel space."
And in which major metro areas is ridesharing for business travel most popular? Certify:
San Francisco was the most popular U.S. ride-hailing city for business travelers, taking 99% of the market compared to 1% for taxis (rental cars were not included in this part of the analysis) in Q1 2018. That's a slight improvement from Q1 2017 when ride-hailing took 96% of the San Francisco market.

Dallas was the second most popular market nationally, with 91% of business traveler ground transportation receipts and expenses going to ride-hailing services.

Los Angeles and Boston tied for third, with 89% of transactions. Chicago and New York continue to have the highest rate of taxi use compared to ride-hailing, but even in those markets, ride-hailing accounted for nearly 75% of all business traveler ground transportation receipts and expenses in Q1 2018.
But tipping is not popular with business travelers, especially not those using Lyft.
In Q1 2018, only 6% of business travelers using Uber tipped their drivers, while 2% of Lyft users tipped. On average, business travelers are tipping about $.15 less per ride with Lyft than Uber, according to Certify's data, and spending nearly $5 less on Lyft trips versus Uber trips.
There are two dynamics playing out here:
One is the market-share battle between Uber and Lyft. Both are losing huge amounts of money and need constant new funding from investors. In turn, Uber and Lyft then burn this cash as fast as humanly possible. Billions of dollars vanish in no time.
The second dynamic is the result of Uber's and Lyft's ability to burn cash without constraints. They price their rides to where they're guaranteed huge losses. But rental car companies and taxi companies have a hard time competing with these investor-subsidized prices because they cannot afford those kinds of losses if they want to stay in business. And their investors demand profits.
Is this sort of financial attack from mega-investors with global resources unfair competition? Unfair or not, it's now an almost universal strategy when a new company, funded by unlimited amounts of investor money, sets out to "disrupt" an existing industry where other companies have to make a profit to stay alive.
When is this investor enthusiasm for dousing companies in cash going to pop? Read…  Peak-Bubble for Junk Bonds, Says WeWork Bond Sale
Enjoy reading WOLF STREET and want to support it? You can donate. I appreciate it immensely. Click on the beer and iced-tea mug to find out how:

Would you like to be notified via email when WOLF STREET publishes a new article? Sign up here.