Big pain and some relief for Saudi Arabia.
Softbank, an acquisitive junk-rated Japanese holding company that also owns about 80% of Sprint, has been preparing for months to buy a large stake in Uber. At the end of November, it launched a tender offer to buy enough shares from investors and employees to give it a 14% stake. It dangled out a price of $33 a share, which valued Uber at $48 billion – a 30% discount from Uber's "valuation" of $69 billion, which had been established behind closed doors during the last fund-raising round.
The offer at a $48-billion valuation is even lower than Uber's valuation back in June 2015 of $51 billion.
When the tender offer was started, there was uncertainty if enough sellers would be willing to dump their shares at this discount. The other option for them would be to hold out until the IPO, in the hopes for a better deal. The tender offer expired today at noon Pacific Time.
Turns out, there are plenty of eager sellers – despite any dreams of a blistering IPO: The tendered shares amount to about 20% of the company's equity, "people familiar with the matter" told the Wall Street Journal. But SoftBank will likely acquire only a 15% stake, "the people said."
Other members of the consortium SoftBank is leading – including Dragoneer Investment Group and Tencent Holdings – are likely to buy some but not all of the remaining tendered shares.
This deal will not raise money for Uber itself but will allow employees and early investors to cash out some of their holdings – at a steep discount.
But to maintain the illusion of the previous "valuation" of $69 billion – which is critical for a properly hyped future IPO – SoftBank will also make a $1-billion direct investment into Uber at the $69-billion "valuation," as part of the deal. Since startup "valuations" are based on the price paid during fund-raising, this $1-billion deal forms Uber's new "valuation," the same as the prior one. So the "valuation" illusion remains intact.
Both deals combined – the $7-billion tender offer and the $1-billion direct investment – will make SoftBank one of Uber's largest shareholders.
SoftBank already owns major stakes in other rideshare startups, including Didi Chuxing, the largest rideshare company in China; Grab, a major rideshare company in Southeast Asia; Ola, the largest rideshare company in India, slightly ahead of Uber; and 99, the largest rideshare company in Brazil. So SoftBank is serious about getting into this business on a global scale.
But all rideshare companies are competing with each other, with taxis, rental cars, mass transit, and other modes of transportation on service and low fares, and they're competing with each other to rope in drivers by offering them incentives. The plan is to dominate the markets. And all of them are losing money hand over fist.
The chart below shows what quarterly "adjusted" losses look like for Uber. Actual losses under GAAP would be much larger since the costs of employee stock compensation, interest, taxes, depreciation, and amortization have been stripped out of the figures that Uber shows the media: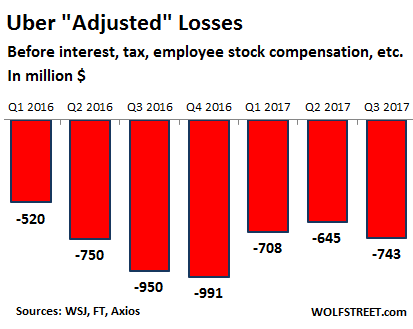 So maybe it was a good time to sell at a 30% discount.
Other investors – those that bought in at the $69 billion valuation or at any valuation above $48 billion – are licking their wounds, including Saudi Arabia's state-owned Public Investment Fund, which had made one of its biggest-ever forays into a privately held startup when it invested $3.5 billion in Uber in mid-2016 at a $62.5 billion valuation. The fund is now sitting on an unofficial paper loss of 23%.
This makes SoftBank's $1-billion direct investment at a $69-billion valuation so important: it allows the pretense of that $69-billion valuation to continue for now.
The SoftBank deal also comes with reforms of Uber's corporate governance. That may not be a bad thing considering the slew of scandals, lawsuits, and regulatory actions Uber is struggling with in its markets around the globe: Six directors will be added. Two of them will be from SoftBank.
The deal will also curtail the growing voting power by former CEO and now hot potato Travis Kalanick. Under Uber's repurchase agreement, employees who sold even part of their shares back to the company had to give the voting rights of all of their shares to him. After the SoftBank deal finalizes, voting rights for all investors will be expanded, and his shares will no longer include the additional voting power.
This sort of thing only happens during the late stage of a bubble. Read… I'm in Awe of How Far the Scams & Stupidities around "Blockchain Stocks" are Going
Enjoy reading WOLF STREET and want to support it? You can donate. I appreciate it immensely. Click on the beer and iced-tea mug to find out how:

Would you like to be notified via email when WOLF STREET publishes a new article? Sign up here.